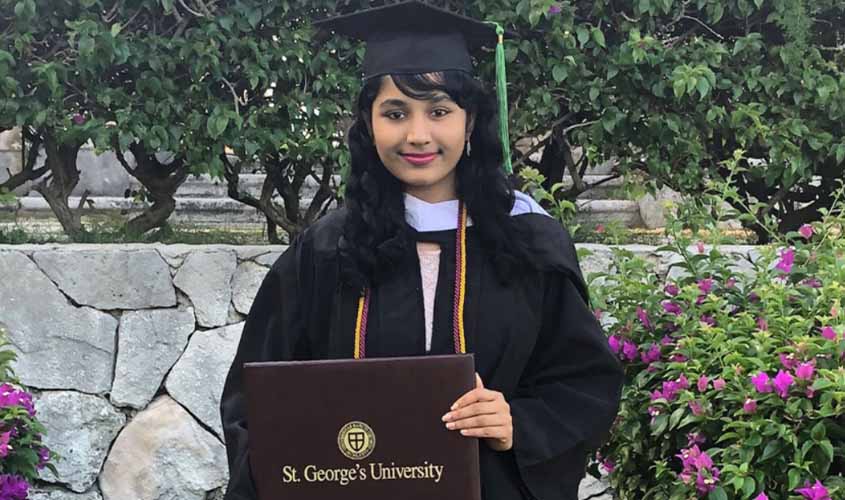 With both her parents being physicians, and her older sister in medical school, it came as no surprise when Namratha Guruvaiah Sridhara also decided on a career in medicine. Yet, it's not just about joining the family business for Ms. Guruvaiah Sridhara. She has always had an interest in the sciences and incredible respect for the medical profession, believing it to be one of the best ways to serve humanity.
"My parents being doctors has partially influenced my decision to become one, but it's much more than that," said Ms. Guruvaiah Sridhara, BSc '20, who graduated at the top of her undergraduate class and is now in her second year of medical school at St. George's University. "I am extremely passionate about helping others and having had the opportunity to work in different hospitals for my summer jobs has further fueled my desire to pursue this career. I believe that health is wealth and delivering healthcare to those in need is a remarkably noble vocation."
Expected to graduate with her MD in 2024, Ms. Guruvaiah Sridhara hopes to specialize in psychiatry.
"Mental health is becoming a real challenge in today's world, especially in this pandemic," she said. "In many parts of the world, mental health is not being properly addressed and I want to advocate for its importance."
Early Signs of a Doctor in the Making
At the age of five, Ms. Guruvaiah Sridhara moved with her family from India to the Bahamas, where she completed her primary and secondary school education at Queen's College, Nassau. While there, she excelled in both school and national examinations, earning a perfect 4.0 GPA, and later graduated as the school's valedictorian in 2017—two years after her sister Nanditha completed the same feat.
"My sister has always served as a role model for me," said Ms. Guruvaiah Sridhara. "She inspires me whether it be in studies or extracurricular activities. Additionally, my parents have also been a huge motivating factor in my life. They keep me grounded and continuously offer words of encouragement. They played a major part in my success and pushed me to be the best version of myself daily."
"Mental health is becoming a real challenge in today's world, especially in this pandemic. I want to advocate for its importance."
Continuing in her sister's footsteps, Ms. Guruvaiah Sridhara then enrolled as a pre-medical student in SGU's seven-year Doctor of Medicine program. A firm believer that the harder she works, the luckier she will be—Ms. Guruvaiah Sridhara again went the extra mile in striving for excellence by maintaining a 4.0 GPA and was selected as the 2021 School of Arts and Sciences valedictorian—just like her sister in years prior.
"Being the 2021 SAS valedictorian was a true honor," stated Ms. Guruvaiah Sridhara. "The past year was a challenge due to the unexpected pandemic. However, with perseverance and consistency, I was able to complete my degree. It served as a reminder to never give up. I'm happy to see that the hard work has paid off."
While completing the first part in achieving her MD, Ms. Guruvaiah Sridhara challenged herself to strike the right balance between her academic goals and extracurricular pursuits. Carving out time from her busy schedule, she has been a member of several student organizations, including Women in Medicine and the Surgery Club, and has served as the Urban Humanitarian Projects co-chair for the Iota Epsilon Alpha (IEA) International Honor Society this past semester—and plans to serve as a grand marshal for the August 2021 term.
"Balancing schoolwork and self-care was something I definitely struggled with initially," admitted Ms. Guruvaiah Sridhara. "However, the key for me was being flexible and setting realistic goals. I made different schedules for my studies and stuck to what suited me the best. I also made sure to make time for myself whether it be going to the gym, or just a walk around this beautiful campus."
According to Ms. Guruvaiah Sridhara, another reason she chose to attend SGU was that it offered a strong support system that focused primarily on ensuring student success. She also described SGU's picturesque campus environment, with its scenic views, beach-front gym, and various cuisine options, as the perfect way to unwind and destress, especially after exams.
"I love that SGU has a massive support system to help us through this journey," stated Ms. Guruvaiah Sridhara. "The University provides great training and education to aspiring physicians. My experience here so far has been great."
– Ray-Donna Peters
Related Reading
https://www.sgu.edu/wp-content/uploads/2021/07/Namratha-Guruvaiah-Sridhara-845.jpg
500
845
lchartor
https://www.sgu.edu/wp-content/uploads/2020/02/sgu-logo-grenada.svg
lchartor
2021-07-27 16:04:04
2021-07-28 14:54:35
SAS Valedictorian Continues Family Legacy in Medicine at SGU