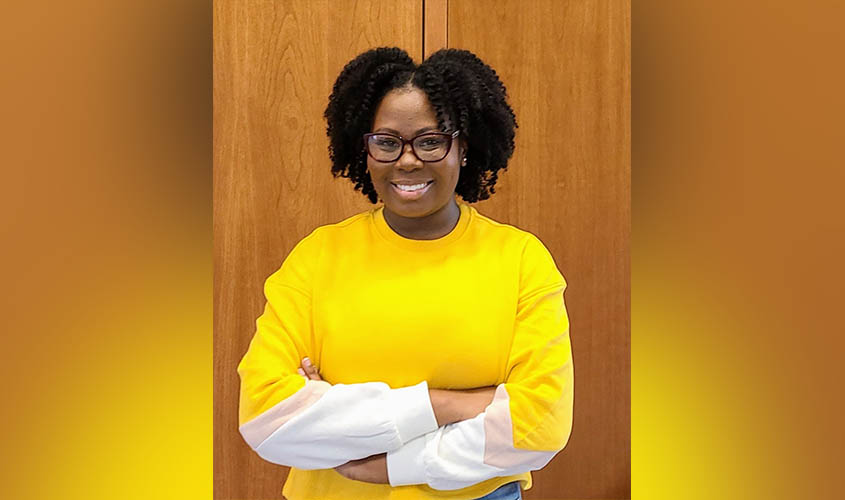 To make strides in improving public health at home, Grenadian Larissa Mark, MPH '18, has gone almost three thousand miles away to make it happen.
With an already enhanced understanding of the promotion and protection of community health, the St. George's University graduate has taken it even further in 2021, now working toward a Master of Public Health in epidemiology at the University of Nebraska Medical Center in Omaha. Ms. Mark is doing so as a recent recipient of the Fulbright Foreign Student Scholarship Award, a program that allows awardees to explore professional opportunities abroad.
"I was beyond excited to venture into this new territory," she said. "It was the opportunity of a lifetime to grow both professionally and personally. This award also came at an opportune time with the spotlight on public health due to the current COVID-19 pandemic."
Ms. Mark was nominated for the award in part due to her research collaboration with her SGU professors on the Bush Burning Practice And Related Respiratory Symptoms Among Households In Grenada, The Caribbean. She also made significant contributions to public health as an environment, health, and safety manager at Sandals Grenada Beach Resort and Spa.
"SGU has played an integral role in my foundation both as a professional and an individual," Ms. Mark said. "It is where I found my passion for public health and made long-lasting friendships. I could always depend on my professors for advice on my career development. However, the support did not stop when I completed my degree—there was continued mentoring support both professional and personal well after I graduated."
On track to graduate in May 2022, Ms. Mark plans to spend her summer working with the Department of Human Health and Services Nebraska. As part of her Applied Practical Experience (APEx), she will be assisting on a study on the health outcomes associated with COVID-19 and pregnant women. She envisions herself completing a PhD in epidemiology or environmental epidemiology before returning to Grenada.
"I have always felt most fulfilled when I am helping other people and making a difference," she said. "There's no better way to do so than with service to the community by improving public health."
— Ray-Donna Peters
Related Reading
https://www.sgu.edu/wp-content/uploads/2021/05/larissa-mark-2-845.jpg
500
845
lchartor
https://www.sgu.edu/wp-content/uploads/2020/02/sgu-logo-grenada.svg
lchartor
2021-05-06 07:31:47
2021-05-06 17:32:44
SGS Grad Wins Coveted Fulbright Scholarship Award