From his time as a student at St. George's University, Dominic Gaspard values the people he met and the adventures he went on as much as foundation it provided for his career
"If you come to SGU with the mindset of obtaining a degree as fast as possible, you would have missed the entire experience," said the 2020 School of Arts and Sciences alum who earned degrees in international business as well as accounting and finance.
Currently a teacher at the Anglican High School in Grenada, Mr. Gaspard is also a full-time entrepreneur involved in two business ventures, one of which started as a project for the SAS Principles of Marketing course in which they were tasked with creating a marketing plan for a new product. Their product of choice: insect repellent candles.
After receiving positive reviews, he encouraged his classmates to join him in pursuing the concept further. They later took the idea to the Grenada Industrial Development Corporation's Young Innovators Challenge where similar sentiments were echoed.
"Most of my time at SGU was actually spent with the SGU community and forming relationships. I've learned so much more outside the classroom thanks to the network I've built," said Mr. Gaspard. "The level of student support and student engagement greatly enhanced my studies, especially given the additional responsibilities at home with my mom."
The highlight of his time was the opportunity to participate in the 2018 Global X-Culture Conference and Symposium held at the University of Macerata in Italy. There he competed among 140 students from 29 countries, and he and his team captured one of only four company challenge trophies. In addition, the international experience provided him with the opportunity to learn about various cultures, interact with different nationalities and understand the importance of global perspectives.
"To SGU, I would say thank you—it's the most enlightening experience I have ever had is my university experience," he said. "That slogan 'Think Beyond' is something that has been branded into me and I don't see the world the same way as I used to. I'm always looking at the bigger picture."
It was not only a reward for him and his colleagues, but when he was faced with personal challenges leading up the Symposium—prompting him to second-guess his participation—he was instead buoyed by the enormous outpouring of support from his fellow classmates, as well as faculty and staff alike.
"I have been involved with another universities, and when I assess the level of student support systems SGU has in place, I can tell there is a conscious effort to take care of both students and staff," he said.
During his time at SGU, Mr. Gaspard was also named president of the Business Students Association and served as a key member of the orientation team.  For those who aspire to pursue any number of careers locally, regionally, or around the world, he would implore them weigh all their options but also to know that "being a product of St. George's University, including the quality of the education, the level of student support, and the extensive ability to network, prepares you for life."
Published December 2020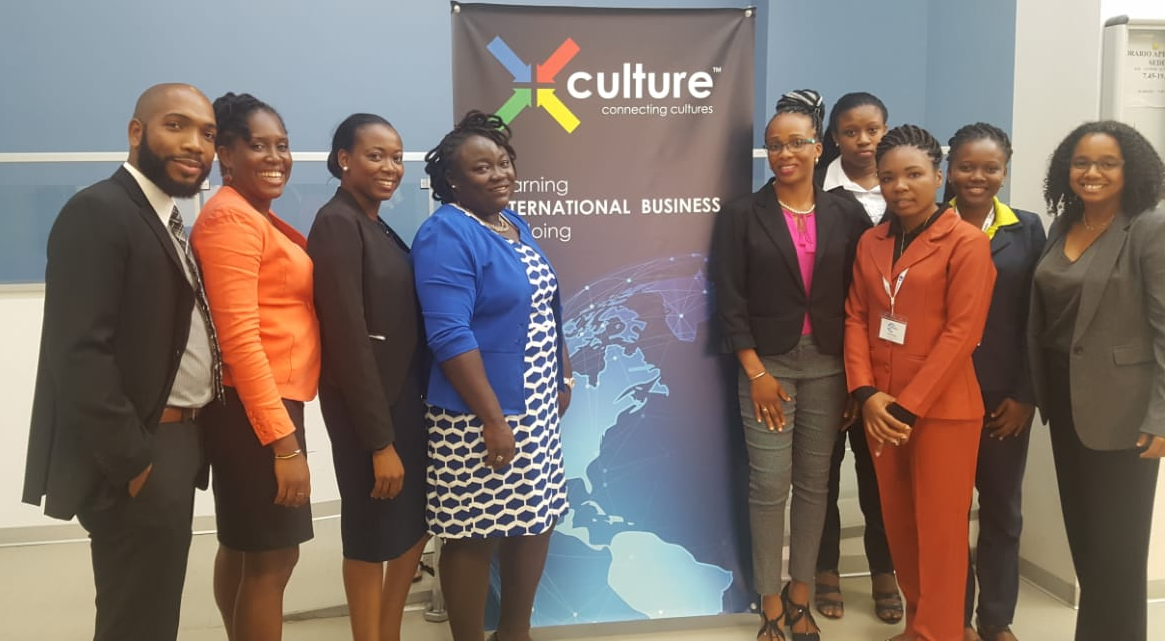 Then a student, Dominic Gaspard (left), aided by his team of international students, was presented with one of the four company challenge trophies at the 2018 Global X-Culture Conference and Symposium held in Italy.
https://www.sgu.edu/wp-content/uploads/2020/02/sgu-logo-grenada.svg
0
0
bpmauser
https://www.sgu.edu/wp-content/uploads/2020/02/sgu-logo-grenada.svg
bpmauser
2021-02-10 02:52:45
2021-02-10 16:35:29
Dominic Gaspard, BSc