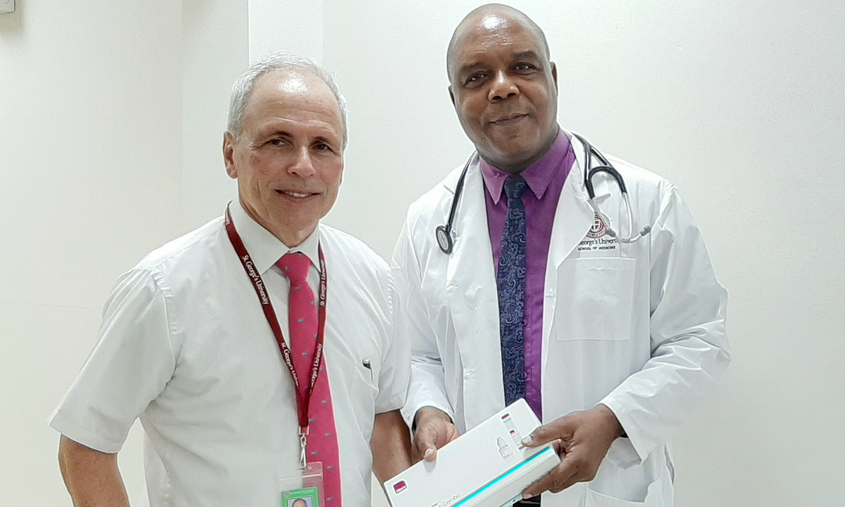 According to OB/GYN specialist Philip Lahrmann, MD '81, if it wasn't for St. George's University, he wouldn't be a doctor today. And as a proud graduate of SGU's Charter Class, Dr. Lahrmann has dedicated more than 16 years to providing essential women's health services to the place where he began his medical career almost four decades ago.
"SGU and Grenada gave me the chance that I wouldn't have gotten elsewhere to be a physician," said Dr. Lahrmann, a practicing obstetrician and gynecologist at Hartford Hospital in Connecticut. "I feel a strong sense of obligation to give back, and even though there are other places I could go, I always choose to come here. Whenever I come back, I'm always welcomed from everyone on the campus to the people I meet out in the community. I especially enjoy meeting up with familiar faces and friends from my time here."
Returning twice a year, Dr. Lahrmann routinely presents lectures at SGU's clinical teaching unit at the Grenada General Hospital, in addition to regularly donating vital family planning supplies, including intrauterine devices which are frequently in short supply on island.
During his most recent visit, Dr. Lahrmann also brought along his son and fellow alum, Jeffrey Lahrmann, MD '15, currently a fellow in the UCONN/Hartford Hospital Neurology Department. The duo was invited to give an alumni talk to SGU students entitled, "Life Beyond the Caribbean." The talk spanned their respective experiences attending SGU, general guidelines for succeeding in a medical career, and discussed their individual specialties.
"It was one of the proudest days of my life to share the podium with my son," said Dr. Lahrmann. "It was a unique opportunity for both of us, as parent and child and being a grad myself I know that the number of legacy students enrolling at SGU continues to grow each year. My son actually visited SGU as a high school student—this was before the creation of SGU's Med-Vet Summer Leadership Academy. I'm honored that he chose to follow in my footsteps."
As the lead OB/GYN, Dr. Lahrmann visits are arranged through the SGU-Physician Humanitarian Network (SGU-PHuN), a program whereby a collection of St. George's University alumni donate their time and expertise to providing much-needed healthcare services such as ophthalmology, podiatry, endoscopy, and cardiology among others at no cost to the Grenadian public.
"Programs like the SGU-PHuN are extremely beneficial not only to the people of Grenada but to the University community as well and need to continue," added Dr. Lahrmann. "In addition to our continual efforts to further advance the level of care for women's health in Grenada, we should also strive to strengthen our connection to the Grenadian medical community and reinforce the bond between the University and its host country. As graduates, we have a unique opportunity to act as ambassadors."
"Dr. Lahrmann is one of our cherished SGU graduates," said Brendon La Grenade, vice provost for institutional advancement. "He holds SGU and Grenada very close to his heart. This is evident in both his personal and professional life. In addition to his son also being an SGU grad, Dr. Lahrmann has continued to give back as a volunteer physician returning to the island of Grenada with the SGU-PHuN, supported SGU growth initiatives through the Alumni Admission Mentor Program (AAMP), provided academic support with the basic sciences department, and he features SGU prominently in his profile as his alma mater."
About Dr. Lahrmann
Dr. Philip Lahrmann graduated from St. George's University School of Medicine in 1981 and completed his residency at Sisters of Charity Hospital, in Buffalo, NY. He began his career with a solo obstetrics and gynecology practice in Connecticut, which eventually expanded to five physicians and three certified nurse midwives. After serving as the lead physician for 25 years, his interest in teaching led him, in 2010, to a full-time position at Hartford Hospital, where he teaches medical students at the University of Connecticut and Dartmouth University as well as residents in the University of Connecticut's obstetrics and gynecology program.
In Dr. Lahrmann's work he focuses on patient safety and adoption of new techniques, including advanced laparoscopic techniques in the hospital and in office-based surgery. He currently practices at the Women's Ambulatory Health Services (WAHS) clinic at the Hartford Hospital Campus in Connecticut. Dr. Lahrmann also has a medical practice in West Hartford, CT named "A Woman's Life Center".
–Ray-Donna Peters 
https://www.sgu.edu/wp-content/uploads/2019/11/Lahrmann-845x500.jpg
507
845
lchartor
https://www.sgu.edu/wp-content/uploads/2020/02/sgu-logo-grenada.svg
lchartor
2019-11-14 21:21:59
2019-11-26 15:32:51
SGU Alum Promotes Advances In Women's Healthcare In Grenada