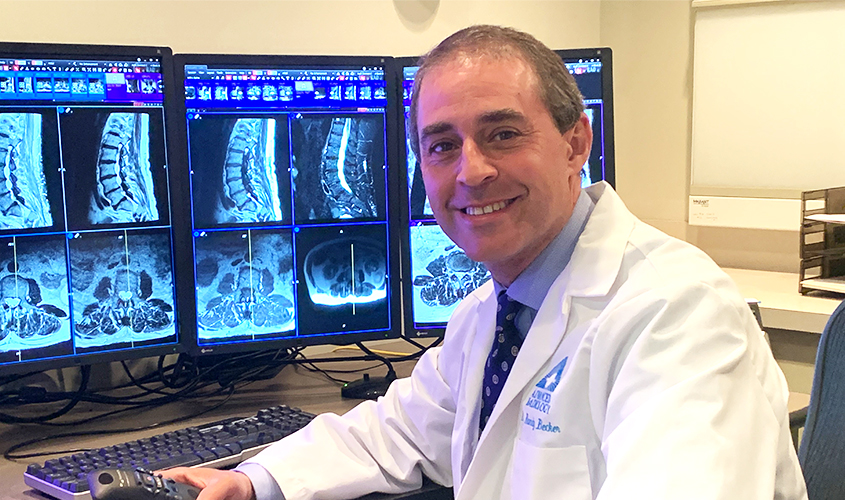 In the fight against breast cancer, access to resources is key; specifically, resources that contribute to early detection. Dr. Randy Becker, MD '00, and current medical director at Crossroads Imaging Center of Advanced Radiology, in Ellicott City, MD, and clinical assistant professor at the University of Maryland School of Medicine, knows firsthand how important early detection is.
This is particularly the case on the island of Grenada, where during his visits through St. George's University's Physician Humanitarian Network (PHuN), he noticed a higher-than-normal percentage of patients with more advanced disease, oftentimes an indirect result of limited breast screening programs and access. To help alleviate this shortage, Dr. Becker worked with his imaging partner Hologic, to secure two portable breast ultrasound units. The donated imaging units will be used at Grenada General Hospital and Princess Alice Hospital.
"Improving access to women's healthcare and screening services in Grenada is an important health initiative for the country. As a radiologist, I know that early detection often means better long-term outcomes for the country's mothers, grandmothers, sisters, and aunts. That is why making this donation means so much to me," said Dr. Becker.
These handheld units are particularly useful for patients with dense breast tissue, which makes it more difficult to detect suspicious abnormalities and is more commonly seen in Black women. The units, which come complete with the latest software, will aid breast surgeons and interventional radiologists in real-time management of complex breast lesions.
"We continue to work collaboratively with our alumni to strengthen the delivery of healthcare in Grenada," said Brendon LaGrenade, vice provost of institutional advancement at SGU. "Through Dr. Becker's unceasing efforts, he has secured this donation as we continue to work on acquiring a mammography machine. We do believe these machines can be a vital interim resource in our fight against breast cancer."
Hologic's multiyear partnership with the nonprofit organization, Black Women's Health Imperative, prompted Dr. Becker to submit a grant proposal for a comprehensive women's imaging service package last year.
"One of the goals of the initiative was to increase screening and access to African American women in the United States, often in underserved areas," Dr. Becker said. "I also learned that one of the more lethal forms of breast cancer, Triple Negative (TNBC), is most prevalent in West Africa, which is the founder population of not just most African Americans, but also of almost all Grenadians. However, with equal and appropriate screening programs we can reduce race- or ethnicity-associated breast cancer disparities such as what we see with TNBC."
He views this donation as only the first step in delivering better women's imaging care and services for the patients in Grenada. Said Dr. Becker: "Our goal of securing a mammography unit with biopsy capabilities to complete a comprehensive radiology service for the entire Grenadian community is what we hope will be the next step."
—Sarah Stoss
Related Reading
https://www.sgu.edu/wp-content/uploads/2022/05/R.Becker-845-x-500.jpg
500
845
sstoss
https://www.sgu.edu/wp-content/uploads/2020/02/sgu-logo-grenada.svg
sstoss
2022-05-12 10:53:44
2022-05-12 10:53:44
SGU grad secures ultrasound units to aid Grenada's fight against breast cancer