Time-Honored Tradition Connects St. George's University Alumni with More Than 200 Current Students
A time-honored event at many medical schools, Grand Rounds allow students to learn from practicing physicians, those who were in their audience's shoes mere years prior. In March, the presentations carried extra meaning at St. George's University as 16 graduates met with a record audience to shed light on what's most important as they progress through medical school and what lay ahead.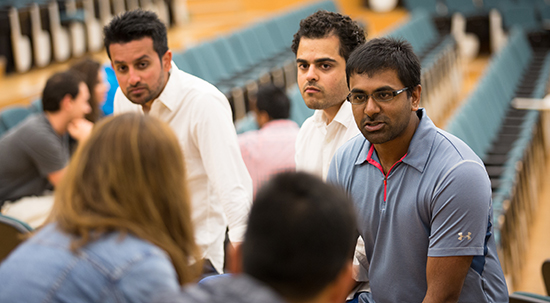 Danielle Hirsch, a PGY-5 pediatric emergency medicine at the University at Buffalo, worked with the University's Alumni Relations office to create the event. She and her fellow graduates had planned a five-year reunion in Grenada, and were delighted to have the opportunity to share their stories and advice with the doctors-to-be in True Blue.
"It was a heartwarming and rewarding experience to give back to the school and community who molded me into the physician I am today," said Purvi Parikh, MD SGU '08, a private and faculty allergist/immunologist at Allergy and Asthma Associates of Murray Hill and NYU Langone Medical Center. "I hope to offer the same mentorship for these students that I have received from previous SGU alums."
"We all had an excellent experience being a part of Grand Rounds and speaking with the current students," said Dr. Shane Svoboda, MD SGU '10, a PGY-4 general surgery resident at Sinai Hospital in Baltimore. "We have been in their position and can empathize with the uncertainty they are feeling. We enjoyed being able to help the future classes and having most of the answers to their questions."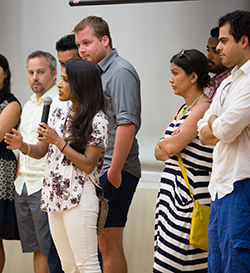 After their introductions, alumni gave a brief overview of what students can expect when they complete their basic science years in Grenada and the important considerations they must make through clinical rotations and approaching residency. A brief question-and-answer session with the audience gave way to small group discussions based on subspecialty, during which graduates answered questions ranging from how they secured their residency positions to the timing of rotations and ideal letters of recommendation.
"We tried to emphasize that they needed to be actively researching what to do next and get paperwork done early," said Dr. Svoboda, who is amidst a one-year research fellowship in colorectal surgery at Johns Hopkins Hospital. "Students need to pay attention to timelines and deadlines so they don't miss out on opportunities."
The graduates currently practice in a variety of fields, from primary care to sub-specialty medicine. Among them were Ansar Vance, a vascular and interventional radiology resident at Christiana Care Health System in Delaware; Robert Pivec, an orthopedic surgery resident at SUNY Downstate Medical Center; and Maya Lin, an emergency medicine attending physician and ultrasound fellow at North Shore University Hospital on Long Island. They were joined by Drs. Hirsch, Parikh, Svoboda, Shimal Sanghvi, Andrew Persits, Rachit Patel, Priya Patel, Aditi Kapil, Ravi Alluri, Idrees Danishpajooh, Anita Narasimhan, Kamyar Nader, and Rahul Patel.
"It's very important for us to give back to SGU," said Dr. Persits, MD SGU '10, a first-year cardiology fellow at North Shore LIJ in Manhasset, NY. "For many of us, SGU was the only school that gave us a chance to chase a lifelong dream. I felt proud standing up there as an alumnus that has been able to live out his dream."
The record Grand Rounds also drew a record audience. According to Rona McIntyre in SGU's Alumni Relations Office, more than 200 students attended the event. It was only the latest installment of Grand Rounds, which the University hosts regularly with visiting professors and alumni visiting the island on personal time. The next edition is scheduled for late March when SGU welcomes back a group from the 2012 graduating class.
https://www.sgu.edu/wp-content/uploads/2016/10/grand-rounds1.jpg
303
550
VS
https://www.sgu.edu/wp-content/uploads/2020/02/sgu-logo-grenada.svg
VS
2015-04-09 19:54:37
2017-01-17 23:32:31
SGU Graduates Presides Over Largest-Ever Grand Rounds at SGU