The SGU community mourns the passing of Mark Lanzieri, MD '85, a dedicated and beloved alumnus of the School of Medicine who provided much-needed heart care for adult Grenadians at no cost under the Visiting Cardiology Program at SGU. Dr. Lanzieri, an interventional cardiologist at Steward Health Care in Massachusetts, passed away at the age of 60 on Sunday, August 9, 2020, surrounded by his family at his home in Monmouth, ME.
In addition to an esteemed career, having been one of the founding members of Central Maine Heart and Vascular Institute in Lewiston, where he practiced for more than 17 years, it was Dr. Lanzieri's interests in travel cardiology and his passion for volunteering that were two of the biggest themes of his life.
His desire to volunteer in Grenada in particular motivated him to visit three times a year to treat the island's residents, who in the past would have had to fly to other Caribbean islands or as far away as New York or Miami to have complicated heart procedures done. In his time, he and his team implanted more than 100 pacemakers and performed 20 coronary angioplasty procedures, arguably adding a collective thousand or more years to the lives of many Grenadians.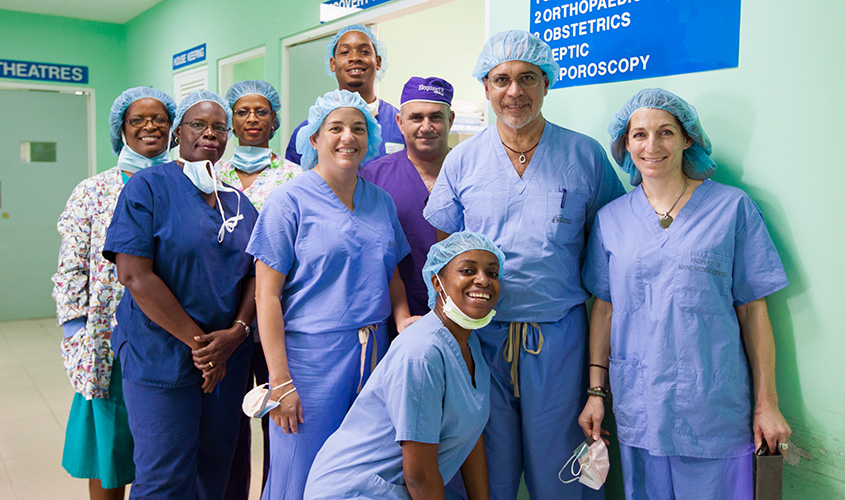 "We are eternally grateful to Dr. Lanzieri for his more than 20 years of life-saving cardiology service to the Grenadian people," said Dr. Charles R. Modica, chancellor of SGU. "Mark represented the spirit of pure humanitarian medicine at its best and he loved what he did. Our thoughts are with his wife, Annie, and their children and grandchildren. He will be greatly missed."
Dr. Lanzieri's multiple visits were arranged through the SGU-Physician Humanitarian Network (SGU-PHuN), a program that he was instrumental in creating. His team included his wife, who was an X-ray technologist and cardiovascular specialist, as well as many other volunteers who treated a wide variety of patients since the program's inception. The value of their time and the equipment they donated exceeded $1 million.
Prior to performing Grenada's first angiograms in 2013, Dr. Lanzieri and his team of volunteers were also the first in Grenada's history to implant a cardiac pacemaker in 2001. For these and his many other selfless contributions, St. George's University honored Dr. Lanzieri by awarding him with a Doctorate of Humane Letters at the 2019 School of Medicine commencement ceremony in New York City.
"More than 30 years after he graduated from SGU, Dr. Lanzieri who wasn't born in Grenada, but educated here—continued to return here to take care of the Grenadian people," commented Dr. C.V. Rao, dean of students at SGU. "The Visiting Cardiology Program that he started once hailed from the humble beginnings of a single room at the General Hospital. Today, his legacy will live on in the clinic which has a dedicated center at Grand Anse with more and more St. George's University alumni and friends of SGU signing on and dedicating their time and expertise just as he once did."
Dr. Lanzieri is survived by his wife, Annie, their three children, Mark Lanzieri Jr. and partner Kassie Haugen, Casey Conroy and partner Alaina Gayton, and Kristi and Jordan Hirsch; grandchildren Karsyn, Myla, Kameron, and Levi; and siblings Charles, Louise, and Eric.
St. George's University sends its deepest condolences to Dr. Lanzieri's family, friends, colleagues, and all those whose lives he touched. His invaluable impact on the growth and success of SGU will not be forgotten.
– Ray-Donna Peters
https://www.sgu.edu/wp-content/uploads/2020/08/Lanzieri-4.jpg
500
845
bpmauser
https://www.sgu.edu/wp-content/uploads/2020/02/sgu-logo-grenada.svg
bpmauser
2020-08-19 22:11:51
2020-08-19 22:13:27
SGU Mourns the Loss of Dr. Mark Lanzieri