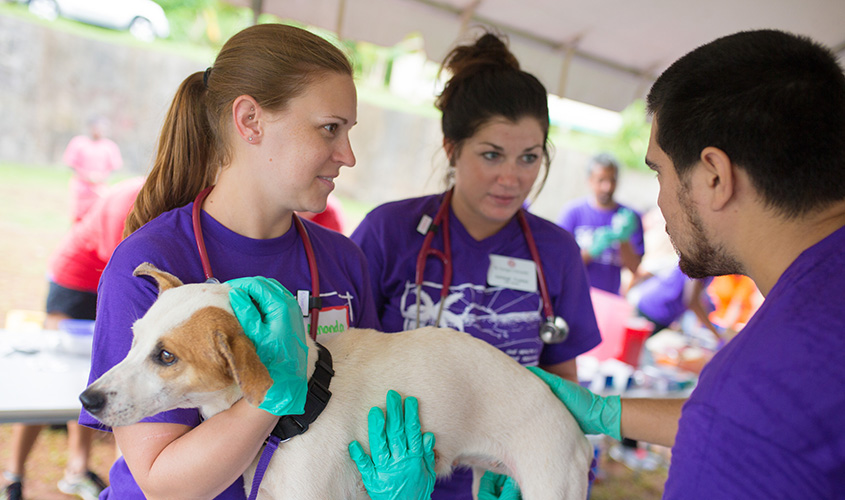 St. George's University's veterinary medical students made the grade once more on the North American Veterinary Licensing Examination (NAVLE), posting a 95 percent pass rate on the exam in 2017-2018 according to the International Council for Veterinary Assessment (ICVA).
A student's passing grade on the 360 multiple-choice-question test is required for licensure to practice veterinary medicine in the United States and Canada. Since 2000, ICVA has used the exam and other assessment tools "to protect the public, and animal health and welfare."
"Our students' success on the NAVLE is a testament to their commitment to their studies and to their future as veterinarians," said Dr. Neil Olson, Dean of St. George's University School of Veterinary Medicine. "Throughout their basic science and clinical years, they must endure a rigorous course load and absorb a wealth of information, and we're pleased that the curriculum has adequately prepared them to meet the highest of practicing standards."
SGU's pass rate on the NAVLE compares favorably with other veterinary medical schools around the world. The pass rate for all criterion group examinees in the November/December 2017 and April 2018 periods was approximately 95 percent. To be an accredited college of veterinary medicine in good standing, the American Veterinary Medical Association Council on Education (AVMA COE) requires that at least 80 percent of students who take the exam will have passed at the time of graduation.
SGU students have a proven track record of success on the NAVLE, including a 94 percent pass rate among test takers in 2016-2017.
"We congratulate our students for demonstrating that they are equipped with the knowledge and skills necessary to have long and successful careers in veterinary medicine," said Dr. G. Richard Olds, President of SGU. "We also salute our faculty and staff for helping to build a sturdy foundation for not only these students but for all of our graduates who are currently in practice."
St. George's University has produced more than 1,600 veterinarians since opening its doors in 1999. The SVM obtained full AVMA accreditation in 2011, and its graduates have gone on to practice in 49 US states and in 16 countries worldwide.
https://www.sgu.edu/wp-content/uploads/2018/10/2017-Year-in-Pictures-0150-20170923_0027.jpg
500
845
bpmauser
https://www.sgu.edu/wp-content/uploads/2020/02/sgu-logo-grenada.svg
bpmauser
2018-10-05 18:38:30
2018-10-05 19:43:49
SGU Students Register 95% Pass Rate on Veterinary Licensing Examination