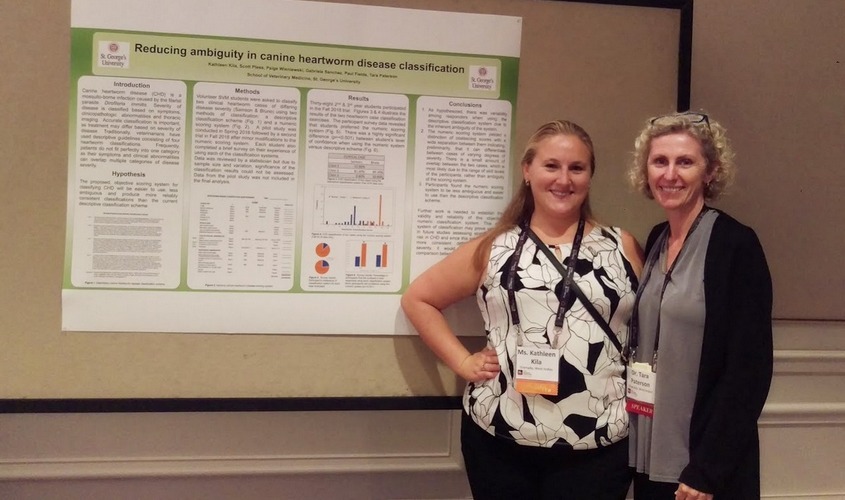 St. George's University School of Veterinary Medicine student Rebecca Howell has stayed the course. An animal aficionado from a young age, she shadowed a veterinarian in both middle school and high school, and later worked in a vet's office.
Now in her sixth term at SGU, the aspiring veterinarian seized the opportunity to present her first poster at the 27th Conference of the World Association for the Advancement of Veterinary Parasitology (WAAVP) in Madison, WI. Her research titled, "Leptospira: Asymptomatic Carrier Status and Seroprevalence in Unvaccinated Canines Presented for Elective Sterilization to the St. George's University School of Veterinary Medicine Junior Surgery and Anesthesia Lab" focused on spreading awareness of the zoonotic bacteria, which poses a serious public health concern since it can be transmitted from animals to humans, as well as encouraging exercising safe practices when cleaning up after pets, since the disease is spread through their urine.
"Attending my first-ever conference was a great experience," Ms. Howell said. "In addition to connecting with fellow vet students and analyzing research from all over the world, I also learned about new technologies being used in the field today. For example, in Europe there's an app that allows pet owners and veterinarians to report ticks, therefore it can help track the migration of ticks from one country to the next. This is something that is useful in animal adoption, especially from other countries, because when you adopt an animal, you adopt their diseases as well."
Also representing SGU at her first international conference was fellow SVM fifth-term student Kathleen Kila. She presented her poster at the 16th Triennial Heartworm Symposium, in New Orleans. Titled, "Reducing ambiguity in canine heartworm disease classification" Ms. Kila's research unveiled a new classification scheme for identifying heartworm disease in dogs.
"Attending the American Heartworm Society's meeting was a big deal for me," stated Ms. Kila. "Getting the chance to present our research on the international stage has been an invaluable experience. With this study, we hoped that by making the process of classifying the different stages of heartworm disease easier, it would remove much of the overlap between classifications that was found within the old system. Our goal was to improve the system by getting rid of that ambiguity thereby making it more objective when evaluating each clinical case of the disease."
The research conducted by Ms. Howell and Ms. Kila both stemmed from their Veterinary Research Investigator class, a series of SVM core curriculum courses developed in order to enhance student exposure and involvement in research. Students from terms 1 through 4 were placed into small research groups and paired with a faculty mentor, together with whom they worked through each step of designing and implementing a small research project—tackling a different phase of research each term, including writing a manuscript and creating a poster.
"I think the opportunity for our students to conduct research is beneficial because it exposes them to research methodology," said Dr. Tara Paterson, associate professor in the Department of Small Animal Medicine and Surgery. "Having the knowledge of how research is conducted allows them to gain a better understanding of evidence-based medicine, which is what we encourage throughout our curriculum so that our students learn to be more critical in their review of scientific work.
"For Rebecca and Kathleen, I believe allowing them the opportunity to present their work to the wider veterinary community at these conferences has not only boosted their self-confidence but has also helped to validate the work they've done during this series of courses."
– Ray-Donna Peters 
https://www.sgu.edu/wp-content/uploads/2019/11/SVM-research-Paterson-845x500.jpg
500
845
lchartor
https://www.sgu.edu/wp-content/uploads/2020/02/sgu-logo-grenada.svg
lchartor
2019-11-14 19:10:32
2021-02-25 21:16:03
SGU Veterinary Students Present Research at Parasitology Conference and Heartworm Symposium