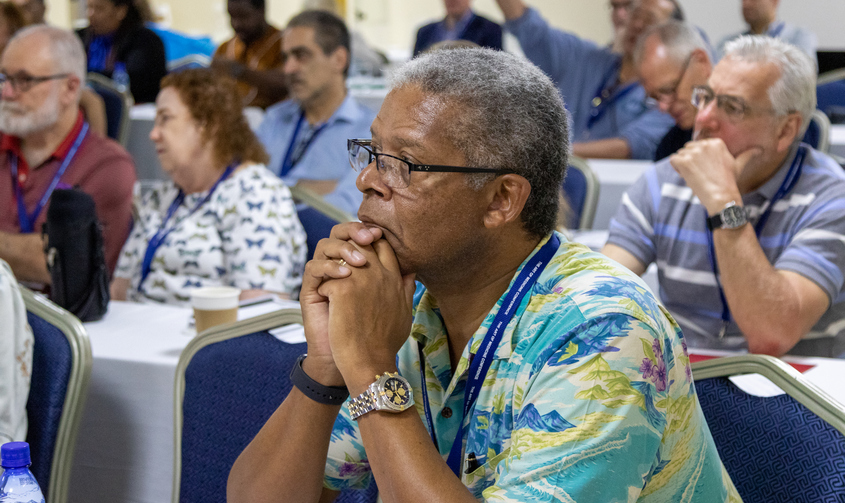 Designed to provide physicians with an overview of changes in the diagnosis, treatment and management plans in today's changing health care environment, this year's School of Medicine Alumni Association (SOMAA) continuing medical education conference was especially beneficial in light of the ongoing coronavirus disease (COVID-19) pandemic—as physicians are turned to in order to provide valuable, high-quality care in communities around the world, for individuals who desperately need it.
"The benefits of our alumni returning to campus to attend the CME conference is that they experience the momentum of the University while connecting with the energy and accomplishments of our current students—the future physicians who will follow in their footsteps," said Robert Alig, vice president of alumni affairs at St. George's University. "With the increasing number of people being impacted by the coronavirus, it will be St. George's University students and graduates who will be called on to assist in the fight against the virus."
Titled "The Art of Medicine," the four-day conference was held once again in association with the American College of Emergency Physicians (ACEP). It featured prominent SOM alumni and faculty presenters such as:
Hematology and medical oncology specialist Shannon O'Connor, MD '05, whose topics included, "Unlocking the Mystery of Hereditary Cancer Genetics" and "Five Things to Know About – Hematologic Disease in Older People"
Paul Mathew, MD '05, currently an assistant professor of neurology at Harvard Medical School and expert in headache medicine discussed "Headache: It's All in Your Head…Or is it?" – accurately classifying headaches and formulating effective treatment plans and interventions
Pulmonary and critical care expert Nirav Shah, MD '02, who discussed the highly relevant topics of "Decoding the Alphabet Soup of Interstitial Lung Disease (ILD)" and "ARDS: Where are we now?" – defining acute respiratory disease syndrome, how the definition has changed over the last few years and the treatment strategies to help improve outcomes.
In attendance at these presentations were two familiar faces among the SOM alumni, Jack Davidoff, MD '88, and his wife Tracey Davidoff neé Quail, MD '90. They were returning for the fourth time in a row to attend the CME conference in Grenada since earning their medical degrees at St. George's University three decades ago. After attending the first CME in 2017, held as part of SGU's 40th anniversary celebrations, the couple was so impressed with the advances made by the University, they felt compelled to return and to keep returning year after year with no plans of stopping. The Davidoffs' love for the Grenadian people and the country that allowed them to receive their medical education has inspired them to plan a next trip to provide clinical services to the Grenadian community in the near future.
"We received an excellent education at SGU and were able to get invaluable hands-on experience," said Dr. Tracey Davidoff, vice president of the College of Urgent Care Medicine. "I would do it all over again because SGU made me into the physician I am today, and I have no regrets."
"We had outstanding instructors and professors, some of whom were the actual authors of the medical textbooks we were currently using," commented Dr. Jack Davidoff, an emergency medicine physician and president of the Air Medical Physicians Association. "During my time here, I got the opportunity to gain real-life experience and it has made me a much better doctor today. Every day that I go to work, I use the knowledge and skills that I learned at SGU."
The fourth annual SOMAA CME grew in participation since last year, with 74 attendees, 32 of whom were SGU alumni, as well as 17 Grenadian physicians who practice locally. Additionally, their time in Grenada wasn't only about lectures and education. The SOMAA provided plenty of opportunities to experience a taste of culture and hospitality on the island many called home during their studies. The group enjoyed a sightseeing tour of Grenada's natural beauty; lunch at Belmont Estate, a fully functional and historic plantation; a shopping tour of Grenada's capital, St. George's; and a catamaran sunset cruise, which included snorkeling and a visit to the Underwater Sculpture Park and Hog Island.
"This CME doesn't just give us, practicing physicians an opportunity to earn 16 continuing medical education credits and a chance to learn new innovations and advances in our respective fields," stated SOMAA President Bruce Bonanno, MD '83. "It also enables our alumni to come back and visit and see the progress the University has made, interact with the students, and have a great time. This level of camaraderie is not found anywhere else."
– Ray-Donna Peters
https://www.sgu.edu/wp-content/uploads/2020/04/CME-2020_845x500.jpg
503
845
lchartor
https://www.sgu.edu/wp-content/uploads/2020/02/sgu-logo-grenada.svg
lchartor
2020-03-19 20:08:16
2020-04-13 17:03:54
SOM Alumni Association Advances the Art of Medicine at Annual CME