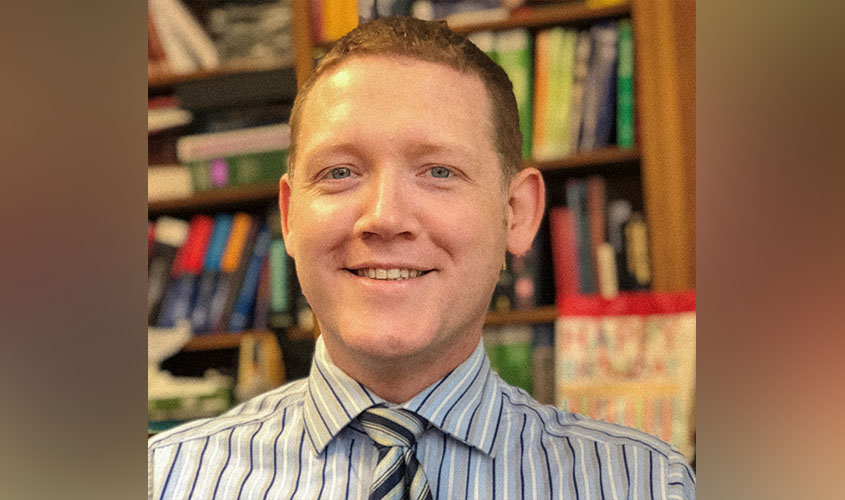 Before deciding to attend medical school at St. George's University, Michael Keenaghan, MD '06, considered entering the field of astrophysics with hopes of becoming an astronaut. He had been filled with a desire to both "know" everything and to help people. However, it was a family friend and former chair of pediatrics who recommended he apply to SGU, which inspired him on the path to specializing in pediatric critical care.
Not only does Dr. Keenaghan have a passion for his specialty of choice, that passion also extends to teaching the next generation of medical students. Since completing his residency training at SUNY Downstate (he served an additional year as chief resident) and his fellowship at New York-Presbyterian Morgan Stanley Children's Hospital Columbia University, Dr. Keenaghan has been involved in academic medicine. At NYC Health + Hospitals/Kings County, where he worked for the past eight years, he was the associate director of pediatric critical care and associate chief academic officer. While there he developed and managed a pediatric simulation center focused on developing trainees' procedural skills.
In 2013, he took on an associate professor position at SGU where he assisted students at patients' bedsides at Kings County hospital. Three years later, he was appointed associate medical director of education and became involved with advising students initially with SGU's Office of Career Guidance and then through its onsite student advisors.
But little did he know that his two passions would eventually lead him back to Grenada one day. Earlier this year, Dr. Keenaghan accepted a full time position within the School of Medicine as an assistant dean of students, moving with his family back to the island. In this new position, Dr. Keenaghan manages SOM's academic advisors for clinical students. He discussed with SGU News his new role, how it feels to also teach Term 5 SOM students, and his plans to work with Grenada General Hospital to support and grow its pediatric critical care service.
St. George's University: Can you share why you wanted to come back to Grenada and work at your alma mater?
Dr. Keenaghan: I was given a great opportunity to help students achieve their academic goals, as well as provide pediatric critical care support for the children of Grenada.
One of the best rewards in being an intensivist, after caring for an extremely sick child—a day, a week, or a month later when all the lines and breathing tubes have been removed—they smile. It is a priceless moment.
SGU: What are you most passionate about in your work?
Dr. Keenaghan: Each doctor, over the course of their career can contribute to about 2,000-2,500 extra patient lives lived. In pediatric intensive care, if I do my job well, I may contribute far more since my patients are so young. However, being able to help many more caring people become doctors every year, multiples that logarithmically. Alone I can help some, but together we can help the world. Being a teacher and assistant dean at SGU truly makes that possible.
SGU: Share what your experience was like at SGU and its impact on your life?
Dr. Keenaghan: I met my future wife a month before moving to Grenada in 2002.  Being 2,100 miles apart, she kept me focused on my studies and not distracted. She was my greatest support when school was the hardest. I think without her I wouldn't be a doctor, but without SGU there would be no us, and our five amazing boys. Grenada gave me my first two dogs, lifelong friends throughout the world, and now is the place that I call home. I'd say it had a pretty large impact.
SGU: How well do you feel that SGU prepared you for the next step in your journey?
Dr. Keenaghan: I felt extremely prepared. I learned to persevere when things may not be in my favor, which has helped me on to all the next steps. From those lessons I learned the power of second chances, both in my own experiences and in my patients.
SGU: What plans do you have for the future in your new role?
Dr. Keenaghan: They are too numerous to count, but I'll start with growing the Clinical Academic Advising Development and Support team and services to continue to help students succeed. Also, providing support to the healthcare professionals at the Grenada General Hospital in any way they need.
SGU: What advice would you give to prospective students who are considering applying to SGU?
Dr. Keenaghan: Don't hesitate to follow your dream. Dedicating yourself to study and becoming a physician means giving up a few things for a few years. While pursuing your MD there are no immediate rewards along the way, but the long-term ones are worth every minute and every penny. Sitting in biochemistry learning about mitochondria for the third time, may not be the most fun, but standing in the ICU remembering that methylene blue improves mitochondrial respiration and starting it on a patient with severe shock, then saving their life, that's worth it.
– Ray-Donna Peters
Related Reading  
https://www.sgu.edu/wp-content/uploads/2022/06/mike-keenaghan-845.jpg
500
845
lchartor
https://www.sgu.edu/wp-content/uploads/2020/02/sgu-logo-grenada.svg
lchartor
2022-06-22 02:05:00
2022-06-23 11:47:28
SOM grad returns to train the next generation of physicians