Grenada Olympic Athletes to Become Sporting Ambassadors at Secondary School Sports Days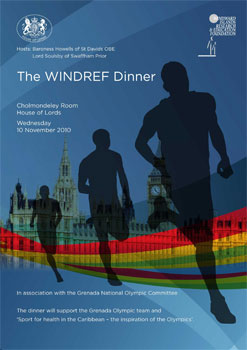 The Windward Islands Research and Education Foundation (WINDREF ), the research institute at St George's University, Grenada, is encouraging a "Sport for Health in the Caribbean" initiative in hopes to "inspire a healthier generation of Caribbean youth." The campaign has been endorsed by Grenada's National Olympic Committee and the Government of Grenada, Ministry of Sports.
Sport for Health will make its debut in Grenada, and will be spread to the rest of the Caribbean with activities geared to addressing the growing burden of childhood obesity and the chronic growth of non- communicable diseases, including diabetes, and promote a healthier philosophy among children and their families. As a first step, Grenada's Olympic athletes will be asked to become sporting ambassadors at sports days to he held in all Grenada's secondary schools in the coming year.
A dinner at London's historic House of Lords, co-hosted by Grenadian peer, Baroness Howells of St David's and WINDREF's President, Lord Soulsby of Swaffham Prior, will be held this evening to raise funds for the campaign. Lord (Seb) Coe, Chairman of the London Organising Committee of the Olympic Games and former double Olympic gold medallist, will speak on "Sport for Health in the Caribbean: The Inspiration of the Olympics". Additionally, Professor Alan Fenwick of Tropical Parasitology at Imperial College, London, will speak at the dinner, describing the threat posed to the health of the region by Neglected Tropical Diseases (NTDs)—a subject of concern for the Caribbean that WINDREF is currently addressing through its research. Tickets for the House of Lords dinner are sold out.
WINDREF's support for Grenada's Olympic team and "Sport for Health in the Caribbean" campaign initiatives align with its mission to advance health and environmental development through multi-disciplinary research and education programmes and to promote collaborative relationships between internationally recognised scholars, scientists, and charitable institutions. WINDREF was founded in 1994 and is located on St George's University True Blue campus in Grenada.
Donations can be sent to Elliott Fox at Raitt Orr & Associates, 2 Vincent Street, London, SW1P 4LD, UK. Checks should be made out to WINDREF UK.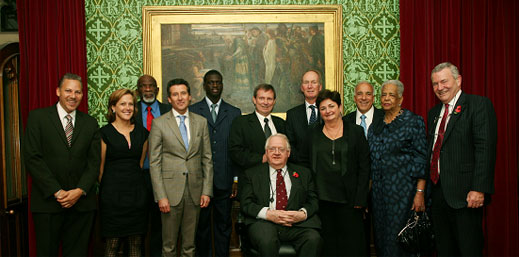 The WINDREF Board with some of the attendees at the dinner from left to right: Trevor Noel, Karen Lawson, Royston La Hee, Lord Coe, Kirani James, Calum Macpherson, Lord Soulsby, Richard Summerfield, Margaret Lambert, Charles Modica, Baroness Howells, Patrick Orr.

https://www.sgu.edu/wp-content/uploads/2016/10/news-windref-sports-health.jpg
350
247
VS
https://www.sgu.edu/wp-content/uploads/2020/02/sgu-logo-grenada.svg
VS
2010-11-10 14:23:04
2017-01-18 01:26:15
Sport for Health Initiative Seeks to Inspire Healthier Generation of Caribbean Youth