Dr. Joseph Feldman, a graduate of the St. George's University School of Medicine ('89), was involved with the initial use of Radio Frequency Implantable Devices (RFID) in human patients in hospitals. He is recognized nationally for innovative work in medicine as Chairman of the Department of Emergency Trauma at Hackensack University Medical Center and CNN has taken notice. Segments featuring Dr. Feldman will be aired Monday, October 17 on "What's Next" – 5-6 am, 11-12 pm, 1-2 pm, & 5-6 pm and "Headline News" – 10-11 pm & 1-2 am.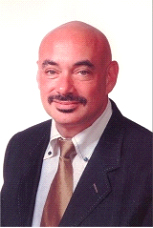 RFIDs in the form of small microchips under the skin were first implanted into animals years ago to allow owners to track lost pets, limiting unnecessary euthanasia. Dr. Feldman took this idea one step further, implanting the tiny identifiers in human beings to enable hospitals better infant and patient protection. RFIDs are also used to prevent wandering of disoriented patients and control access to various areas within the facility.
Dr. Feldman commented, "There are great benefits to getting involved with RFID microchip technology – it has provided an efficient way to get all vital medical information about someone by simply scanning their arm. There are so many patients who come into the Emergency Department (ED) daily and are unable to speak or communicate with the staff. It is much easier to get a medical history and vital information about the patient now that RFID microchip technology has been initiated."
About the size of a grain of rice, the RFID microchip technology encodes a 16-digit identification number that ties via the internet to patient records. Hackensack University Medical Center was the first hospital to use this technology, and, after FDA approval, over 60 additional hospitals have signed on to adopt practice. The manufacturer of the RFIDs, VeriChip, states the technology was born out of "the events of September 11, 2001 when New York firemen were writing their badge ID numbers on their chests in case they were found injured or unconscious," evidence of a desperate need for personal information in emergency situations that an injectable RFID microchip could supply.
In addition to his responsibilities at Hackensack University Medical Center, Dr. Feldman holds academic appointments at Seton Hall University, the University of Medicine and Dentistry of New Jersey, New Jersey Medical School and Long Island University, as well as a part-time position as Associate Professor of Emergency Medicine in Kingstown Medical College, St. Vincent.
Published on 10/14/2005
https://www.sgu.edu/wp-content/uploads/2016/10/Dr-Joseph-Feldman-Portrait.jpg
228
153
smashm3233
https://www.sgu.edu/wp-content/uploads/2020/02/sgu-logo-grenada.svg
smashm3233
2005-10-14 15:26:54
2017-01-18 03:17:47
St. George's University Grad First to Use RFID Microchip Technology in Humans