Dame Hilda Bynoe was the first woman governor of a Commonwealth of Nations country. She was the governor of Grenada from 1968 to 1974, and she was, thus far, the only woman to have been governor of one of the British Dependencies. She was also a member of the University's Academic Board almost from its inception in 1983. Sadly, Dame Hilda Bynoe of Grenada passed away on April 6, 2013, after a long and productive life enhancing the health and education of Grenada and the region.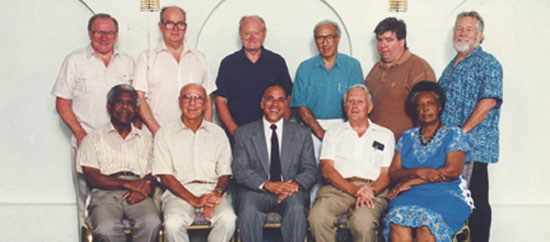 Left to Right Back Row: Frederick King, Craig Burrell, Sir Malcolm McNaughton, Ed Fischer, John J. Cush, Robert Blanc
Front Row: Sir Kenneth Stuart, Paul Cutler, Chancellor Charles Modica, Keith B. Taylor, Dame Hilda Bynoe
Dame Hilda had long been a valued member of the Academic Board of St. George's University, which she joined in the 1980s when the University was smaller in mission and scope. For more than 20 years, she strongly supported the University's mission in Grenada, supporting also the expansion of the University by developing a research and graduate program, and a School of Arts and Sciences. Dame Hilda was an important part of SGU's history and she was a positive influence on the Academic Board. In May of 2006 she delivered the commencement address at the commencement ceremony in Grenada for the School of Arts and Sciences and the Graduate Studies programs at SGU.
Living a life dedicated to service in the teaching and medical professions, Dame Hilda made a significant impact in the lives of those she came in contact with and in her community. Well known throughout the Caribbean, she was the first female governor in the British Commonwealth and the first native governor of Grenada, Carriacou & Petite Martinique; her term of office lasted from 1968 to 1974.
Dame Hilda was predeceased by her husband, Peter Cecil Alexander Bynoe, and is survived by two sons and her grandchildren.
https://www.sgu.edu/wp-content/uploads/2016/10/news-dame-hilda-bynoe.jpg
242
550
VS
https://www.sgu.edu/wp-content/uploads/2020/02/sgu-logo-grenada.svg
VS
2013-04-11 18:14:32
2017-01-18 00:29:14
St. George's University Mourns the Loss of Dame Hilda Bynoe