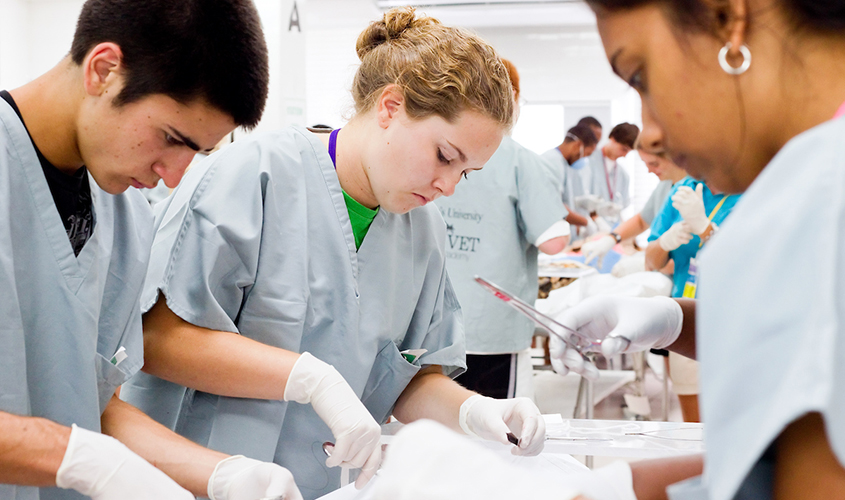 In its 17th year, the St. George's University Med/Vet Summer Leadership Academy continued to provide an insider's view for college and high school students interested in exploring a career in medicine or veterinary medicine. This summer also marked the largest turnout since the program's inception in 2002, with 133 aspiring physicians and veterinarians visiting the University's True Blue campus in Grenada.
The high school student program ran for 10 days, while the Medical Leadership component of the college student program spanned 12 days. Qualified students are eligible for college credit through the School of Arts and Sciences.
"By coming here, students get the opportunity to decide for themselves whether or not this career choice is right for them," said Avi Bahadoor-Yetman, director of the Med/Vet Summer Leadership Academy. "This experience will either reinforce their passion to practice medicine or veterinary medicine or help them decide this is not the professional path for them."
Hailing from the United States, Canada, South Korea, Thailand, Philippines and more than 10 other countries, the students were taught through a series of lectures, small-group problem solving sessions, hands-on training, and practical lab work. This year's lectures ranged from cardiology and neurology to musculoskeletal and gastroenterology, and each is followed by sessions in the anatomy lab during which students work with human and animal cadavers.
However, the program isn't all work. The academics are balanced out by watersports such as sailing, waterskiing, and snorkeling, as well as hiking through Grenada's rainforests and other activities that highlight the culture and beauty of the island.
Nonetheless, fatigue is built into program and no matter the schedule, the 15-hour days are by design.
"Attending medical school or veterinary school is both rigorous and exhausting in nature," said Ms. Bahadoor-Yetman. "Hence the program is designed to create an authentic experience successfully balancing a challenging academic program with extracurricular activities. They get a taste of curriculum, SGU, and Grenada. In addition, the quality of the professors and the organization of the staff help make this an invaluable experience that enhances students' knowledge in the field of medicine or veterinary medicine, while also offering a tremendous opportunity for personal growth and self-discovery."
– Ray-Donna Peters
https://www.sgu.edu/wp-content/uploads/2019/07/Med-Vet-Summer-Academy-845-x-500.jpg
500
845
bpmauser
https://www.sgu.edu/wp-content/uploads/2020/02/sgu-logo-grenada.svg
bpmauser
2019-07-19 20:54:27
2021-02-25 21:15:56
Summer Academy Provides Students With Insight Into Medical and Veterinary Medical Careers