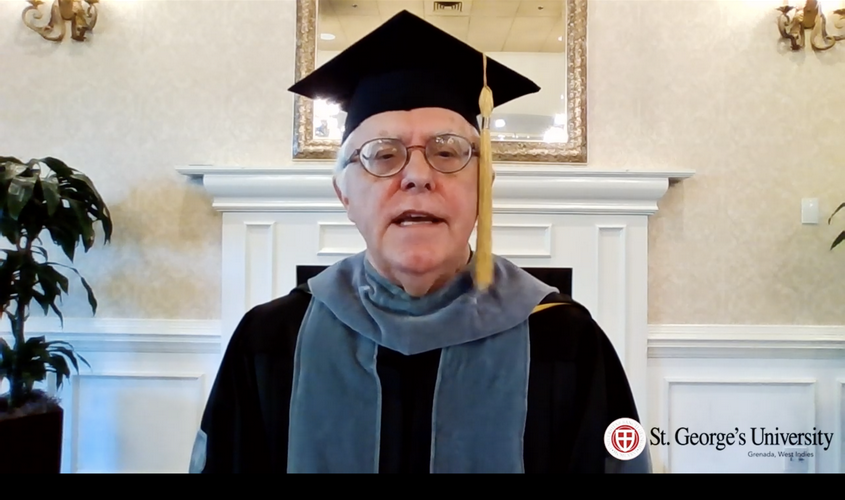 The School of Veterinary Medicine celebrated its 17th annual commencement on Saturday, June 6, with 180 students from nine countries and 39 US states graduating from the school. For the first time in history, the ceremony was held virtually, due to the coronavirus disease (COVID-19) pandemic.
"This is a very special day, particularly for the young women and men who have completed four years of rigorous veterinary medical education, in addition to several years of understudies and who in a few minutes will embark upon their professional careers as the world's newest veterinarians," said Dr. Neil Olson, dean of the School of Veterinary Medicine.
With the addition of these new graduates, the SVM will have produced nearly 1,800 Doctors of Veterinary Medicine since the first graduating class in 2003.
"This ceremony is a symbol of confidence that you are now equipped (to enter) into the world," Dr. Olson said. "You must continue learning to keep pace with the changing world around us. Your academic qualification will help to open opportunities, but beyond that you must demonstrate your ability to learn and grow in the fields you choose. You will be stretched in many different directions throughout your career and you must rely on your core values to guide you."
"Without question the ongoing COVID-19 pandemic demonstrates the enormous need for veterinarians engaged in One Health public health, epidemiology, and biomedical research," he added.
During the ceremony, Dr. Charles Modica, the University's chancellor and co-founder, conferred the degrees of the graduands, while Dr. Lauren Nikki Wise, associate professor in large animal medicine and surgery, lead the students in saying the Veterinarian's Oath.
Ready for Anything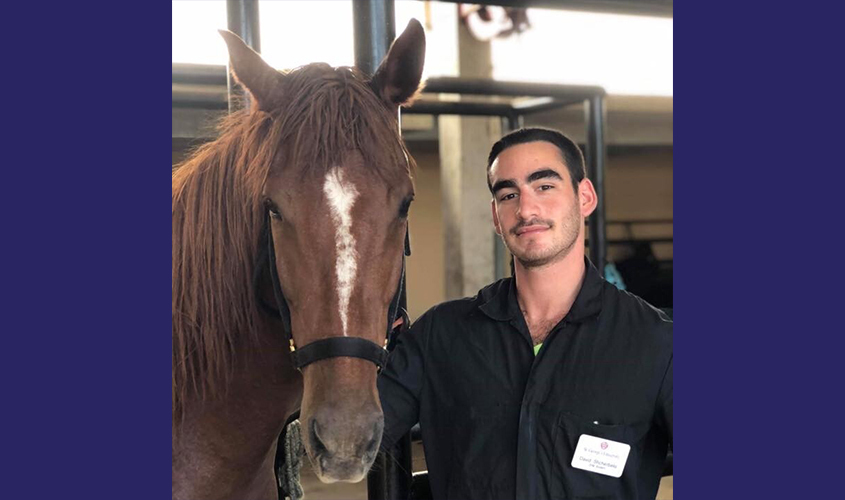 David Shcherbelis, the keynote student speaker for the class of 2020, noted in his prepared remarks that the veterinary school experience has taught him and his classmates to persevere through challenging times. He plans to become an equine veterinarian, after just completing a six-month equine internship at Piedmont Equine Associates in Madison, GA, where he focused on theriogenology, sports medicine, and general practice.
"Today is a symbolic day, a day that we crossed the professional threshold," he said in his address. "Finally, after all these years and the schooling we've done, people will refer to us as doctors. It's the first day of our future.… All of us share a love for animals and a desire to be the best vet we can be."
Dr. Shcherbelis celebrated the day with his fiancé and parents at his parent's home in South Carolina.
"It can't be understated … SGU taught me to push through," he said in a follow-up interview. "I feel as though there is nothing I can't do after coming from St. George's," encouraging future and current vet students to always keep pushing to better themselves.
Celebrating Across the World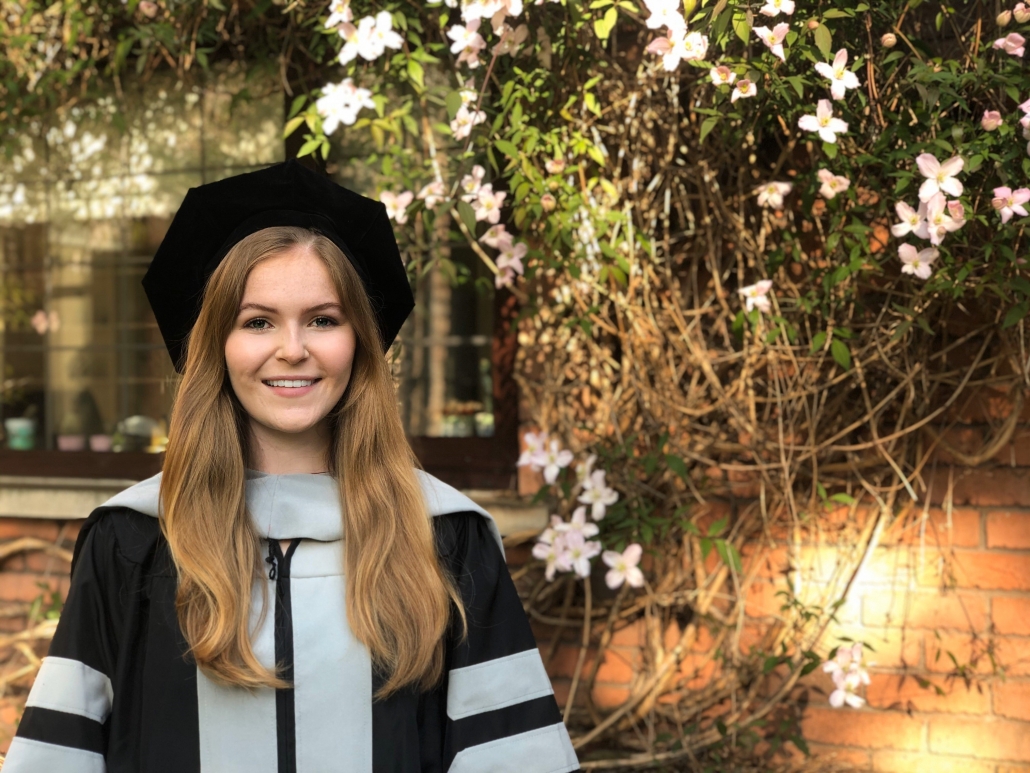 "St. George's was some of the best years of my life," said Constance Nicholl, DVM '20, who returned to her home in Ireland to finish her clinical year at the University of Dublin. Dr. Nicholl is currently studying to take the UK-licensing exam through The Royal College of Veterinary Surgeons in August. She then plans to pursue a career in small animal medicine, specializing in orthopedic and soft-tissue surgery.
Once she is certified in her specialties of choice, Dr. Nicholl also plans to travel abroad to use her skills in different countries and thanks SGU for opening those doors of opportunity.
"For me, I've not only learned about veterinary medicine that applies to the United Kingdom and Europe, but I've also had the opportunity to learn about vet medicine in the US through St. George's. It means that I can work anywhere I want in the world. So, having those opportunities is amazing," she said.
Never Say No To Opportunity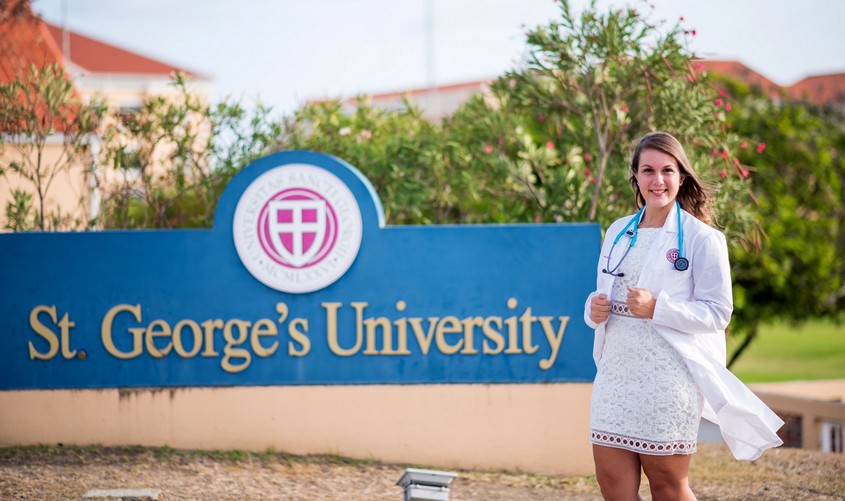 "My biggest piece of advice is to never say no—take every single opportunity—because you never know where the opportunity is going to lead to," said Nia Rametta, DVM '20. "I am so fortunate for literally the whole SGU experience."
One of her most treasured memories, besides moving to the island of Grenada, was traveling to Vienna, Austria with the International Veterinary Students Association (IVSA). The group toured the country's veterinary school and she was able to take in the sights of the city. "That was an awesome opportunity," she said.
Dr. Rametta, who originally hails from Pennsylvania, will be moving south to work as a small animal general practitioner at Banfield Pet Hospital in Largo, FL. She hopes to pursue an emergency medicine specialty, believing SGU has equipped her with not only critical vet medicine knowledge but the ability to handle any situation she comes across.
"I had so many opportunities for hands-on learning and that was a huge deal," Dr. Rametta said. "That's how I learn—I learn by doing. So, working hands-on from day one, I was able to work with live animals and learn the basics. That has helped me immensely during my clinical year at Auburn University because I felt more comfortable and confident of procedures being asked of me. I felt very prepared to be able to do hands-on procedures."
Dr. Rametta spent graduation with her family, two cats, and adopted dog from Grenada.
Taking a Leap of Faith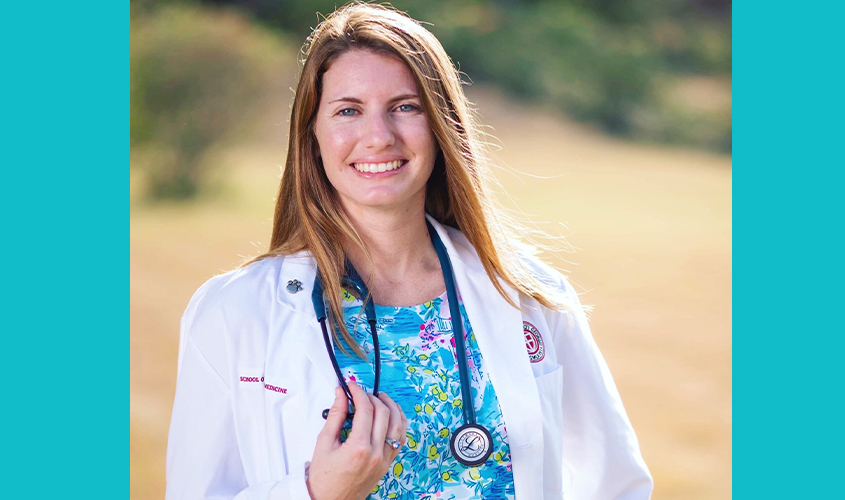 Camille Richie, DVM '20, grew up in Marco Island, FL, with the Everglades National Park and the Gulf Coast as her backyards. With her mother as a marine biologist and her father a ship's captain, she has a passion for fishing and all things related to aquatic water life.
While going to SGU was a "huge leap of faith," she said, "it was honestly, the best choice I could have made."
"Moving to a different country really kind of set me up for getting out of my comfort zone and just kind of thinking through things differently than if I stayed in the US. Grenada really helped me grow as a person," said Dr. Richie, who went to the University of Florida, Gainesville, for her undergraduate degree.
One of her most memorable experiences while at SGU was to help form the school's World Aquatic Veterinary Medicine Association (WAVMA) chapter. As vice president of the chapter, she was in charge of organizing lionfish culls with local dive shops.
Along with boyfriend and chapter president Chris McMonagle, DVM '21 (expected), they worked together to get the club off the ground, providing educational workshops about aquatic veterinary medicine, and bringing together students who had similar interests. The group also organized culls of lionfish, an invasive fish in the Caribbean.
"WAVMA was super important in my time at SGU because it helped me decide on the career path I want to follow, which is aquatic veterinary medicine," said Dr. Richie, who also became dive-certified while in Grenada.
Dr. Richie will be starting a job at Banfield Hospital in Ocala, FL, at first focusing on small animal and exotics, and eventually working towards a specialization in marine mammal rehabilitation and aquatic veterinary medicine.
"For new students, that DVM degree seems like a long, long way away if you're just starting Term 1, but trust me, it goes by so fast," she said. "I can't believe I'm already here and people are calling me 'Doc' now. I'm just super excited to start what I'm supposed to do in life."
SGU's web page celebrating the class of 2020 School of Veterinary Medicine graduates captured students' moments of celebration—on social media, with photos, and through stories. Visit the page online.
— Laurie Chartorynsky
https://www.sgu.edu/wp-content/uploads/2020/06/OlsonThumbnail-845x500-1.jpg
503
846
lchartor
https://www.sgu.edu/wp-content/uploads/2020/02/sgu-logo-grenada.svg
lchartor
2020-06-10 15:14:17
2020-06-12 15:25:52
SVM 2020 Grads Encouraged to Continue Learning to Keep Pace with The Changing World