Last we spoke with Andrew Kushnir, DVM '19, in March 2022, he was at the Ukrainian-Poland border crossing in Medyka, Poland providing medical assistance to refugees' pets. What was supposed to be a three-week trip ended with Dr. Kushnir staying for most of last year to work with animal rescue groups and zoos to help vulnerable animals affected by the Russian-Ukraine war.
During his time in Ukraine and Poland, Dr. Kushnir saw horrific destruction and pain but also experienced joy and gratitude through the eyes of the animals he cared for, including three African lion cubs. Dr. Kushnir, who returned to the United States in December, is still processing all that he saw and experienced while overseas but has had some time to reflect.
After some of the most "challenging, terrifying, and beautiful months of my life, I know now that I am forever changed as a result of my time there, and a part of me still hasn't returned from overseas," he said.
At the one-year mark of the war, Dr. Kushnir shared his experience, what he learned about himself as a veterinarian and caretaker, and his plans to continue supporting animals—and their owners—most in need.
St. George's University: How long were you in Ukraine/Poland?
Dr. Kushnir: At the beginning of the war, I worked with IFAW (International Fund for Animal Welfare), helping refugees cross into Poland with their pets. We functioned out of a blue tent about approximately 100 feet from the official border crossing in a humanitarian village set up to help Ukrainians fleeing destruction. Many of the animals I saw were in rough shape when they crossed, and as a veterinarian, I was responsible for doing everything I could to help them. We knew that by helping people's pets, we were helping the people. In total, I was at the border for three months, before venturing into Ukraine solo to see where I could help on the ground.
In the fall, I was volunteering at a veterinary hospital in the southern Ukrainian city of Odesa—a beautiful city that typically is vibrant and full of people—but at the time, had lost about half of its one million residents. I had only intended to spend a few weeks there, but shortly into my stay, three African lion cubs were abandoned at the city train station, and I knew I had to get them out. It was another three months in Ukraine and then a month at the Poznan Zoo in Poland, caring for the African lion cubs and a black leopard cub, all rescued from Ukraine.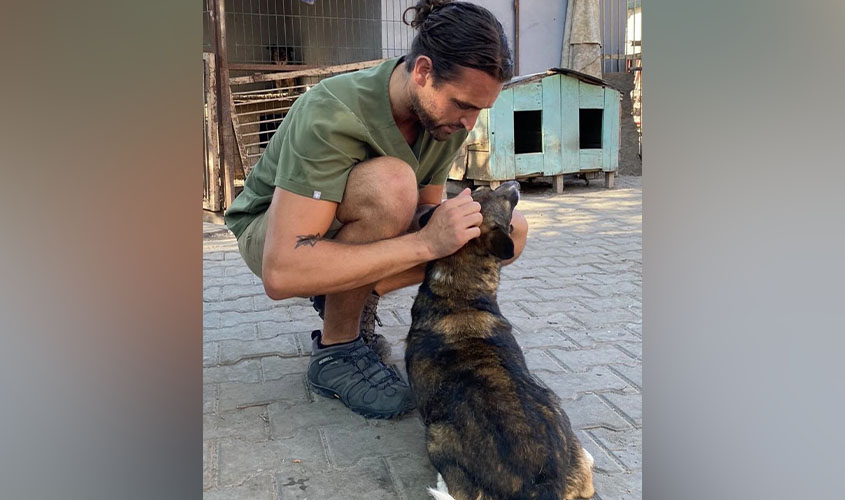 SGU: What other kinds of animals did you treat? What were some common forms of aid you provided to them?  
Dr. Kushnir: At the border, I saw mostly dogs and cats but occasionally exotic pets like snakes, birds, and even some turtles. The condition these animals arrived in at the border ranged from totally healthy to wounded, emaciated, dehydrated, and stressed. We had a tent set up with various meds sourced from home and the human medical tents at the humanitarian village. We were a lily pad for refugees as they mainly were headed on a path toward somewhere else in Europe.
When I was in Odesa, I saw many species of reptiles, birds, wild owls, raptors, and small mammals; and then, of course, the lion cubs. Toward the end of my time in Ukraine, I was in Kyiv at a rescue center, Wild Animal Rescue Ukraine, for large predators. The day we evacuated to Poland, we anesthetized and loaded up four adult African lions and an Asiatic black bear; the lion and leopard cubs were much easier to get into their crates for transport and didn't require anesthesia.
SGU: What were some of the hardest things to see while over there?
Dr. Kushnir: After a while, the air raid sirens, the sounds and sights of artillery, and suicide drone attacks sadly become a normal part of daily life. It was startling when the attack was close by, of course, but then you continued on with your day. It's life in war.
The most heartbreaking moments for me were probably those first couple of months at the Polish border, interacting with folks whose homes were destroyed days prior and who worried about their loved ones now under occupation. My father was a boy when his family fled Ukraine on foot during World War II, and I often saw him in every child who crossed, fleeing another war. I could not help but reflect on how recurring life can be.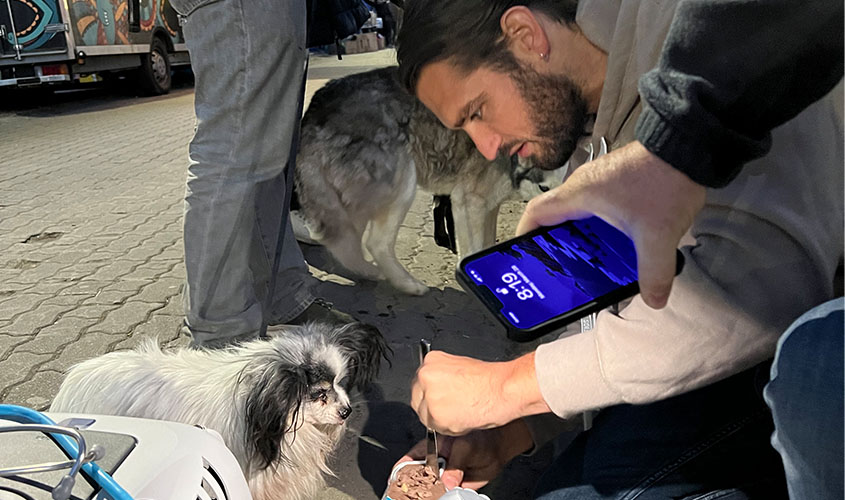 SGU: Can you talk about a patient case that affected you? How so?
Dr. Kushnir: I remember it was a cold, wet October night. I had the three two-month-old cubs with me in Kyiv at this point, and most of our days were without power, water, and gas. We had a short window of available electricity, so I quickly boiled some water for their milk formula and went to feed them in their room. Despite having a bit of power available, it was common practice to have all lights turned off at night to make yourself less of a target from Russian suicide drones or aerial surveillance. I was feeding the cubs when I heard a sequence of loud thuds from what felt like right outside the window of the house. Initially, I thought it was from the horses in the stall outside kicking the walls, but then I saw flashes of light through the windows. I was in the vicinity of a combined missile and suicide drone attack that not only could I see, but I could feel. Once I registered what was happening, I remember looking down into the  cubs' eyes as they suckled unbothered, not knowing what was happening around them, just happy and content that their bellies were filled. Their peace brought me peace. I like to think those cubs saved me as much as I saved them.
"Many of the animals I saw were in rough shape when they crossed, and as a veterinarian, I was responsible for doing everything I could to help them. We knew that by helping people's pets, we were helping the people."
SGU: Were there moments of joy?
Dr. Kushnir: It feels strange to admit, but there were many moments of immense joy during my time in Ukraine and Poland, despite the horrific scale of destruction that is still happening. At the border crossing, we helped about 1,800 animals, which means we helped at least that many people worried about their pets.
Performing an orthopedic procedure on a wild owl found by Ukrainian soldiers on the frontlines, and then having those same soldiers release him back to the wild was a huge win. Finally, after months of careful planning and logistics, getting the lion cubs across the Atlantic Ocean and to one of the best sanctuaries in the world was a also monumental win.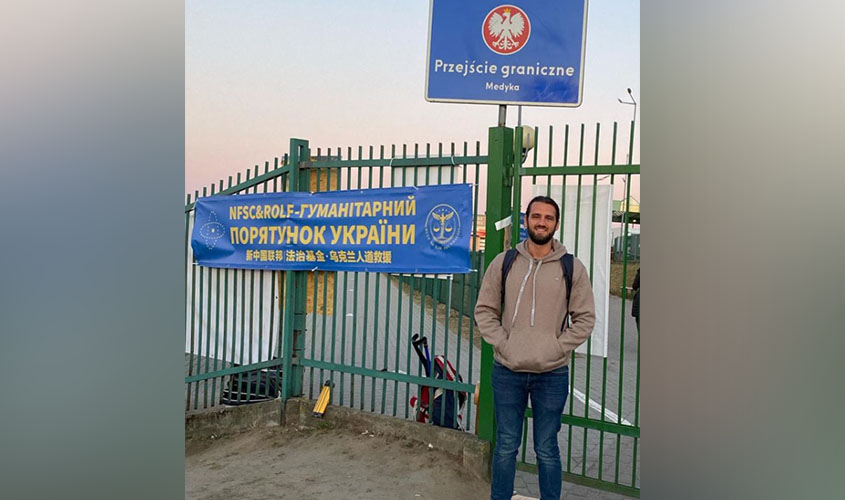 SGU: What do you think you learned about yourself as a caretaker while volunteering in Ukraine?
Dr. Kushnir: I have always wanted to work with the most vulnerable animal populations, it's what I find the most fulfilling and rewarding about this job. I've traveled to some very questionably-safe areas of the globe but have rarely ever felt unsafe—you can ask my psychiatrist father what that says about my personality!
SGU: Do you have any missions planned for the near future?
Dr. Kushnir: I'll be returning to southern Ukraine in a few weeks to help set up a veterinary hospital at the only animal shelter in the city of Kherson; a city that was liberated by Ukraine a few months ago. It should be a quick mission, pending I don't find anymore lions!
I am also in talks about joining a veterinary mission to Turkey, but we still have much to figure out. The geologic and geopolitical instability in southern Turkey and Syria presents specific challenges that need to be worked out thoroughly before an international mission is planned.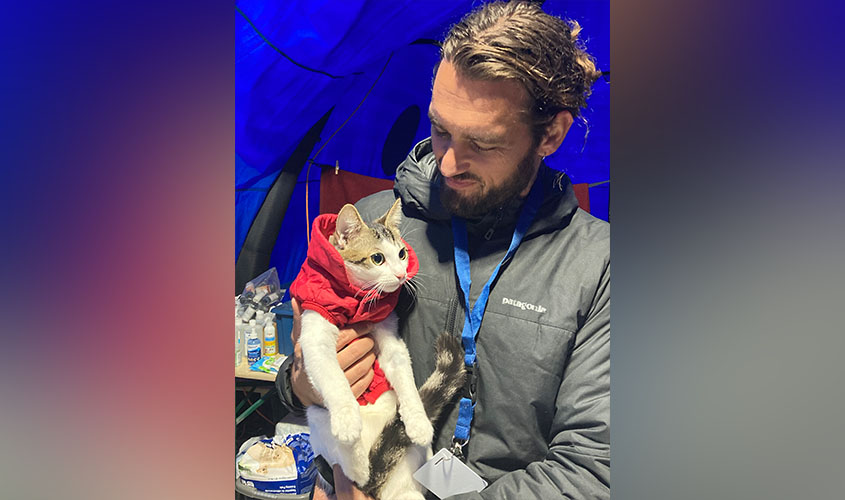 SGU: What is your advice for physicians and veterinarians who want to give back in a similar way? What should they be prepared for based on the lessons you've learned from your experiences?
Dr. Kushnir: Working in disaster events and humanitarian crises is not for everyone. You are exposed to some of the darkest elements of the human experience but also to some of the most uplifting as well. Crises happen in the world, whether from human conflict or from natural disasters, and it's a certain type of medical professional who can function in that environment. Away from diagnostic machines, away from our preferred medicines, away from clean sterile operating tables, we have to work with what we've got and be very clever about it.
– Laurie Chartorynsky and Sarah Stoss
Related Reading
https://www.sgu.edu/wp-content/uploads/2023/03/Kushnir_lions_845.jpg
500
845
lchartor
https://www.sgu.edu/wp-content/uploads/2020/02/sgu-logo-grenada.svg
lchartor
2023-02-28 10:16:27
2023-03-07 17:51:56
SVM grad reflects on Ukraine volunteer experience: "By helping people's pets, we were helping the people"