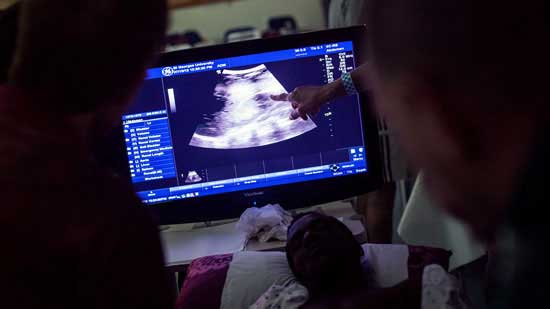 For all the knowledge that print publications can offer, they cannot show the causes and effects that a medical student can see and hear in an ultrasound – a heart pumping blood, muscles flexing, tendons extending, the patient reacting.
St. George's University's integration of ultrasound technology into the medical curriculum has provided a unique clinical experience to complement students' knowledge gained in lectures and small group discussions. As a result, Dr. Marios Loukas, chair and professor of anatomy at SGU, believes the University will produce well-rounded doctors and, by continuing to develop the program, SGU can become a regional teaching center for ultrasounds use in medical education within the Caribbean.
"Ultrasounds allow our students to paint a complete picture of how the body functions, instead of simply memorizing information to prepare for an exam," Dr. Loukas said. "This technology enhances our students' application of basic sciences to medical practice. Anatomy is very static; for example, a student sees a non-functioning heart in the laboratory, but with an ultrasound the heart is seen beating, and the student can better appreciate its function."
The University purchased 17 ultrasound units – 13 Logiq E machines and 4 portable Vscan devices – in the fall of 2011. All first-term students are divided up into groups of five and are exposed to ultrasound use on standardized patients for fourteen 40-minute didactic sessions over a four-month period. The ultrasound sessions complement the relevant material taught in lectures.
"While our goal is to ensure that our students do very well on their Step 1 exam, we also want to enhance their medical knowledge to become better doctors." said Dr. Loukas, also noting that the department has purchased four additional ultrasound units for use in the Spring 2013 term. In addition, these units have allowed faculty and students to participate in research projects, including a recently introduced selective in which students can appreciate the use of ultrasound in the fields of emergency medicine and radiology.
The University further displayed its ultrasound capabilities at the American Association of Clinical Anatomists (AACA) conference held on the True Blue campus in July 2012 and organized a postgraduate medical education course attended by 67 faculty from medical schools in North America.
Of the program's development, Dr. Loukas remarked, "We want to be a pioneer in medical education, which is consistent with the SGU philosophy to 'Think Beyond.'"
https://www.sgu.edu/wp-content/uploads/2016/10/news-sgu-hub-ultrasound-education-application.jpg
309
550
jrichardsink
https://www.sgu.edu/wp-content/uploads/2020/02/sgu-logo-grenada.svg
jrichardsink
2012-12-20 19:30:16
2017-07-27 15:00:11
St. George's University Has Become Hub for Ultrasound Education and Application