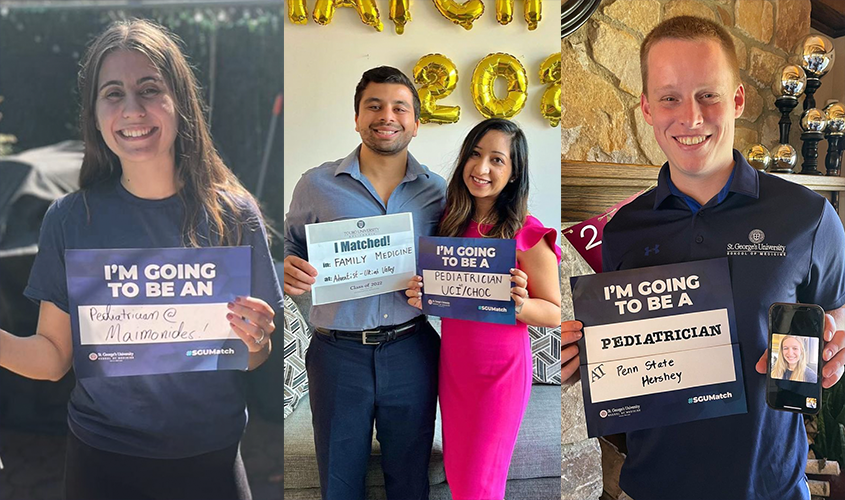 For St. George's University students and graduates, the emotions from Match Day 2022 won't soon be forgotten. This year, hundreds of soon-to-be practicing physicians secured first-year residencies, and will bring with them the knowledge and skills they've learned to reinforce the US healthcare system beginning this summer.
This year, SGU students matched into first-year residency positions across a variety of specialties and throughout the US. They will begin residency programs in a range of highly competitive specialties, including neurology, emergency medicine, surgery, and more. More students are expected to obtain residencies in the days and weeks to come.
"Match Day is one of the most important days of a medical student's career," said Dr. G. Richard Olds, president of St. George's University. "On behalf of the entire SGU community, I extend my sincere congratulations to this outstanding group of students. I wish them the best as they begin their careers."
SGU graduates will play a critical role in addressing America's most pressing healthcare needs. According to the Association of American Medical Colleges, the United States could face a shortage of as many as 124,000 physicians by 2034—including up to 48,000 in primary care.[1]
Seventy-five percent of St. George's University graduates enter primary care specialties, such as internal medicine, pediatrics, and family medicine. One in five works in medically unserved areas, and many have served on the frontlines throughout the COVID-19 pandemic.
Overall, SGU is the largest source of practicing doctors to the US healthcare system according to the Federation of State Medical Boards.
"SGU alumni have a long history of rising to meet the medical challenges facing their communities," Dr. Olds said. "We're confident that our newest class of doctors will make equally meaningful contributions and improve access to care for vulnerable patients and communities."
https://www.sgu.edu/wp-content/uploads/2022/03/Match-845.png
500
845
bpmauser
https://www.sgu.edu/wp-content/uploads/2020/02/sgu-logo-grenada.svg
bpmauser
2022-03-18 17:35:43
2022-03-18 22:51:06
The Perfect Match: SGU Students Secure US Residencies on Match Day 2022