Back to Blog
Urgent Care vs. ER: What's the Difference and Where Should You Go?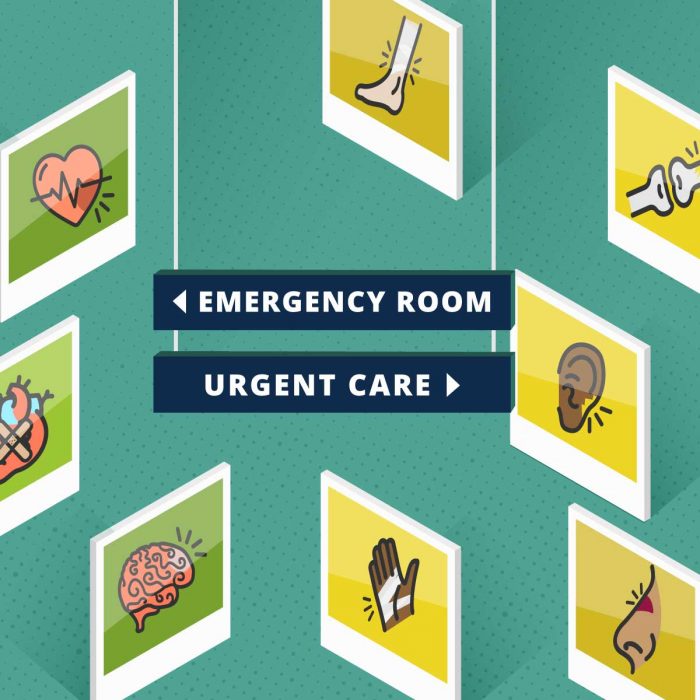 Life doesn't happen solely between 9 am and 5 pm. Medical issues almost seem to occur more often when your primary care physician has already gone home for the day. Say you burn yourself while cooking dinner. You obviously don't want to put off getting the proper care until you're able to schedule an appointment with your regular doctor. You need after-hours care.
Both the emergency room (ER), sometimes called the emergency department (ED), at your local hospital and urgent care clinics are equipped to handle medical issues that arise when your usual doctor isn't available. But it can be difficult to decipher which one is appropriate for your particular situation. You might find yourself struggling with the choice of urgent care versus ER.
To get a better sense of which destination is most appropriate, it's helpful to understand exactly how urgent care differs from the ER. There are some important distinctions.
Urgent care vs. ER: How do they differ?
In the most basic sense, the ER is for true emergency situations. Urgent care clinics are well-prepared to handle a wide array of pressing, but not life-threatening, health issues. Nick Angelis, certified registered nurse anesthetist and author, says it's a myth that ERs have the best medication and treatment options.
That said, urgent care clinics are not a replacement for emergency departments. They lack some of the equipment ERs simply must have to function effectively.
"Some urgent care facilities have x-rays to see how your lungs or bones are."
"Some urgent care facilities have x-rays to see how your lungs or bones are, but none of them have CR [computed radiography] or MRI [magnetic resonance imaging] machines," Angelis explains.
It's also worth touching on the types of providers in both locations. ERs will always have physicians on staff, while certain states allow physician assistants (PAs) and nurse practitioners (NPs) to autonomously work in clinics.
When should you go to urgent care?
You might be surprised at just how much urgent care clinics can handle. Angelis says they're perfectly capable of treating some broken bones as well as occasional asthma attacks. Here are some other common medical issues urgent care clinics can address:
Minor cuts, even ones that require stitches
Cold and flu symptoms
Sprains and strains
Nausea
Urinary tract infections and other infections
Minor burns
Fever
Dehydration
Ear pain
When should you go to the ER?
In the event you or someone you know is experiencing a medical emergency, going to the ER is imperative. These are the types of things that may need immediate surgery or another type of advanced treatment. Here are some, but not all, the medical issues that require emergency department care:
Badly displaced broken bones
Extreme chest pain or difficulty breathing
Drug overdoses
Changes in mental state
Head injury
Seizures
Severe cuts or burns
Sudden dizziness or numbness
Severe allergic reactions
And don't hesitate to act even more swiftly when it's necessary. "An ambulance crew can do some of the things that urgent care can, and should always be called if anaphylactic shock or serious breathing problems are involved," Angelis advises.
Urgent care vs. ER: Why does it matter where you go?
ER overuse has been a hot discussion topic among medical professionals for decades now. Many people head straight to the emergency room when it really isn't necessary. Some of this is simply due to lack of knowledge.
"Many people are not aware of urgent care clinics."
"Many people are not aware of urgent care clinics," says Christopher Lee, MPH and clinical solutions marketing manager at Family Health Centers of San Diego. "That's why we see EDs being utilized for primary care and urgent care issues."
Providers at the ER can't refuse service, but most patients don't realize the price they'll have to pay. One study found the average charge for a hospital-based ER visit in Texas during 2015 was $2,259. Urgent care costs, on the other hand, averaged $168 in 2015. There are exceptions, though. Angelis says there are instances when urgent care facilities charge for both care and the office visit, which would result in higher bills.
There are also wait times to consider. Think going to the emergency room means swifter service? Think again. If you aren't experiencing a true medical emergency, going to urgent care will likely not have you out the door faster.
"If you present at the ED with primary care or even urgent care issues, you would most likely wait for hours," Lee says. "ED staff need to triage and care for higher-severity cases first."
"ED staff need to triage and care for higher-severity cases first."
On the other hand, going to urgent care for a medical emergency they aren't prepared to handle is even more serious. "They will place an IV and send you elsewhere—transport is dangerous and increases the risk of mistakes, delays, and mix-ups," Angelis explains.
Choosing the right facility can also help create a more effective system overall. Lee says appropriate use of urgent care clinics frees up needed space in ERs and reduces demand on the physicians and other providers working there.
Know your health care options
The next time you're trying to decide between urgent care versus ER, think about which of the two lists above your case falls under. Are you dealing with a medical emergency that needs immediate attention like severe chest pain? Or is it a mild injury or illness? Any issue that falls within that second category can be handled at urgent care.
While it's nice to know after-hours medical treatment is available, those options can't replace your primary care physician. Maintaining regular doctor visits is important for preventive care and managing any health issues you already have.
Don't have a go-to doctor? Learn some tips about finding the right provider for you by reading our article, "How to Choose a Doctor: What You Should Look for in a Primary Care Physician."