Back to Blog
Ways to Get Veterinary Experience for Your School Applications
application process, vet school admissions, veterinarian advice
You know it takes a lot of hard work to get into veterinary school. But even if you've knocked out all the necessary prerequisites and have maintained a solid undergraduate GPA, you know the top Doctor of Veterinary Medicine (DMV) programs look for well-rounded applicants who have demonstrated their commitment to the field.  
One of the best ways to do this is to garner a substantial amount of veterinary work experience. Many applicants are surprised to learn that the animal-related items on their resumes don't technically fulfill these criteria—that's because there are some distinct differences between animal experience and veterinary experience. Join us as we outline the details you need to know and share some ways to get veterinary experience for your DVM applications.  
Animal experience vs. veterinary experience
It's undoubtedly important to round out your veterinary school applications with plenty of meaningful experiences, but it's worth noting the difference between animal experience and veterinary experience. We asked Dr. Brad Singleton, owner of South Park Animal Hospital, to offer some clarification.  
"Animal experience mostly refers to being around animals in a non-medical fashion, such as the experience you would gain from working at dog kennels, horse stables, and the like," Dr. Singleton explains, adding that his own pre-vet animal experience included working at a nature center.  
Veterinary experience, on the other hand, must take place under the supervision of a veterinarian. "It would involve evaluation by a veterinarian, determining a diagnosis, and prescribing treatment," Dr. Singleton says.  
Most vet schools prioritize veterinary experience over animal experience, so gaining plenty of the former can help give you an edge in a competitive applicant pool. How many hours of experience for vet school will you need? Programs may or may not specify a requirement, but the average expectation is that they fall within the range of 500 to 1,000 hours of veterinary experience. 
If you're unclear about a particular program's recommendations, don't hesitate to reach out to the admissions department for further information.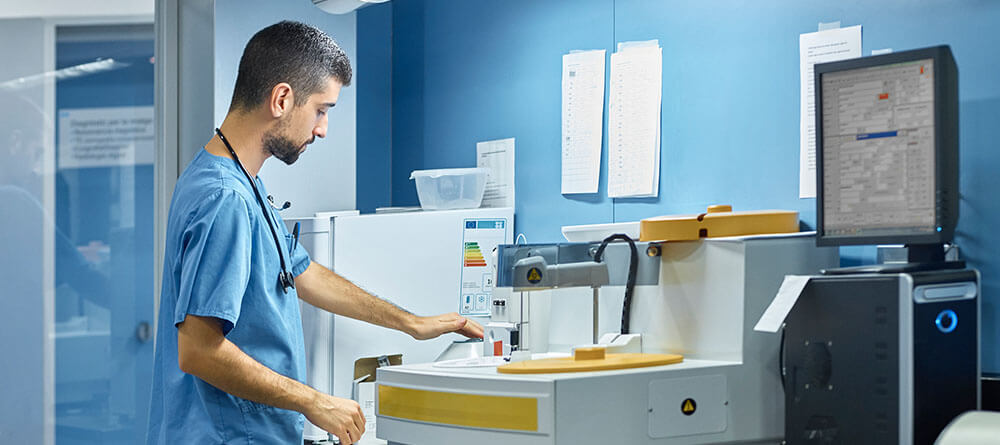 5 Steps to gathering meaningful veterinary work experience
It's clear that accumulating veterinary experience can be crucial for all pre-vet students, but it can be tricky to know where to start. Dr. Singleton offers the following five tips for seeking out and making the most of these work experience opportunities before you apply to vet school. 
1. Consider a variety of options
Most pre-vet students instinctively think about working in a clinic alongside a small animal vet to gain the necessary experience for vet school. But it's helpful to keep in mind that there are many other options—and diversifying your veterinary experience can give you a better idea of the type of veterinary medicine you'd ultimately like to pursue.  
Some veterinarians work with research animals, others inspect food production facilities, and some even get to work with exotic animals at zoos and aquariums. Veterinary programs like to see applicants who have been exposed to multiple careers in veterinary medicine. In fact, Dr. Singleton thinks his unique resume played a big part in helping him gain acceptance to vet school. 
"I spent time in a microbiological lab working with salmonella in aquatic turtles—I feel this differentiated me in a couple of ways," he explains. "I was working with a non-traditional species, and I was working in academic research."  
That said, if gaining experience in a small animal clinic is what's most accessible to you, there's nothing wrong with pursuing that option. If you find yourself worried that your application won't be distinct enough, there are some other ways you can set yourself apart. "Consider additional certifications that are available," Dr. Singleton offers, recommending the Fear Free Certification Program.  
2.

Tap into your existing network
If you're still in college, start working with your pre-vet advisor to find opportunities. Your school likely has a wide network, and some advisors keep running lists of internships as well as clinics that regularly allow students to shadow veterinarians.  
If applicable, participating in your school's pre-vet club is another great way to find available positions. These groups regularly participate in networking events and related experiences.  
One of the most notable events during which pre-vet students build their professional networks and seek out opportunities to gain valuable experience is the American Pre-Veterinary Medical Association (APVMA) National Symposium. This annual gathering offers a multitude of labs and seminars while also giving students the chance to meet representatives from different vet schools. It's a great way to expand your network and learn about opportunities that can prepare you for a successful DVM experience.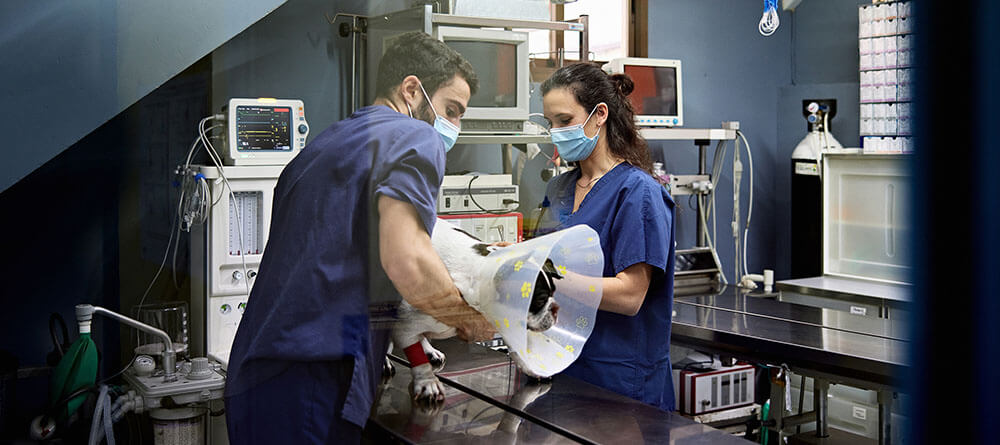 3.

Be prepared to ask around
You may be lucky enough to find opportunities for pre-vet experience that are advertised, but you should also be prepared to seek out clinics or organizations that interest you and inquire on your own. "Rarely will you find a centralized, comprehensive list of all the places that can offer you veterinary experience," Dr. Singleton points out. "Don't be afraid to ask an organization what is available."    
Before reaching out, make sure you have an effective strategy. You should explain your intention to go to veterinary school and outline some reasons why you're interested in working with the veterinarian you're contacting. Be prepared to share a resume and answer some questions about your intended career path.    
"Don't be dissuaded if someone turns you down," Dr. Singleton notes. "Just sell yourself even harder next time." He also reminds all pre-vet students to avoid accepting volunteer positions at for-profit businesses. While employment and shadowing are acceptable, unpaid work is illegal.  
4.

Take full advantage of your opportunities
Once you secure a position, make sure you take the opportunity to learn as much as you can by asking plenty of questions. You should do your best to remain adaptable as well. Dr. Singleton was fortunate enough to participate in some wildlife releases, which required some evening and weekend work. "I had to sacrifice some personal time, but I was able to gain invaluable experiences in return," he says.    
It's also smart to take notes along the way. As you continue gaining veterinary experience, you want to make sure you're keeping track of hours and noting what you encountered. Keeping a log will make it easier to outline your experiences when it comes time to write your application essays or discuss what you've learned in vet school interviews.  
"Document dates, times, specific events, others involved, and what was learned or the focus of the project," Dr. Singleton suggests. 
5.

Make lasting connections
Before you wrap up your pre-vet experiences, be sure to formally thank the veterinarians who allowed you to work alongside them. It's important to express your gratitude, but it's also helpful to maintain that professional connection.  
You may even find a need to get back in touch with those you shadowed or worked under to request they write a letter of evaluation for your applications. Most veterinary medicine programs actually require at least one letter be written by a licensed veterinarian.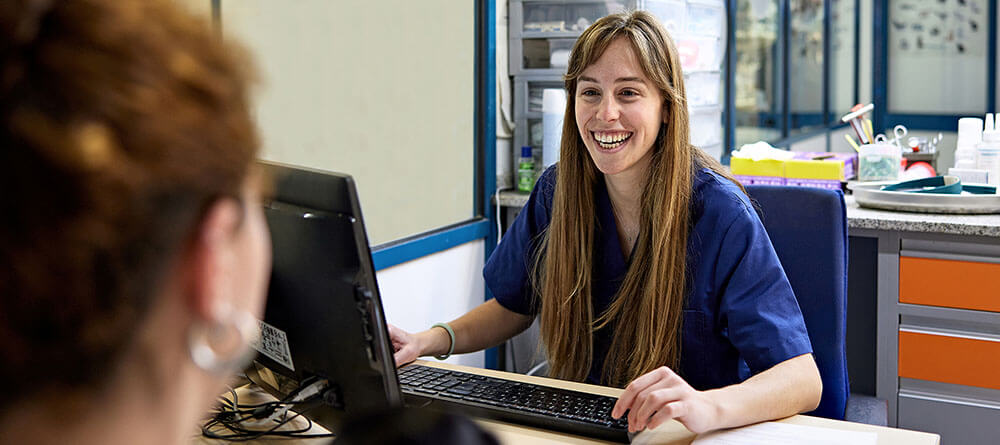 And if you make a good impression, you may even find yourself reconnecting with these former mentors as you seek out work opportunities after earning your DVM. A robust and healthy professional network can be useful in a number of ways.  
Start gaining veterinary experience
There are several ways to get veterinary experience as you prepare to pursue your DVM. Now that you know where to look and how to make the most of each opportunity, you're better prepared to move forward in preparation for your vet school applications.   
If you're not familiar with the Veterinary Medical College Application Service (VMCAS), it can seem a bit confusing on the surface. As you work on assembling your application materials and gaining veterinary work experience, you can learn more about the application process itself by reviewing our article "Vet School Applications: Everything You Need to Know About VMCAS."
application process, vet school admissions, veterinarian advice