Back to Blog
James Herriot and 7 Other Famous Veterinarians Who Inspire Animal Lovers
careers, pet owner information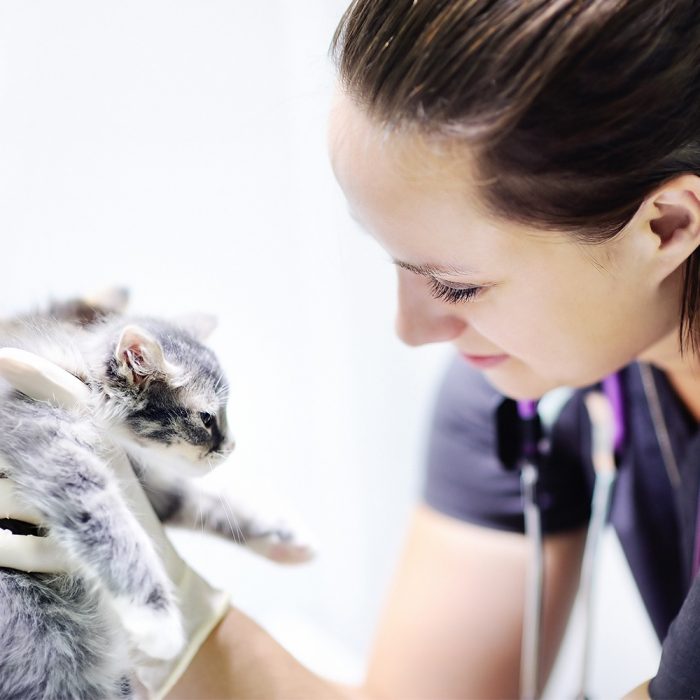 Folks who adore animals can often point to an experience that first sparked their interest. While the specific sources of inspiration can vary, veterinarians drive some of our most memorable animal experiences. It's because of their contributions that we can visit zoos, read books delving into animal behavior, and become good pet owners.
Insight from vets wasn't always as available as it is today. You might wonder exactly how we arrived at our current state of veterinary medicine.
One of the best ways to learn more about how veterinary medicine developed is to take a look back in time. From James Herriot to Mary Knight Dunlap, these famous veterinarians can kick off your history lesson.
8 Famous veterinarians animal lovers should know
Veterinary medicine has come a long way. The field wouldn't be as advanced as it is today without the pioneers who paved the way for modern-day vets. Let us introduce you to eight notable veterinarians and explain the impact they had on the industry.
1. Claude Bourgelat
Veterinary medicine as we know it would not exist were it not for Dr. Claude Bourgelat. The American Veterinary Medical Association (AVMA) reports he founded the first veterinary school in Lyons, France, near the end of 1761 after years of work to establish the necessary reputation and connections.
Dr. Bourgelat initially planned to pursue a law career but could never shake his love for horses. He began to study with two surgeons to learn about animal pathology, physiology, and anatomy. Dr. Bourgelat eventually formulated plans to open a veterinary school when he realized there wasn't any degree offered that could adequately prepare someone to practice veterinary medicine.
Focusing on preventing livestock disease was one of Dr. Bourgelat's primary motivations for establishing vet schools. A deadly disease called rinderpest was incredibly common at the time. Though Dr. Bourgelat didn't live to see the end of this veterinary health concern, it was officially eradicated in 2011.
2. Bernhard Lauritz Frederik Bang
To say Danish Veterinarian Dr. Bernhard Lauritz Frederik Bang was an overachiever would be an understatement. He had a knack for languages, studying Latin, Greek, English, French, and German. He also obtained degrees in both human and animal medicine.
Dr. Bang grew increasingly interested in zoonotic diseases and became involved in scientific research. His efforts led him to discover the type of bacteria that causes brucellosis, which can lead to miscarriages for cows and flu-like illness for humans. He was also among the first to demonstrate the importance of heating milk to kill bacteria.
For his contributions to human and animal health, Dr. Bang was awarded numerous honorary degrees. He also became an honorary member of the International Veterinary Congress in 1932.
3. Elinor McGrath
Little is known about the first women veterinarians. Though Dr. Mignon Nicholson is the first known female veterinary school graduate, no records of her practicing exist. Then there's Dr. Florence Kimball, who turned to nursing shortly after pursuing her veterinary degree.
Though there are still some unanswered questions about Dr. Elinor McGrath, we do know she graduated from veterinary school in 1910. She began a small-animal practice in Chicago, IL, shortly after. While this is a pretty typical route today, it was much more common for veterinarians to focus on farm animals in the early 20th century.
Dr. McGrath went on to marry a fellow veterinarian. She shared her veterinary medical knowledge at the 1933 World's Fair and was appointed Assistant Illinois State Veterinarian in 1939.
4. Buster Lloyd-Jones
Known as one of history's most compassionate veterinarians, Dr. William Llewelyn "Buster" Lloyd-Jones opened his home to all manner of creatures during World War II. Families were forced to leave their pets behind as they evacuated, so Dr. Lloyd-Jones purchased an estate to house all of them. His veterinary practice was incredibly successful at this time, even serving Prime Minister Winston Churchill.
Dr. Lloyd-Jones focused more heavily on writing later in his life as his own health declined. He penned an autobiography as well as a sequel.
Natural remedies were a big focus for Dr. Lloyd-Jones. After noticing how animals would seek certain plants to heal themselves, he founded Denes Natural Pet Care to make high-quality foods and herbal products more available.
5. Louis J. Camuti
Feline-only veterinarians weren't always so easy to find. We can thank Dr. Louis J. Camuti for helping to change this.
After his family emigrated from Italy, Dr. Camuti was raised in New York City, NY. Though he began a small-animal practice once he obtained his veterinary degree, Dr. Camuti realized the feline portion of his business was growing substantially. He eventually transitioned to a feline-only, house-call practice.
Dr. Camuti practiced for 60 years and, according to The New York Times, sometimes visited up to 30 houses per week. He also wrote a few books and a regular column featured in a feline veterinary journal.
6. Patricia O'Connor
Though Dr. Patricia O'Connor completed her education decades after Dr. McGrath, female veterinarians were still extremely rare. According to the American Association of Zoo Veterinarians (AAZV), only .8 percent of graduates from vet schools in the US and Canada were women between 1930 and 1939.
Dr. O'Connor didn't just pave the way for women veterinarians, but also for those specializing in zoo animals. She became a full-time veterinarian at New York's Staten Island Zoo in 1942 and practiced for nearly 30 years.
Clinical practice was only part of what Dr. O'Connor achieved. She also founded the AAZV, where she served as president two times, and penned a highly respected bibliography of the most reputable sources on a wide range of wild animal diseases.
7. James Herriot
Some veterinarians mention James Herriot's book series, including All Creatures Great and Small, when asked what inspired them to pursue veterinary medicine. The books feature autobiographical elements that continue to resonate with animal lovers today. One notable element that's not true-to-life is the byline featured on every book.
Herriot's real name was Dr. James Alfred Wight, who opted to use a penname as a way to maintain his privacy. Fans eventually discovered Dr. Wight's true identity.
Dr. Wight continued to practice veterinary medicine in the North Yorkshire area of England, even after his books found success. Some think Dr. Wight's writing is responsible for advancing the veterinary profession.
"It is arguable that James Herriot has done more for his veterinary colleagues than any television series ever did for the mainstream branch of the medical profession," Maeve Binchy wrote in a book review for The New York Times.
8. Mary Knight Dunlap
There isn't a whole lot Dr. Mary Knight Dunlap didn't accomplish during her career. She ran a house call practice, cared for a number of animals at a zoo, worked for a toxicology department, and authored numerous publications.
One of Dr. Dunlap's most lasting contributions to the veterinary profession was founding the Women's Veterinary Association (WVA). The organization was primarily intended to help create a supportive and collaborative environment for women veterinarians at every stage of their careers—including students. Though the organization no longer exists in the same capacity, it's now in the form of a foundation that provides scholarships to deserving students.
Follow the lead of these famous veterinarians
We certainly owe a great deal of thanks to these famous veterinarians from the past. Their contributions have helped improve animal care in just about every setting. Perhaps they've even inspired you to start thinking about how you can take your love of animals to the next level.
If you're curious about what a career caring for animals is really like, you might want to delve a little deeper into what veterinary medicine looks like today. You can learn more by reading our article, "What Is a Veterinarian? Uncovering the Role of Animal Doctors."
careers, pet owner information