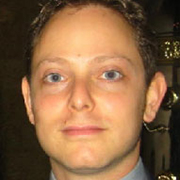 Richard Feldstein, MD, MSc
Graduation Date: 2002
Canada
As a native of Montreal, Dr. Richard Feldstein spent much of his academic life at prestigious Canadian universities, applying his natural affinity for the sciences toward a degree in research. After earning a Bachelor of Science degree in biochemistry from Concordia University, he then received a Master of Science from McGill University in experimental medicine, a division of the Department of Medicine. In between his studies, he volunteered at various research labs and local hospitals in the area.
As he immersed himself in the field of research, Dr. Feldstein realized his talents would be best suited in another area of expertise. Wanting to experience the more personal side of medicine that is interacting directly with patients, Dr. Feldstein altered his course and began the process of applying to medical schools. The application deadlines for Canadian and US schools had passed, and he did not want to postpone his aspirations any longer. Eager to embark on his new career path, Dr. Feldstein began to research foreign medical schools.
Dr. Feldstein began an email correspondence with two students who were attending St. George's University School of Medicine (SGUSOM) in Grenada, and was impressed by their positive feedback. Upon further research, Dr. Feldstein discovered that some McGill University faculty members in the Department of Nutrition taught as visiting professors at St. George's University—and that these professors were working one floor above him at the research laboratory. Without hesitation, he approached the professors with a plethora of questions about the University, and valued their impression of St. George's. "These professors had nothing but great things to say about SGU," Dr. Feldstein recalls. "They said the School and the facilities were outstanding and on par with, if not better than, other medical schools in the US and Canada."
Dr. Feldstein began his medical studies at SGUSOM in 1998. "When I got to Grenada, I was so impressed—more so than I expected. I couldn't believe what they had created." Dr. Feldstein continued to say that the University provided everything a medical student could possibly need: state-of-the-art facilities, excellent faculty, great educational and support services. He also said that the school provides all the tools necessary to succeed; the key is to use each and every one of them.
Of course, the exquisite surroundings were also enticing. As a PADI certified open-water diver, Dr. Feldstein also had an appreciation for the natural beauty of the Island. "Grenada is such a pleasant place. The people are kind, polite and wonderful. I was happy to be there, and really enjoyed the experience."
Dr. Feldstein completed his clinical training at Maimonides Medical Center in Brooklyn, New York. "It was a great hospital that had everything I needed. It was very pro-student and I learned a lot."
After he graduated from SGUSOM in 2002, Dr. Feldstein went on to do his residency in internal medicine at St. Luke's-Roosevelt Hospital Center; University Hospital of Columbia University College of Physicians and Surgeons in New York. He began his residency training with three other SGU graduates. The year prior, only one SGUSOM graduate was accepted into the program. Since then, an increasing number of SGU graduates have joined the program. The department of medicine liked the quality, caliber and strong work ethic of the SGUSOM graduates. "They liked what SGU was producing as doctors," he said.
Dr. Feldstein was then appointed as one of five chief medical residents at St. Luke's-Roosevelt Hospital Center. "That year, two of the five chief residents were SGU graduates," he said. During that time, one of his responsibilities was to interview prospective applicants to the medicine program. "I began interviewing both American and foreign students, including SGUSOM applicants. The students from SGU were equally strong and competitive as compared to the American applicants in regards to grades, board scores and letters of recommendation. They were just as good, if not better."
Dr. Feldstein is currently a senior fellow in the Department of Gastroenterology at North Shore University Hospital; a teaching hospital for New York University Medical School. He is also a clinical instructor for the Sophie Davis School of Biomedical Sciences in New York City. "Everything I've ever wanted in my career I've gotten, and I have St. George's to thank for that."
Published December 2009
Find out if St. George's University is right for you.
https://www.sgu.edu/wp-content/uploads/2020/02/sgu-logo-grenada.svg
0
0
Erin Shaw
https://www.sgu.edu/wp-content/uploads/2020/02/sgu-logo-grenada.svg
Erin Shaw
2016-12-07 19:47:06
2021-01-21 18:27:37
Richard Feldstein, MD, MSc