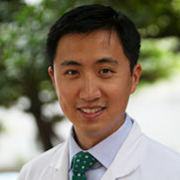 Vincent Lam, MD
Graduation Date: 2008
Canada
For Dr. Vincent Lam, his affinity for ophthalmology is all about quality of life for his patients. As an ophthalmologist at North Toronto Eye Care and cornea and refractive surgeon at North York General Hospital, he's practicing an aspect of medicine that he thoroughly enjoys while also seeing the distinct difference he's making with his patients.
"It's incredible how ophthalmologists can drastically improve a person's quality of life," said Dr. Lam, whose responsibilities range from corneal transplants and cataract surgeries to resident training. "It's great because the amount of technology in the field is tremendous, and I enjoy the breadth of patients that we see on any given day."
Born in Winnipeg and raised in various cities in western Canada, Dr. Lam began his undergraduate training at the University of British Columbia. He received an early admission into optometry school, attaining a Bachelor of Science in visual sciences in 2003 and a Doctor of Optometry in 2004, both degrees from the New England College of Optometry (NECO) in Boston, Massachusetts. However, it wasn't until a fourth-year externship at the Bascom Palmer Eye Institute that ophthalmology developed as his preferred career path. He called it a "life-changing" decision and jumped on an opportunity to pursue his Doctor of Medicine at SGU.
"I was waitlisted at a Canadian med school, but in retrospect, SGU is probably why I am where I am today," he said. "By going to SGU, you learn so many life lessons and learn to work that much harder, and that stays with you for the rest of your life."
He also praises the University's award-winning Department of Educational Services (DES), which provides students with academic development and support services. The course material review sessions, testing, and study skills programs contributed to his strong performance on his step exams.
Dr. Lam's clinical training included a fourth-year ophthalmology elective at Medical College of Virginia/VCU Medical Center, which paved the way for other SGU students to do the same. He later obtained his residency in the Department of Ophthalmology at the same institution, a program directed by another SGU graduate, Joseph Iuorno, MD '00.
"We weren't any different than students from US schools," Dr. Lam said. "If anything, I think we worked harder and went the extra mile on many occasions. The attendings would tell us that. What it comes down to it, no matter whether you're in Grenada, the US, or Canada, it's the same thing—you're provided with information, and it's up to the student to run with it."
Furthermore, Dr. Lam followed up residency with a one-year fellowship in uveitis at the University of California at San Francisco's Francis I. Proctor Foundation. Dr. Lam went on to complete a fellowship in cornea, external disease, and refractive surgery at Columbia University's Edward S. Harkness Eye Institute in New York City.
Dr. Lam hopes to continue to give back to SGU as a member of its Alumni Admission Mentor Program (AAMP), for which graduates take part in a variety of recruitment efforts. Since graduating, he has conducted admission interviews as well as partaken in University information sessions and webinars.
Published April 2014
Find out if St. George's University is right for you.
https://www.sgu.edu/wp-content/uploads/2020/02/sgu-logo-grenada.svg
0
0
Erin Shaw
https://www.sgu.edu/wp-content/uploads/2020/02/sgu-logo-grenada.svg
Erin Shaw
2016-12-07 20:13:40
2021-01-21 21:23:25
Vincent Lam, MD