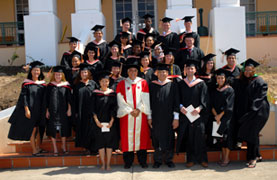 On Saturday, May 12th, the School of Arts and Sciences and Graduate Studies Program Commencement was held in the Bell Lecture Hall on the True Blue Campus.  While all graduations are momentous, this year's commencement was particularly significant.
With a combined total of 170 graduates from both the undergraduate and graduate programs, the class of 2007 was the largest combined ceremony for the Schools of Arts and Sciences and the Graduate Studies Program in the University's remarkable 30 year history.
Students and their families were honored by guest speaker The Honourable Mr. Justice Adrian D. Saunders, Judge of the Caribbean Court of Justice who eloquently delivered the keynote address for the commencement ceremony.
As Mr. Justice Saunders reflected on his own law school graduation 30 years prior, he explained to his captive audience that while they may have closed their text books for good, "Learning is a lifelong imperative."  He continued, "Your years spent in classrooms up to this point have merely provided you with a launching pad, a platform upon which you will begin yet another and an even more productive round of learning and preparation for life's challenges."
Mr.  Justice Saunders emphasized the importance of recognizing and seizing every opportunity presented to them, even though they may appear to be inconspicuous or subtle at the time.   This was illustrated through his personal life experiences.  He explained that his gift and passion for law could have gone untapped had his hand not been literally and figuratively forced to make an immediate course of study selection on a college application. Until then, the field of law was never a consideration.
Almost 20 years later, yet another life changing opportunity presented itself in an invitation for judicial appointment.  In his early 40's and a senior partner in a successful private practice at the time, the opportunity to become a judge, albeit flattering, involved a significant reduction in income as well as uprooting his family.  With two boys to educate, a mortgage payment and a future to save for, the timing was about 10 years premature.   Nevertheless, Mr. Justice Saunders realized that this opportunity may not surface again.  With the blessing of his family, he accepted the position and never regretted the decision. "Life is never a smooth sailing continuum.  Very often you have to take chances.  You can't expect to cover every contingency before making a decision.  Ultimately it is more important to love what you do than take up or remain in a position just because it pays more," he said.
Justice Saunders has distinguished himself in the legal profession and has been instrumental in several judicial reformations throughout the Caribbean region.
He has also given profound service in educating others in the legal profession and in championing the cause of youth, especially in his home country of St. Vincent, where he served as President of the National Youth Council of St. Vincent and the Grenadines.
His final message to the students was to find enjoyment from life, stay focused on fulfilling your dreams and be proud of the wonderful institution that is SGU.
The commencement ceremony illustrated SGU's vital contribution to human development on a global scale.  As students from nearly 20 countries were honored by SGU faculty including Chancellor Charles R. Modica, Provost Allen Pensick, Dean Theodore Hollis and Dean Calum Macpherson, one could not help but reflect on the evolution of this extraordinary university.As the number of students applying to SGU continues to rise, so too does the diversity and size of the student body.  The additions of new majors and programs will continue to offer SGU students exceptional opportunities both as an undergraduate and a graduate.This year SGU graduated 14 students from the inaugural Master of International Business program (MIB).  Students with an MIB were globally represented by the US, Guyana, South Africa and Grenada.  First time graduates with an MSc in Economics were also represented.  SGU looks forward to the continued expansion of the university, as it plays an integral role in the success of its current and future graduates.
Rev. Tessica Hackshaw, Superintendent Grenada Methodist Church and friend of the university, opened and closed the ceremony with a beautiful invocation and benediction.At the conclusion of the program, Chancellor Modica welcomed graduates to a reception at the Caribbean House to continue the festivities.
Published 5/16/2007
https://www.sgu.edu/wp-content/uploads/2016/10/Charles-Modica-with-2007-SAS-SGP-Graduating-Class.jpg
180
277
smashm3233
https://www.sgu.edu/wp-content/uploads/2020/02/sgu-logo-grenada.svg
smashm3233
2007-05-16 18:52:23
2017-01-18 02:52:31
2007 Commencement; Largest Graduating School of Arts and Sciences and Graduate Studies Program Class in St. George's University History