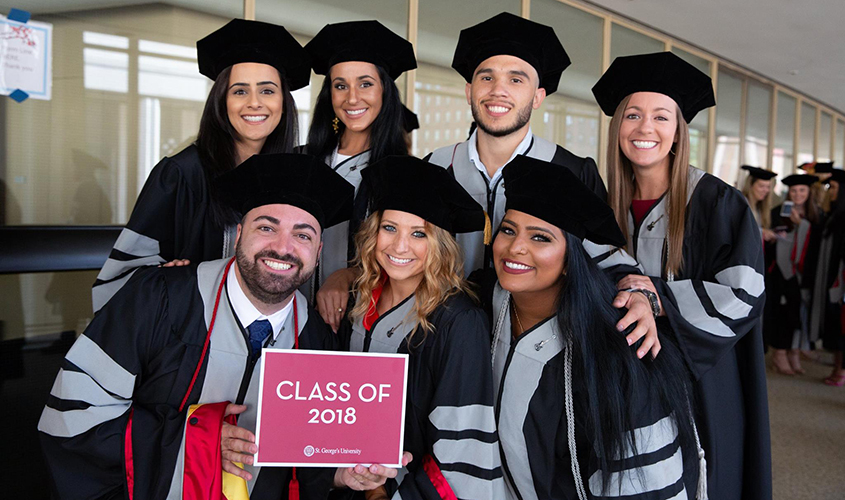 On Saturday at Lincoln Center's David Geffen Hall in New York City, animals around the world, both big and small, officially gained some of their strongest caretakers and advocates. With their family and friends in attendance, St. George's University graduates were conferred the degree of Doctor of Veterinary Medicine and will now continue their careers throughout the United States and beyond.
"What you've done and given up to be here today has made your family proud," St. George's University Chancellor Charles Modica said. "You've made it through a very strenuous program with great perseverance. We at SGU have the utmost respect for all of you."
This year's graduates hail from such countries as the United States, Canada, Bermuda, United Kingdom, Israel, South Africa, and Hong Kong. They join an alumni network that now includes more than 1,500 veterinarians.
"For us, this ceremony is a symbol of confidence that you are now equipped for the world into which you are entering," said Dr. Glen Jacobs, Provost of SGU. "We have equipped you with the basic skills necessary for your profession, and you must continue learning to keep pace with the changing world around us. Your academic qualifications will help to open opportunities, but beyond that, you must demonstrate your ability to learn and grow in the fields you choose."
Among the new grads was Kendra Simons, DVM SGU '18, who came to St. George's University from Bermuda, navigating through four years of school to fulfill her dream of becoming a veterinarian. After officially earning her Doctor of Veterinary Medicine in January, she began working as an associate veterinarian position at Avon Animal Hospital in Windsor, Nova Scotia.
Dr. Simons celebrated in New York with her parents and two siblings, as well as several other family members and friends, all of whom supported her on her journey.
"It's very surreal to be here today," she said. "It's great to see all of my classmates because we took on a very difficult challenge and came out on the other end."
She was joined at the ceremony by Matt Cochran, DVM SGU '18, who at a young age envisioned becoming a small animal veterinarian but gravitated toward working with horses over time. Dr. Cochran looks forward to continuing his career in equine medicine, having earned an internship at Tennessee Equine Hospital in Thompson's Station, TN.
"I'm excited to get going," he said. "I have a great team at Tennessee Equine. They have a really nice structure set up, and I look forward to working with them, learning from them, and applying everything I learned at SGU."
In addition to robing its newest class of veterinarians, the University's highest honor—the Distinguished Service Medal—was awarded to Dr. Timothy Ogilvie, Dean Emeritus of the School of Veterinary Medicine. Dr. Ogilvie served as a longtime visiting professor at SGU before being appointed dean in January 2014. During his tenure, he played a vital role in preparing the SVM for its re-accreditation by the American Veterinary Medical Association. Dr. Ogilvie stepped down as Dean in the summer of 2017, handing the reins to Dr. Neil Olson, but remains with the University as Vice Provost of Advancement for the SVM.
– Brett Mauser
https://www.sgu.edu/wp-content/uploads/2018/06/34862151_10155594126956461_7794454271654625280_o.jpg
500
845
bpmauser
https://www.sgu.edu/wp-content/uploads/2020/02/sgu-logo-grenada.svg
bpmauser
2018-06-13 15:24:39
2018-07-12 20:26:41
2018 Class of Veterinary Graduates Celebrates at New York's Lincoln Center