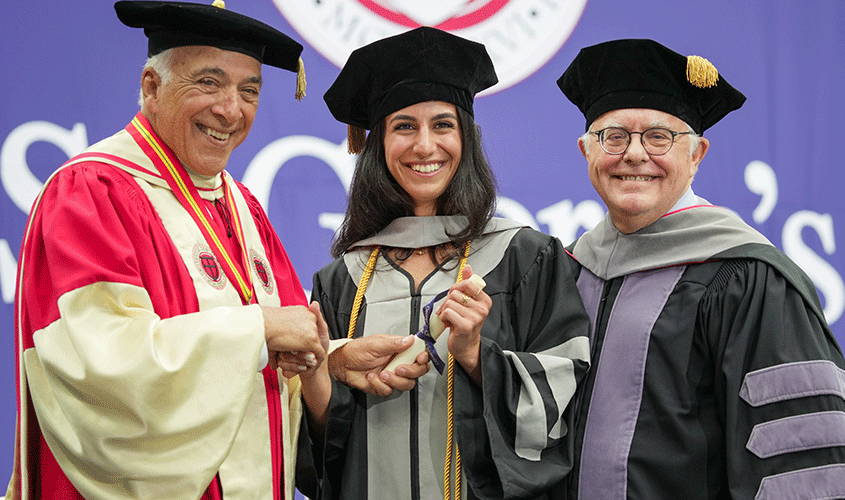 A momentous occasion for students and faculty alike, the St. George's University School of Veterinary Medicine graduation ceremony was full of emotional moments and joyful celebrations. The 2023 commencement ceremony took place on June 4 at Arthur Ashe Stadium in Queens, NY, and nearly 200 graduates walked across the stage to commemorate their years of hard work.
SGU Provost Dr. Glen Jacobs addressed the audience to kick off the ceremony.
"This ceremony is a symbol of confidence that students are now equipped to practice medicine," he said. "Students will be stretched in many directions and rely on your core values to guide you. Today is about your ability to embrace the opportunities ahead of you."
SGU Chancellor Charles Modica then added to Dr. Jacobs' remarks.
"How utterly improbable that you would be here today," Chancellor Modica said, referencing the obstacles students overcame. "You have every reason in the world not to be here today, yet you persevered."
A 20-year legacy
Dr. Tara Patterson, associate professor and president of the School of Veterinary Medicine Alumni Association, spoke next. As a charter class member of the School of Veterinary Medicine, Dr. Patterson provided a meaningful perspective on how far the school has come.
"20 years ago, SGU graduated its first class of veterinary medicine, and 30 students graduated young, enthusiastic, and ready to take on the world," Dr. Patterson said. "Today, SGU has produced over 2,000 Doctors of Veterinary Medicine." *
Joining the ranks of their existing alumni, students ceremoniously moved their tassels from the right side of their caps to the left, and conferred their veterinary medical degrees. Proud families and loved ones gave a rousing standing ovation as streamers cast joyfully across the auditorium, and members of the crowd wished recent graduates the best in their journey forward.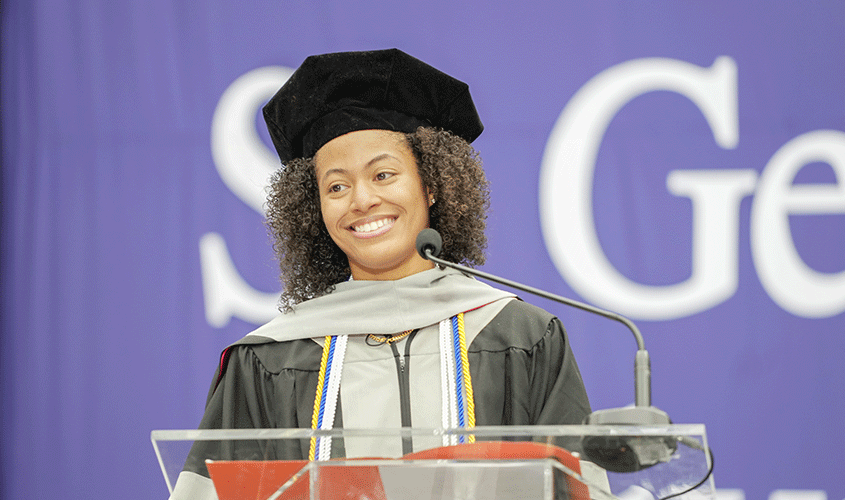 Commencement speaker Dr. Brittney Kilgore, a fellow 2023 graduate, closed the ceremony.
"You are entering a career with endless opportunity," she said. "May we always remember to experience life outside of this career and live life to the fullest."
Dr. Kilgore ended on an inspirational note.
"Only 50% of people who start doctoral degrees finish, and only 2% of the world's population hold doctoral degrees. Where many fail, we did not. Congratulations, Class of 2023."
*Based on number of students who have completed the Doctor of Veterinary Medicine (DVM) program from 2003-2022.
—Madeleine Otto
Related Reading
https://www.sgu.edu/wp-content/uploads/2023/07/SVM-commencement-845.gif
500
845
sstoss
https://www.sgu.edu/wp-content/uploads/2020/02/sgu-logo-grenada.svg
sstoss
2023-06-30 13:12:45
2023-07-05 13:36:17
School of Veterinary Medicine celebrates its 20-year legacy at the Class of 2023's commencement