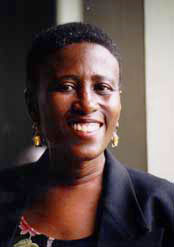 It was an exciting week at True Blue, one that celebrated the cross-cultural impact of Caribbean women's literature throughout the 21st century. From May 19 through May 23, St. George's University hosted the 11th Conference of the Association of Caribbean Women Writers and Scholars (ACWWS).  The conference theme was Traditions and Legacies, Revisions and Interventions: Caribbean Women Writings in the 21st Century. 
With over 70 presenters, which included Grenadian poet and novelist, keynote speaker Dr. Merle Collins, the Conference provided an opportunity for participants to immerse themselves in Caribbean folk culture, oral histories, and creative and critical writing celebrating the artistry of women writers across the Caribbean, South America, Central America, North America and Europe.
Commenting on the impact of this conference on both the University and Grenada, Dr. Antonia MacDonald–Smythe, Associate Dean of the School of Arts and Sciences and Conference Chair, said: "Such a conference, in showcasing the University and in particular the School of Arts and Sciences, can lead to future collaborative efforts with other universities such as work–study programs, student exchange and faculty exchange programs. Students preparing for regional examinations such as CXC and CAPE have read about many of these writers. Here is an opportunity to not only meet them but to engage in discourse. Additionally, conferences such as this one can be an event on the cultural calendar of Grenada."
On Tuesday, May 20, Dr. Merle Collins' presentation took the form of a public lecture at Bell Lecture Hall.  Dr. Collins, a prolific writer and Professor of English and Caribbean Literature at the University of Maryland spoke about "Caribbean Women Writing in the 21st Century: Visions to Recover, Creations to Re-Create." The feature address traced the unwritten histories of Grenadian and Caribbean women whose acts of rebellion shaped the future of the Caribbean.  Their interventions provide writers and scholars with the fertile ground on which to cultivate a Caribbean literary tradition.
Another conference highlight was its plenary sessions, which were well attended by high school students and by students of the community college.  The first plenary of Caribbean women writers focused on Caribbean writers and the factors that shape their writing and publishing lives, while the plenary on scholars explored the ways in which Caribbean writers are manipulating  form and genre in the articulation of the thematics of community.
On Thursday, May 22 various authors including Dr. Dessima Williams of Brandeis University and Dr. Merle Collins  presented on "Remembering the Grenada Revolution" from 11:15 am to 1:00 pm.  Topics included "The Storm That Never Ended: How the Grenada Revolution Stays Alive," "The Legacy of the Grenada Revolution in Literature," "Hurricane Histories:  Landscapes and Languages of Revolutionary Memory," and "Say It In Performance:  The Story That is Still Difficult to Speak."  This session was followed by a presentation of Dr. Collins' video documentary entitled "Caribbean Nation: Saraka and Nation in Grenada and Carriacou" from 1:00 pm to 2:30 pm.
Other featured presentations included "Mémoires et Traumatismes" (Memories and Traumatism) by novelist, poet and journalist Evelyne Trouillot on Wednesday, May 21 at 4:45 pm; "Del Alma al Sol, del sol al alma: Intervenciones Personales de una Artista Dominican-York, en Estos Tiempos Glocales" (Soul to Sun, Back and Forth and All in Between: Interventions of the Self by a Dominican-York Artist) by actress, writer and theater director Josefina Baez on Thursday, May 22nd at 11:15 am; and "Departure and Arrival, Alienation and Familiarity" by Dutch writer Ellen Louise Ombre on Friday, May 23rd at 11:15 am.  All presentations were held at the Bourne Lecture Hall.  A special Open Mike Night at Coconut Beach Restaurant featured the work of
Oonya Kempadoo and members of the Writers' Association of Grenada (WAG).   
Oonya Kempadoo is a writer who was born in Sussex, England, in 1966 of Guyanese parents.  She was brought up in Guyana and has since lived in Europe and various islands in the Caribbean, and now resides in Grenada.  Her first novel, Buxton Spice, was published to great acclaim in 1998, and was nominated for the 2000 International IMPAC Dublin Literary Award. She was named a Great Talent for the Twenty-First Century by the Orange Prize judges and is a winner of the Casa de las Américas Prize.
Dr. Meredith Gadsby, President of ACWWS, thanked Committee Chair Dr. Antonia MacDonald-Smythe for a magnificent job in hosting the event.  "St. George's University has opened its doors to us, graciously hosting our organization.  We are forever grateful to the administration and staff of the University, especially Dr. Michelene Adams (Committee Chair), Ms. Shivaughn Hem-Lee-Forsyth (Director of Accommodation) and Mr. Kiernan Rooney (Activities Liaison)."
The general public was invited to attend the public lecture and presentations to engage with the producers of Caribbean Literature.
https://www.sgu.edu/wp-content/uploads/2020/02/sgu-logo-grenada.svg
0
0
Erin Shaw
https://www.sgu.edu/wp-content/uploads/2020/02/sgu-logo-grenada.svg
Erin Shaw
2008-06-06 03:19:52
2017-01-18 02:28:28
21st Century Caribbean Literati Celebrated