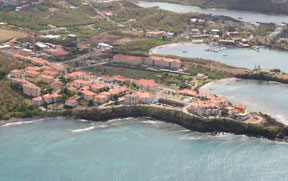 On January, 17 2007, SGU will host an Anniversary Celebration in honor of the day that the Charter Class began classes 30 years ago. This party will begin a year-long celebration marking the University's 30th anniversary, a milestone that marks an astonishing road to academic excellence and innovation. The celebratory theme of the title highlights SGU's commitment to international medical education.
The University is getting ready for its eagerly anticipated birthday party. The bell above the Bell Lecture Hall will ring 30 times to launch the year of festivities. SGU students will be given the day off to enjoy all the activities planned on campus. SGU graduates from all the schools will also be invited to partake in the opening ceremonies.
Throughout the year, highly publicized events, ceremonies and public lectures will be conducted, all designed to reward those whose efforts have allowed the University to flourish, and to provide a platform for speakers to stress the importance of global awareness in education in today's world.
The opportunity to recognize and award staff, faculty and others for distinguished service will also be incorporated into the year's events.
A festive calendar of the year's celebration is being finalized. Stay tuned – it will be posted soon.
Published on 10/27/2006
https://www.sgu.edu/wp-content/uploads/2020/02/sgu-logo-grenada.svg
0
0
smashm3233
https://www.sgu.edu/wp-content/uploads/2020/02/sgu-logo-grenada.svg
smashm3233
2006-10-27 20:40:31
2017-01-18 03:04:45
30th Anniversary Celebrations Planned From the World, to the World – 30 Years of Global Innovation