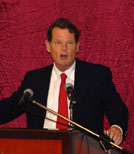 St. George's University School of Medicine (SGUSOM) officially welcomed a new class of 369 medical students from 43 countries at the SOM White Coat Ceremony held at Charter Hall on Sunday, August 24th.  The class of 2012 received words of inspiration and warm welcomes into the medical profession and the SGU community by SGU Alumnus and Master of Ceremonies Dr. Randy Becker, Chancellor Charles R. Modica, Prime Minister Hon. Tillman Thomas and Keynote Speaker Dr. William S. Andereck.
A familiar yet central part of the White Coat ceremony showcases students swearing a professional oath, promising to act with integrity and in an ethical manner during their training and career in medicine.  As Medical Director of California Pacific Medical Center's Program in Medicine and Human Values, Dr. Andereck's distinguished career in medical ethics served as inspiration to this new generation of medical students, further substantiating the importance of serving their patients with honor, dignity and humility.
"To help, not to harm," the essential duty of the physician for over 750 years, was the essence of Dr. Andereck's address, asserting that the principles of competence, compassion and commitment are the cornerstones of the practice of medicine.  When implemented as one, he explained, these essential principals produce not only highly skilled professionals but physicians who possess compassion and humanity.  Clinical competence, for example, must be well balanced with respect and a sincere concern for one's patients.
Dr. Andereck discussed the swing of the medical pendulum as it moved from one extreme to another. Initially, it was thought that patients do not need to play an active role in their medical care. Critical aspects of care such as diagnosing the nature of the problem and treatment options were very much the decision of the attending physician. This was well illustrated statistically when in 1960, 90% of doctors interviewed said that they will not always tell their patients what is wrong with them. However, just 18 years later, with growing emphasis on respect for the individual and taking into account their goals, values and aspirations, an overwhelming 99% of physicians said that they will fully disclose the patient's diagnosis at all times.
Today, the challenge for the modern physician is to find the right balance between individual needs and public health needs. Here is where a fourth principle – justice – is to be fully embraced in their professional life. The modern doctor is faced with not only the care of his patient but with the responsibility to treat the poor with the same skill and attention as the rich. Moreover, they must also successfully face the challenge of the statistical patient as they seek to balance scarce resources with the needs of the patient. More and more physicians are called to administrative roles and must be prepared to take a holistic approach to medical care.
Parents of the incoming class were specially commended for already instilling in their sons and daughters these cornerstone principles of medicine along with the qualities of compassion, humility, industriousness and willingness to work hard. These are not just virtues of medicine, but virtues of life.
Since 1979, Dr. William S. Andereck has combined the private practice of internal medicine in San Francisco with his ethics work and a busy clinical practice. As Medical Director of California Pacific Medical Center's Program in Medicine and Human Values, he oversees a vibrant and rapidly growing center which provides ethics consultation, educational programs and policy development services within a large community hospital located in San Francisco.  He has also chaired the hospital's ethics committee since its inception in 1985.  At present he is a trustee of the California Medical Association.
Dr. Andereck's community interests include a long-standing affiliation with youth soccer and a ten-year term as Director of the San Francisco Zoo.  He and his wife Helga have three children.
https://www.sgu.edu/wp-content/uploads/2020/02/sgu-logo-grenada.svg
0
0
Erin Shaw
https://www.sgu.edu/wp-content/uploads/2020/02/sgu-logo-grenada.svg
Erin Shaw
2008-09-22 03:23:02
2017-01-18 02:20:05
369 Take Oath at School of Medicine White Coat Ceremony