The energy in the Bourne Hall was palpable as the speakers began the 28th School of Veterinary Medicine White Coat Ceremony, which ushered in the entering class of veterinary medicine students to St. George's University.
Hollie Schramm, DVM, a 2007 alumna of the SVM welcomed the new students and rejoiced in the journey they are beginning. "Study hard, be involved and have fun," urged Dr. Schramm, now a clinical instructor of production management medicine in the Department of Large Animal Clinical Sciences at the Virginia-Maryland Regional College of Veterinary Medicine. "Grenada is a place that I hold near and dear, and after attending SGU, at which you are assured to gain a top-notch education, I am confident you will cherish this experience and your time on this beautiful island like I do."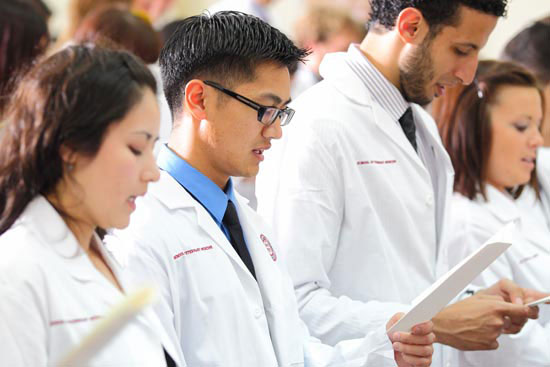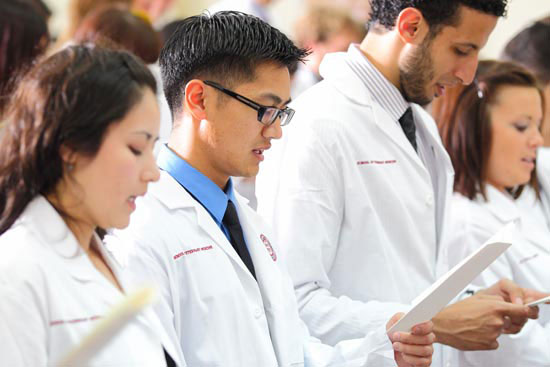 Dr. Raymond Sis, Dean of the School of Veterinary Medicine, also warmly welcomed the students, touching on the life skills they will acquire throughout their course of study: leadership, teamwork, decision making, problem solving, and business acumen. He also had the honor of introducing Dr. René Carlson, a past president of the AVMA and 35-plus-year small animal practitioner, to the dignitaries and the entering class.
In her keynote address, Dr. Carlson began by explaining that she has based her life philosophy on her 84-year-old mother, who just recently married her dance partner.
"Dream your dream, take the steps to get there, and never let anyone tell you that you can't," she said. "As you greet this white coat and your inception into veterinary medical practice, a new door opens. You are entering one of the most respected and beloved professions in the world."
She gave the entering class three major lessons for the years ahead – that veterinarians must work diligently to understand and gain the trust of people as much as animals; that despite their efforts not all animals can be saved; and that they should embrace organized medicine on the local, national, and global levels.
Dr. Carlson went on to encourage students to think beyond pet/companion medicine and of larger-scale health concerns, leaving individuals with endless avenues to make a difference in their communities.
"We have a huge role to play in food production and food security, environmental protection, and prevention and management of zoonotic diseases," Dr. Carlson said. "These are national and global health concerns and we are fast becoming a very global society. With the astonishing movement of people and animals, both food and companion, around the globe, we all must be aware of One Health, One Medicine. We all must become involved."
The ceremony ended with the students taking the Oath of Commitment to the profession after being robed by a colleague in the symbolic white coat. And, being veterinary students who are competitive, challenging and extremely connective, it ended with a pictorial presentation of their leadership, trust and team building activities during the Professional Attributes Workshop (PAWS).
https://www.sgu.edu/wp-content/uploads/2016/10/news-2013-svm-wcc.jpg
367
550
VS
https://www.sgu.edu/wp-content/uploads/2020/02/sgu-logo-grenada.svg
VS
2013-01-29 15:08:34
2017-01-18 00:36:47
4 Countries, 1 Dream: New St. George's University Doctor of Veterinary Medicine Class Welcomed with theme of One Health, One Medicine