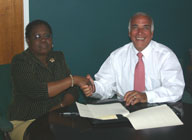 SGU's Chancellor, Dr. Charles R. Modica and the Minister of Health and the Environment, the Honourable Senator Ann-David Antoine signed a Memoranda of Understanding for a Virtual Staff Project and Hospital Accreditation Scheme to improve the quality of care available to patients at the General Hospital.
The following provides a summary of the Memoranda of Understanding:
Virtual Staff Project
The Memorandum of Understanding makes provision for the University, through the School of Medicine's Alumni Association and the Ministry of Health to recruit healthcare professionals to serve as embedded coaches, teachers and mentors in the General Hospital.
The main aim of the Virtual Staff Project is to expand the capacity of the General Hospital, improve the quality of care for its patients and provide an environment for supporting the training of health care professionals. The virtual staff would be St. George's University School of Medicine alumni in the main, supported by other healthcare professionals.  The primary role of the staff would be teaching, rounding, and coaching, to be accomplished by spending time on ward rounds, in the operating room, working with hospital leadership, and providing ongoing lecturing and mentoring series. The Emergency Medicine department will be used as the pilot, and the other departments would be brought on line as the project develops.
The project will run for approximately two years and will be reviewed after that period to determine the impact and the feasibility of further extension.
Hospital Accreditation
An improvement in the quality of care, patient outcomes and patient experience in the Grenada health care system is a concern for both the University and the Ministry of Health. Both parties understand that a healthy population contributes to overall development. Additionally, the onset of the Caribbean Single Market and Economy (CSME) makes it imperative for the Grenada health system to be competitive regionally and internationally. Finally, the General Hospital needs to be recognized as a teaching hospital to support the rotation of the University's medical students.
The University and the Ministry see the accreditation of the General Hospital and the Ambulatory Care system as an appropriate response to concerns regarding the quality of the healthcare delivery system in the country.  The Memorandum of Understanding makes provision for the University and the Ministry to work together to support the accreditation process in the General Hospital and for the maintenance of quality standards once accreditation is achieved.
Published on April 3, 2007
https://www.sgu.edu/wp-content/uploads/2016/10/Dr-Charles-Modica-and-Senator-Ann-David-Antoine.jpg
140
192
smashm3233
https://www.sgu.edu/wp-content/uploads/2020/02/sgu-logo-grenada.svg
smashm3233
2007-04-03 14:52:15
2017-01-18 02:55:14
Agreement Signed by St. George's University and the Ministry of Health to Improve the General Hospital