Public Health England Selects Jonathan Ashcroft, MD/MSc SGU '10, to Direct 12-Person Research Team
The fight against the Ebola virus continues in West Africa. Although the number of cases has dropped significantly since 2014, its treatment and containment remain a focal point of the World Health Organization (WHO).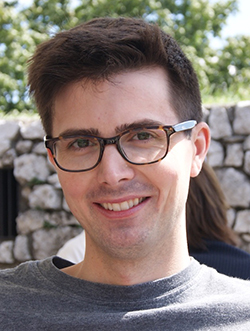 One of St. George's University's own will be on the front lines of health care efforts in Sierra Leone this spring. Jonathan Ashcroft, MD/MSc SGU '10, a Postdoctoral Research Fellow at Cambridge University in the UK, has been selected by Public Health England (PHE) to lead a team of 12 individuals at diagnostic research laboratories in Port Loko, Sierra Leone, just outside the country's capital, Freetown. During the five-week stint, he and his team will obtain samples and swabs that will determine whether patients are suspected of having contracted Ebola as well as testing for malaria, the features of which resemble the early symptoms of an Ebola infection. Based on the results, at-risk patients will be referred to the area Ebola treatment center while no-risk patients will return to their community.
"The number of cases has decreased remarkably because they are doing well with increased education and containment of the virus," Dr. Ashcroft said. "The trouble with Ebola is that as soon as you stop worrying about it, it can crop up and spread rapidly, overwhelming local health care facilities."
In order to prepare for the trip, Dr. Ashcroft and other participating virologists entered weeklong intensive training with Public Health England featuring lectures and mock labs that ran them through the entire process of testing for Ebola. According to Dr. Ashcroft, he and his team will process samples and ship them to the WHO, which will send them out on a case-by-case basis to high containment labs throughout the world.
According to the World Health Organization's weekly Ebola situation report from May 6 , there were 32 "confirmed, probable, and suspected" cases of Ebola in Sierra Leone in the 21 days prior to its issuance. This is a dramatic reduction from the alarming epidemic which took place throughout 2014. All together, 26,593 Ebola cases have been reported between the three most affected countries: Sierra Leone, Guinea and Liberia, with almost half of all cases being reported from Sierra Leone. The deadly, highly contagious virus has now claimed more than 11,000 lives in West Africa since its outbreak in a rural village in Liberia in December 2013. The virus is thought to have originated from a fruit bat, which are common in that area. Vaccine trials are currently being undertaken.
"A virus is something that's so small and so simple, yet it's able to bring down a complex organism like a human," Dr. Ashcroft said. "Ebola can absolutely devastate developing countries, in terms of the population's health as well as causing political and economically issues."
Dr. Ashcroft came to St. George's University after earning bachelor's degrees in biology and history from Colby College in Maine. He enrolled at SGU in 2006, taking advantage of a unique dual degree opportunity, pursuing not only a Doctor of Medicine but a Master of Science in microbiology. He also utilized the Windward Islands Research and Education Foundation (WINDREF) institution located on the True Blue campus. He believes that his research experience factored heavily in being accepted to Imperial College, from where he obtained a PhD in molecular virology in 2014.
"Before I committed to doing full-time research, at SGU I was able to see that medicine and research interplay nicely," Dr. Ashcroft said. "When I applied for my PhD program, having a research background along with my MD was a huge feather in my cap. It definitely made me a more attractive candidate."
His career in medical research well underway, Dr. Ashcroft is excited to have the opportunity to do his part in the fight against Ebola.
"We're going to do what we can to understand how the virus works and how to best treat and control it in the future," he said.
https://www.sgu.edu/wp-content/uploads/2016/10/Jonathan-Ashcroft.jpg
331
250
VS
https://www.sgu.edu/wp-content/uploads/2020/02/sgu-logo-grenada.svg
VS
2015-05-08 13:31:08
2017-01-17 23:29:54
Alumnus to Lead Ebola Diagnostic Research in Sierra Leone