The newest class of veterinary students at St. George's University donned the emblematic White Coat and recited the Oath of Professional Commitment, signifying their entry into the profession of veterinary medicine on January 30.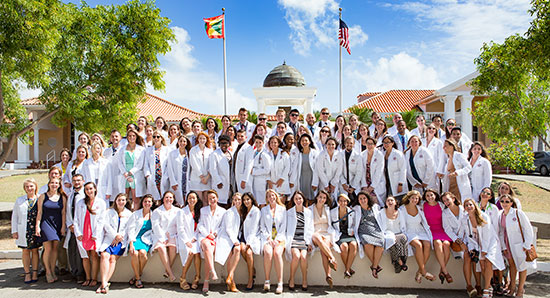 "It's an amazing and well-respected profession," declared Dr. Jessica Harmon, DVM SGU '13.  Dr. Harmon, this term's emcee, welcomed and congratulated the incoming veterinary class.  "You made it," she rejoiced, "but this is where the real work begins. This is the beginning of a long but very rewarding journey."
Currently an associate at the McDavitt Veterinary Clinic in Zionsville, Indiana, Dr. Harmon credits her experience in Grenada as having shaped her successful career as a veterinarian. "The education I received at SGU went past knowledge," she said. "It taught me to be a compassionate veterinarian and care for all of my patients."
Attending his second School of Veterinary Medicine White Coat Ceremony was Dr. G. Richard Olds, Chief Executive Officer of St. George's University and its first-ever President. "The White Coat Ceremony itself is relatively new, started by Columbia University in the early 1990s, with SGU being one of the first medical and veterinary schools to hold a White Coat Ceremony just three years later," said Dr. Olds. "Symbolic of all health professions uniting in one health, the White Coat Ceremony is now almost universal. And so today, you too will go through the process of donning the white coat as you begin your health professional journey."
As both a physician and a tropical disease specialist, Dr. Olds has spent most of his professional career working largely with veterinarians. "I know the importance of all the health care professionals who share in the unified theme of improving the health of our planet," he stated.
Dr. Timothy Ogilvie , Dean of the SVM, shared four tips with the matriculating class that have served him well in his 41 years in the field of veterinary medicine. "Show up – because real change is made by those who show up and stick around. Keep up – don't fall behind in your studies; this is a volume intensive program. Step up – colleagues, community members, and others will look to you for leadership. And lastly, cheer up – SGU is a great place and you're going to have fun." Dr. Ogilvie reminded the newly enrolled students, "You're going to learn in an international environment, a cosmopolitan environment, and in a different culture. You have every opportunity to count your lucky stars and be cheerful." He also took the opportunity to introduce his longtime friend and fellow Canadian, Dr. Trevor Ames, to deliver this year's keynote address.
Twice a year for at least 10 years, Dr. Ames has been welcoming SGUSVM students to the University of Minnesota for their clinical year, where he currently serves as Dean of the College of Veterinary Medicine.  Addressing the incoming students, Dr. Ames said,  "Today as you put on this coat you signify to those around you that you understand the professional, ethical, and social responsibilities of being a veterinarian.  "I would encourage you to not only think of today as your entry into veterinary school but also as your entry into the profession and begin practicing the ethical behavior and the responsible acts required of a graduate veterinarian."
"The PAWS (Professional Attributes Workshop) training will not only help you succeed as a student but, after you graduate, those same traits will be just as important to your success as a veterinarian," counseled Dr. Ames, "It's as important as all of the facts and knowledge you will learn over the next four years."
The School of Veterinary Medicine accepted its first class in August of 1999. In 2005, SGUSVM installed the first international chapter of Phi Zeta National Veterinary Honor Society on campus, the Alpha Delta Chapter. In September 2011, the DVM program was granted full accreditation by the American Veterinary Medical Association Council on Education (AVMA COE) for seven years. Graduates, who come from 27 countries, have been licensed to practice in 47 US states, and in 10 countries around the world including Canada, the UK, and South Africa.
Published on 2/4/16
https://www.sgu.edu/wp-content/uploads/2016/10/SVM-White-Coat-Spring-2016.jpg
298
550
Erin Shaw
https://www.sgu.edu/wp-content/uploads/2020/02/sgu-logo-grenada.svg
Erin Shaw
2016-02-04 20:57:37
2017-01-17 23:05:27
An Amazing Profession Spring 2016 DVM Class Begins Its Journey