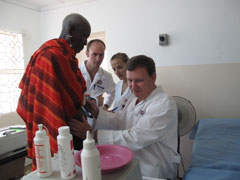 Fifteen students from St George's University School of Medicine participated in the first practical tropical medicine course held in collaboration with the African Medical and Research Foundation (AMREF), one of Africa's leading health development organizations well known for its Flying Doctors Service.
The two-week Tropical Medicine Selective brought seven students from Grenada and eight students from the Keith B. Taylor Global Scholar's program at Northumbria University in the United Kingdom to rural and urban areas of Kenya, providing them with critical understanding of the economic and public health relevance of tropical diseases in a developing country.
The first week was spent visiting research institutes and hospitals in Nairobi, Kenya's capital and largest city, as well as attending a  series of AMREF-hosted lectures and seminars on tropical medicine, community and public health, and current methods to combat tropical diseases. The following week was spent in the nomadic communities of  Maasai Land with time at AMREF's Entasopia Integrated Health Program,  as well as a two-night excursion to the  Masai Mara Game Reserve –one of the best and largest in Africa–to witness the indigenous wildlife abundance and experience the domestic animal/human interface. Throughout the duration of the program, SGUSOM students also benefited from the cultural interchange with their African peers, as they were joined in Kenya by five local medical students from Nairobi University.
"Apart from visiting hospitals, research institutes and receiving lectures from experienced AMREF administrators in Nairobi," said Professor Cal Macpherson, St. George's University's Vice Provost for International Program Development "our students also visited the AMREF health center at Entasopia, in Kajiado District in southern Kenya. In collaboration with the regional health authorities and Dr. John Nduba, Director of AMREF's Sexual Reproductive and Child Health program, an ultrasound clinic was conducted on reproductive health as well as liver disease. More than 250 people were screened, including 49 pregnant women. The clinic revealed no cases of cystic echinococcosis or Amoebic Liver Abcesses. The lack of these parasitic infections was a good sign, and it was hoped that the information on delivery dates for the babies would be useful to improve the health of the mothers and their children. All the information from the clinic was left with the AMREF team and feedback was provided to all. In the coming year, it is hoped that funds will be raised in order to provide an ultrasound scanner for the AMREF clinic.
"It was a tremendous learning experience for our students to see and hear first hand from the AMREF experts, both in Nairobi and in the field. Such a wealth of both practical and field experience that was shared had a profound effect on the students' outlook on culture, health systems, and health care delivery options."
The Tropical Medicine selective further extends the relationship between St George's University and AMREF. In the Spring of 2007, St George's University awarded two full Master of Public Health (MPH) scholarships valued at $100,000 to AMREF's Vicky Kimotho of Kenya and Edna Matasha of Tanzania. Vicky and Edna have both returned to work with AMREF in their respective countries. Vicky is taking a leadership role in advocacy as a Researcher in the Directorate of Health Policy and Systems Research (HPSR) at AMREF Headquarters in Nairobi. Edna is a Tanzanian State Registered Nurse Midwife with an advanced diploma in community health. She has been working with AMREF in various capacities since 1991. Vicky was instrumental in helping to co-ordinate the students' program along with Nicky Blundell Brown and Mary Wanjiru Kiragu from the AMREF Heritage & Special Events Department.
"I felt that the course was tremendously successful," said Professor Macpherson, who himself had worked for AMREF for over 10 years. "We hope to build on this experience to be able to offer a similar course on an annual basis."
AMREF was founded in 1957 and is the largest Africa-based international non-governmental health development organization. With a vision of "Better health for Africa," AMREF's mission is to work with and through Africa's communities, health systems, and governments, generating and applying knowledge that contributes to closing the gaps that prevent people from exercising their basic right to health.
Currently, AMREF's work is focused in six program areas, selected by listening to the needs of the communities with which AMREF works and analysing the skills and experience that AMREF has to offer. These areas are: HIV/AIDS, TB and Sexually Transmitted Infections, Malaria, Safe Water and Basic Sanitation, Family Health (under which Maternal and Child Health fall), Clinical Services, and Training and Health Learning Materials.
AMREF works in the African nations of Kenya, Uganda, Tanzania, Ethiopia, Southern Sudan and South Africa, and has 12 support offices in Northern America and Europe.
https://www.sgu.edu/wp-content/uploads/2016/10/news-AMREF09.jpg
180
240
jrichardsink
https://www.sgu.edu/wp-content/uploads/2020/02/sgu-logo-grenada.svg
jrichardsink
2009-06-26 20:00:35
2017-02-13 21:40:26
AMREF Tropical Medicine Selective in Kenya