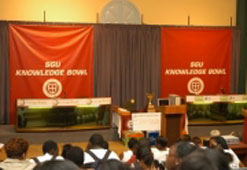 Continuing with last years overwhelming success of the first annual Knowledge Bowl, SGU will again host the final round of this dynamic, academic quiz competition. This year's competition will feature traditional male rivals Presentation Brothers' College and Grenada Boys Secondary School.
The final match will be held at Bell Lecture Hall on SGU's True Blue Campus on March 31 at 2:00 p.m. The competition will be broadcast live on Grenada Cablevision Community Channel 6.
The Knowledge Bowl is designed to provide an arena for healthy academic exchange between fourth and fifth term students from Grenada's secondary schools. This exciting contest will test the participants' knowledge as they prepare for regional exams. This year's competition began on February 3rd, when the first six competing schools faced each other for the preliminary round.
The competition was organized and sponsored by SGU and Grenada Cablevision Community Channel 6, in collaboration with the Ministry of Education.
The material for the quiz questions came from the Caribbean Secondary Examinations Council (CSEC) syllabi in the areas of science, information technology, the arts, and humanities. Students also had to have general knowledge of geography, Spanish, food and nutrition, culture, sport, and current affairs. All fourth and fifth term students have to take an external exam as set forth by the CSEC at the end of the year. The quiz competition directly reflects what the students need to study and know for the exam so its purpose is two-fold. It helps not only the participants study for the exam, but also the students watching the competition.
Each team consists of five players, two back-ups, and a coach (teacher). The five team members of the winning team will be awarded a computer system and $500 (US) starter bank accounts, while their school will receive $10,000 (US). The second place team will also receive bank accounts, with a $5,000 (US) donation to their school.
Published 3/29/2007
https://www.sgu.edu/wp-content/uploads/2020/02/sgu-logo-grenada.svg
0
0
smashm3233
https://www.sgu.edu/wp-content/uploads/2020/02/sgu-logo-grenada.svg
smashm3233
2007-03-29 13:21:28
2017-01-18 02:56:55
Annual St. George's University Knowledge Bowl Finals Held on March 31st