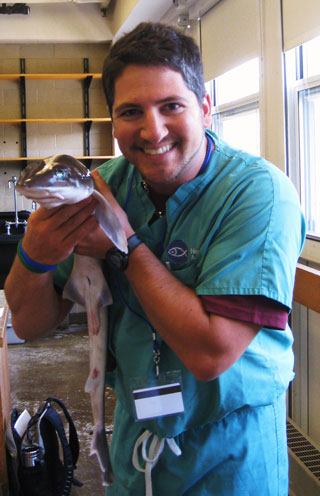 It's natural for Barry Baker, a 2012 graduate of the St. George's University School of Veterinary Medicine, to immerse himself in the world of veterinary aquatics. It's his passion, dating back to his volunteer work at a local aquarium in high school.
The aquatic vet world has taken notice of his efforts. In the most recent edition of Aquatic Vet News, a quarterly publication produced by the World Aquatic Veterinary Medical Association (WAVMA), Baker was named the organization's student of the month. He believes that his education at St. George's and his diverse background in the field resulted in the WAVMA distinction.
"Aquatics is such a tough field to get into so you have to put yourself out there and get experience where you can," Baker said. "With my efforts to do that, it put me in a position where I'm able to be recognized, and I'm honored."
Baker, 30, has indeed been busy. In the fall he participated in veterinary externships at Mystic Aquarium in Mystic, CT; Zoo New England in Boston, MA; and John G. Shedd Aquarium in Chicago, IL, as well as a veterinary preceptorship at the Georgia Aquarium in Atlanta, GA. Before attending St. George's, he spent more than three years as a research husbandry technician in the pediatric oncology department at Boston's Dana-Farber Cancer Institute.
At St. George's, Baker was the aquatic representative for the Exotic and Wildlife Society, organizing lectures and wet labs, including a fish medicine skills wet lab in 2008 and 2009. He twice organized the group's Ocean Spirits Leatherback Turtle Research Night where participants tagged and recorded offshore sea turtle populations while also counting their eggs and transporting egg nests.
St. George's University School of Veterinary Medicine earned accreditation from the American Veterinary Medical Association (AVMA) in 2011, and summers that Baker spent at Aquavet and Marvet workshops only re-affirmed that he and his SGU colleagues were in stride with veterinary medical students from US and Canadian schools.
"Over my summer breaks, I'd do these aquatic veterinary programs with students from Cornell, UPenn, and others, and we all were on the exact same page," Baker said. "That really made me feel good about my education, and when we did get accredited, it was so rewarding to know that, yes, the whole time I was getting a quality education on par with US schools."
Baker graduated with a Doctor of Veterinary Medicine from St. George's on June 8 in New York City, and he matched with a small animal rotating internship at the New England Animal Medical Center in West Bridgewater, MA. His primary responsibilities will encompass emergency medicine, internal medicine, radiology, and surgery.
Baker is excited about the opportunity because it bolsters an already distinct resume.
"Many aquatic vets I talked to encouraged me to get a good base in traditional small animal medicine because it will help you down the road," Baker said. "The exotic field is so tough to get into, but the beauty of veterinary medicine is it's such a diverse field. Every aquatic vet you talk to has a completely different story about how they got there."
https://www.sgu.edu/wp-content/uploads/2016/10/news-barry-shark.jpg
496
320
jrichardsink
https://www.sgu.edu/wp-content/uploads/2020/02/sgu-logo-grenada.svg
jrichardsink
2012-03-16 18:43:09
2017-01-18 01:00:58
Baker, SGUSVM '12, Named Student of the Month by World Aquatic Veterinary Medical Association