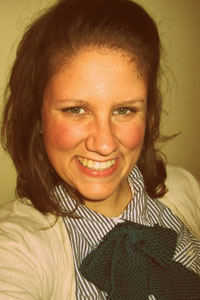 St. George's University School of Veterinary Medicine has prepared Dr. Rachel Halbert well for her next adventure, which will take her across the globe. In January, Dr. Halbert will begin serving as Veterinary Technical Supervisor for the New Zealand Ministry of Agriculture and Forestry, becoming the first-ever SGU DVM graduate to be licensed in the country.
The global education she received at St. George's provided the Wisconsin native with a natural springboard for her professional horizons upon graduation. She attained her Master of Public Health (MPH) and Doctor of Veterinary Medicine (DVM) concurrently, fast-tracking her for a career in a leadership role in veterinary medicine and public health, which she found to be a "much more satisfying route" compared to traditional veterinary medicine.
"Going to St. George's gave me a global perspective on different disease processes," Dr. Halbert said. "I valued having professors from all over; everyone had personal stories from where they lived, and the education reflected it as well. Just because something happens in the US doesn't mean it happens someplace else, and vice versa."
The Ministry, one of the largest veterinary employers in New Zealand, contributes toward the country's long-term economic and nutritional growth by maintaining its agriculture, food, forestry, fisheries and marine industries. According to the Ministry, exports from the country climbed from $39 million to $44.2 million from 2010 to 2011, an increase of 13 percent. The sharpest increase by percentage (25%) came in the dairy sector, on which Dr. Halbert concentrated throughout her career in veterinary medicine.
She will be based in the port town of Timaru, located approximately two-and-a-half hours from the city of Christchurch. Her primary responsibilities will include maintaining humane conditions for animals, performing health checks and ensuring that communicable diseases aren't introduced into the food chain or general population.
With more than 140 countries represented on the Grenada and UK campuses, St. George's University is an international institution with a conscious international outreach. Just months before Dr. Halbert's appointment in New Zealand, Dr. Lauren Havenga, DVM (SGUSVM '10), became the first SVM graduate to be licensed to practice in South Africa. The University is one of just 12 AVMA-accredited veterinary medical schools outside the United States and Canada. The University encourages students to take advantage of the opportunity to take dual degrees in public health and/or business, leading to leadership roles in the professions.
As she embarks on her next adventure, when she must be prepared for anything that comes her way, Dr. Halbert is thrilled to have a solid foundation in place – the education she received at St. George's University's School of Veterinary Medicine.
"I'm open to whatever comes my way with time," Dr. Halbert said. "I don't have a clear vision of where I want to go from here, but I would love to see where this opportunity takes me. St. George's prepared me to consider a world of opportunities."
https://www.sgu.edu/wp-content/uploads/2016/10/news-rachel-halbert.jpg
300
200
VS
https://www.sgu.edu/wp-content/uploads/2020/02/sgu-logo-grenada.svg
VS
2011-12-28 15:20:12
2017-01-18 01:05:34
Bound For Down Under: Rachel Halbert Becomes First DVM Licensee in New Zealand