Three years of research and lobbying brought Brian Boyarsky, at long last, to the White House, where he always hoped his hard work would take him. On November 21, Mr. Boyarsky, a Term 2 medical student at SGU, and a team of individuals watched as US President Barack Obama signed the HIV Organ Policy Equity (HOPE) Act, into law. The HOPE Act is a major move forward as it repeals the National Organ Transplant Act of 1988 which banned  organ transplants between HIV-positive people.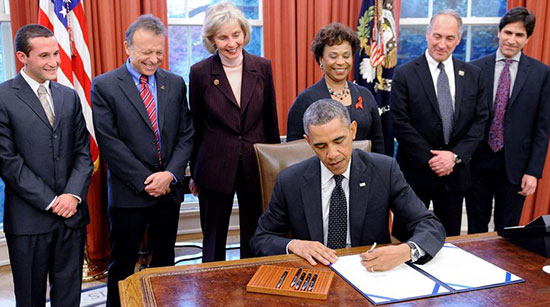 At the White House in November, SGU medical student Brian Boyarsky (far left) looks on as US President Barack Obama signs the HOPE Act, a bill repealing the ban on organ transplants between HIV-positive individuals.
"It's hard to wrap my head around the fact that we accomplished this important milestone since we spent so much time and effort developing the research, lobbying, and putting together a coalition of more than 50 national organizations," Mr. Boyarsky said. "At the same time, the work has really just begun because we have to conduct more research to find out how effective these transplants are."
Mr. Boyarsky's interest in transplants took root at Johns Hopkins University, where he obtained a Bachelor of Arts in Public Health in 2010. For his undergraduate thesis, he devised a plan on how to improve donation rates in the United States. One of the recommendations: to allow transplants from HIV patients to those also inflicted with the virus.
From there, the HOPE Act was born. According to the United Network of Organ Sharing, the waiting list for organ transplants has soared past 120,000, and 19 people die every day waiting for a transplant. By allowing HIV-to-HIV transplants, Mr. Boyarsky estimates that it could help approximately 1,000 individuals per year. His research has taken him all over the globe, studying transplant policies in Europe, Asia, Africa, and the Middle East. This summer, he spent two months in Cape Town, South Africa, with transplant surgeons at Groote Schuur Hospital, the facility at which the first HIV-to-HIV transplant was performed. The HOPE Act gained the support of such organizations as the American Medical Association, HIV Medicine Association, and the American Society of Transplant Surgeons. Still, getting the bill to pass into law required great effort from Mr. Boyarsky and his mentor, Dr. Dorry Segev, a transplant surgeon at Johns Hopkins.
"It was a monumental challenge because HIV still carries a stigma and because of the current political climate," he continued. "However, the challenge was also a motivational factor. We just decided to work hard and keep pushing."
In November, the HOPE Act passed in the US House of Representatives (HOPE Act passed the US Senate in June), leaving President Obama with 10 days to sign it. Mr. Boyarsky learned of the Thursday afternoon signing at 8 pm the night before. He recruited a friend to drive him to the airport in Grenada, flew overnight from Trinidad & Tobago to New York City, and then to Washington in time for the signing.
"It was an incredible feeling to stand in the Oval Office and meet the President of the United States –  and to have him thank us for doing something that has the potential to make a big difference."
Mr. Boyarsky looks forward to continuing research while working toward his MD from St. George's University. He sees himself in the field of transplantation, as a physician or as a surgeon, upon graduating from medical school.
https://www.sgu.edu/wp-content/uploads/2016/10/news-president-obama-signs.jpg
307
550
jrichardsink
https://www.sgu.edu/wp-content/uploads/2020/02/sgu-logo-grenada.svg
jrichardsink
2014-01-17 16:22:56
2017-01-18 00:05:19
Boyarsky's Efforts Result in Allowance of HIV-to-HIV Organ Transplants in US