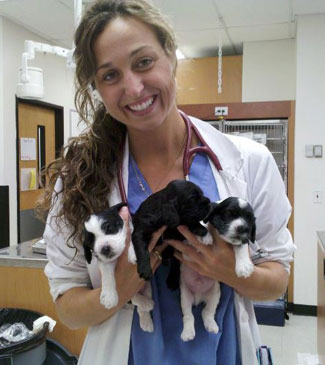 Brittany King, SGUSVM '10, is no stranger to pushing herself to the limit. She's run five marathons, completed an Ironman triathlon, and climbed Mount Kilimanjaro, all before, during, or after successfully navigating her way through veterinary school. However, this veterinarian at Banfield Pet Hospital in Cypress, TX, is taking on the stiffest athletic challenge of her life to date – swimming the English Channel.
It's a 21-mile stretch that approximately 1,400 individuals have conquered since Matthew Webb first accomplished the feat in 1875. More than twice as many people have climbed Mount Everest. Dr. King's turn comes this month; if not Friday, she'll set off from Dover Harbor in England next week. Destination: Cape Nes Griz, France.
"It's just you and your body," Dr. King said. "I have never done one single activity for that amount of time. If the tide's wrong, you can be washed six miles south and swim much more than 22 miles. There are so many variable factors. I'm praying for the best. It's the hardest thing I've ever done, but I've put in the effort and the training."
King is raising money for two Banfield Charitable Trust organizations – Pet Peace of Mind and HOPE Funds – which allow for the treatment of patients whose owners are unable to finance their care. It has already been put to good use. In the spring, a dog broke both his femurs after being hit by a car, and Dr. King was able to perform two surgeries, estimated to cost $1,600, for free. According to Dr. King, the canine would have been euthanized otherwise.
"She came in three weeks ago and came running to the back," Dr. King said. "It was pretty satisfying."
Dr. King has practiced with Banfield Pet Hospital since graduating from SGU in 2010, performing everything from spays and neuters to orthopedic surgeries. She speaks glowingly about her stint in Grenada, from the University's caliber of education, its faculty, the off-campus experience, and everything in between.
"SGU is the best thing that ever happened to me," Dr. King said. "The professors are incredible and so supportive, and it doesn't matter what your dreams are – SGU supports them. SGU set me up for life. I went to Grenada and learned what's important in life – what to value and what not to value. It's a magical place. It changes your soul. SGU changed my soul and I'm more motivated with everything in life."
With a busy schedule, finding time to train for the Channel has been a challenge in itself. Between early-morning and evening sessions, she estimates that she swims 25,000-30,000 meters and runs 30-40 miles per week. The temperature of the Channel expects to be around 55 degrees, conditions difficult to replicate in the Lone Star State.
Swimming the Channel is a daunting task, but King has a proven track record of setting the bar high and completing her mission. She was a member of the 2002 national championship swimming and diving team at Auburn University and also swam at Texas A&M University – her forte, however, was the 50-meter freestyle sprint. Out of the water, she has completed an Ironman triathlon in Idaho (2.4-mile swim, 112-mile bike, 26.2-mile run) in 2007, and while doing a Windward Islands Research and Education Foundation (WINDREF) research project in Tanzania in 2008, she scaled Mount Kilimanjaro, the highest mountain in Africa (elevation: 19,341 feet).
In addition to the Channel swim, Dr. King is halfway to her pilot's license, and she has designs on running two marathons in a 48-hour span in February – first in Peru, then in Antarctica. If successful, it would leave only Africa and Australia on her checklist of continents on which to run a marathon.
Donations to Laps of Love are being accepted on the Banfield Charitable Trust website. Dr. King's pilot boat, on which her boyfriend will provide support, will update on her progress on her Twitter account.
Being able to provide for the animals for which she cares is all the motivation she needs to complete the journey across the Channel and join an exclusive group of swimmers.
"I've loved the career path I've been on from the moment I started at St. George's," Dr. King said. "I love veterinary medicine and I love that the animals we treat give so much love to their owners on a daily basis. I love being able to give back to them."
https://www.sgu.edu/wp-content/uploads/2016/10/news-brittany-king.jpg
365
325
jrichardsink
https://www.sgu.edu/wp-content/uploads/2020/02/sgu-logo-grenada.svg
jrichardsink
2012-08-22 18:49:54
2018-08-01 20:52:56
Brittany King, DVM '10, St. George's University, Raises Money Swimming the 21-Mile English Channel