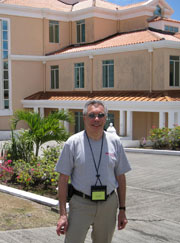 As Director of McGill University Office for Science and Society, Dr. Joe Schwarcz, PhD advises some of McGill University's bright and driven undergraduate students, many of whom are eager to study and practice medicine.
Following a recent visit to St. George's University's True Blue campus in Grenada, Dr. Joe, as he is familiarly known , feels strongly that St. George's University has the same outstanding academic credentials as many US and Canadian medical schools.
In fact, his highly respected opinion was voiced on air on Montreal's CJAD and Toronto's CFRM during his weekly Sunday evening radio program "Dr. Joe Show" and in a recently published article in the Montreal Gazette.
Prior to visiting St. George's University's True Blue campus, Dr. Joe Schwarcz knew little about the University, except for the feedback he received from a few former students. The opportunity to see the campus in person provided him with a very favorable opinion. "Setting aside the visual appeal of the campus, arguably the prettiest in the world, " he said, "St. George's University's teaching facilities, lecture rooms, laboratories and technology services were on par with many of the more high profile medical schools in the United States and Canada."   Dr. Joe felt the three days spent in Grenada provided him with an accurate representation of the University, one that offers its students superior academics, and sets requirements as rigorous as those established at his own McGill.
During his March 22nd episode of the "Dr. Joe Show," he expressed displeasure with the fact that so many qualified internationally trained physicians, born and raised in Canada, were having difficulty practicing medicine in their native country. Particularly disturbing to Dr. Joe is the apparent shortage of physicians in major Canadian provinces like Quebec and Ontario–a trend which could be reversed if the Canadian regulations were less rigid in accepting internationally educated and trained medical students.
This was an opinion shared by many of the "Dr. Joe Show" listeners that Sunday afternoon, as this particular program, said Dr. Joe, generated an incredibly strong audience response. Many of his callers reinforced the difficulties in finding a family physician within their communities, and were disenchanted by the struggles these internationally trained medical students endure to practice in a country that is in need of such an important resource.
Dr. Joe explained that there are signs of light ahead, and has high hopes that Canada will soon embrace the many internationally trained physicians eager to practice medicine in Canada, thereby rebuilding the diminishing pool of qualified physicians in the country.
Dr. Joe sits on the Medical Admissions Committee at McGill University, one of the top medical schools in North America, which accepts approximately 165 students from thousand of well-qualified applicants. He is frequently called upon by McGill undergraduates to write letters of reference on their behalf as they pursue a highly coveted spot at a variety of medical schools. He explained: "There is such a plethora of top-quality students applying to medical schools, that so many of the applicants that don't get accepted are actually quite superb."
Dr. Joe not only encourages students to explore St. George's University as an option for their medical education, but in fact "takes issue with critics of the SGUSOM program." He hopes that an urgent change in Canadian policy will open doors for the many impressive Canadian students he met while at St. George's University, as these students represent the future of medical care in Canada.
https://www.sgu.edu/wp-content/uploads/2016/10/news-Schwarcz-story.jpg
243
180
jrichardsink
https://www.sgu.edu/wp-content/uploads/2020/02/sgu-logo-grenada.svg
jrichardsink
2009-04-30 20:01:56
2017-02-15 18:29:49
Canadian Radio Host, Writer, McGill University Director's Visit to St. George's University School of Medicine