For the past 30 years, Grenadians have observed October 25 as their national day of thanksgiving. It marks the anniversary of the United States military operation to help Grenada restore freedom and democracy and bring an end to a period of civil unrest.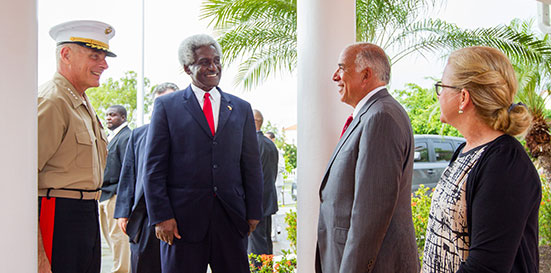 Each year, St. George's University holds a special ceremony to honor the 19 United States servicemen who lost their lives on their mission to rescue US students attending the University at the time, and usher in the peace and stability which now reigns in the nation. The sacrifice of these men, immortalized by a monument bearing their names at the University's True Blue campus, was not in vain. The warm tri-island paradise, home to some of the most friendly and peace-loving people, has advanced through the years, cherishing and nurturing democracy to this day.
"This is the first time regular citizens have ever walked up to me and thanked me for what my country has done for them," said General John Kelly, Commander of the US Southern Command. "Thanks for your thanks, people of Grenada, but you do not need to offer it. It is what we do in the US military and we are proud to do it. We do it around the world and we've done it throughout our history."
The University was honored to host 32 family members of the fallen soldiers. The family members and those SGU faculty who personally experienced the events of 1983 read the soldiers' names aloud, and a moment of silence was observed for each soldier.
The moving occasion was cheered by notes of gratitude, healing and hope for the future shared by Dr. The Right Honorable Keith Mitchell, Prime Minister of Grenada.
"This ceremony is an important and remarkable event because it goes to the heart of the healing process of our nation," he said. "The message of unification is one with which I have implored this nation since assuming the Office of the Prime Minister in 1995 and again in 2013.
"It is my view that no matter our political, moral, or social beliefs, and how far these may differ from each other, we have a responsibility under God to work towards the advancement of our society and international community and to secure a better future for our generations," Dr. Mitchell continued. "After all, we are bound by shared history. Today, 30 years later, we can all breathe a collective sigh of relief for the adversities that we have overcome and for the stability and peace that this land now enjoys. Let us be guided by the lessons we have learned as we work together to build the beautiful land that God has given us."
In his address, Dr. Charles R. Modica, Chancellor of St. George's University, recalled visiting President Ronald Reagan at the White House one year after Operation Urgent Fury and the President's subsequent visit to the monument to lay a wreath in 1986.
"President Reagan recognized the sacrifice made by 19 men on that day," Chancellor Modica said. "For the family members here today, your loved ones did not die in vain. They liberated a country and they demonstrated to the world that the United States of America could come in with the mightiest force to restore order, liberty, peace, and democracy to a nation that needs its help."
https://www.sgu.edu/wp-content/uploads/2016/10/news-30th-anniversary-ceremony.jpg
273
551
VS
https://www.sgu.edu/wp-content/uploads/2020/02/sgu-logo-grenada.svg
VS
2013-11-19 18:00:45
2017-01-18 00:09:05
Celebrating 30 Years of Democracy