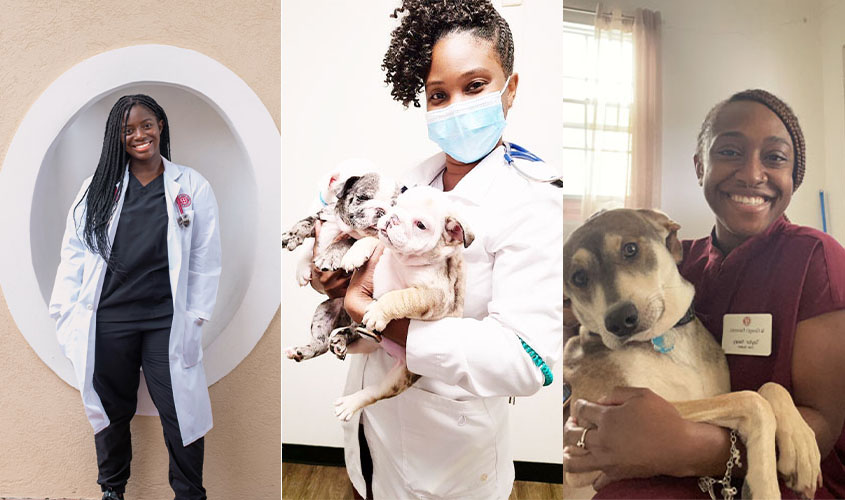 Students and graduates of St. George's University School of Veterinary Medicine who identify as Black or African American are keenly aware that they are on the vanguard of a field of medicine where they have been traditionally underrepresented. According to data from the U.S. Bureau of Labor Statistics, Black or African American-employed veterinarians make up just 1.2 percent of the total employed in this occupation.
In honor of Black History Month, SGU News spoke with several students and a graduate from the School of Veterinary Medicine about what inspired them to take up veterinary medicine, the challenges of being a minority in the field, and how they can bring new meaning to the celebration of Black History Month. Our panel included:
Shannon Carmichael, DVM '10, Forever Vets Animal Hospital, Jacksonville, FL,
Term 5 SVM student Antonia M. Nickleberry, president of SGU's Veterinarians as One Inclusive Community for Empowerment (VOICE), and
Term 5 SVM student Teylor Nealy, vice president of VOICE.
St. George's University: What inspired you to enter the field of veterinary medicine? 
Dr. Shannon Carmichael: Despite no one in my family being in the medical/veterinary field or growing up with pets, I developed a passion for healthcare and animals at a very young age.
Antonia M. Nickleberry: I have always had a passion for animals and their welfare. As a child, I was surrounded by animals of various species and saw the love they harbored for humans. Today, I'm more aware of the importance of mental health and the connection animals have to the mental stability of many of us. It's so important to care for animals because that, in turn, is being there and caring for the humans who love them.
Teylor Nealy: I have never wanted to do anything else. I have always had a keen interest in animals and the multitude of species, each having their own unique characteristics. During this journey my shadowing experiences have afforded me the ability to hone-in on the specific field in which I want to begin my career, which is emergency medicine. It has not been an easy journey, but it has been humbling and rewarding in so many ways. I can't wait to see what the future holds for me.
SGU: What do you see as the biggest challenges ahead for Black women in veterinary medicine?
Dr. Carmichael: As a member of a minority, one of the greatest challenges is overcoming stereotypes and negative perceptions, especially along the path to becoming a veterinarian. There is a constant need to prove yourself worthy of a client's trust and occasional awkward pauses when you introduce yourself as the doctor.
Ms. Nickleberry: Assuming leadership positions at major veterinary hospitals and businesses is a major challenge. Having people of color in leadership positions there will result in increased representation, which can lead to more opportunity for those within those populations. This is what will drive the increase of diversity that we need within the field of veterinary medicine.
Another challenge we face is respect from not only clients, but also our colleagues. Women, overall, have constant struggles with respect in the workplace. I believe these challenges can only be alleviated if those in authoritative positions within the field take a firm, no-tolerance stand against any client, customer, or colleague that treats their employees differently based on their race, ethnicity, sex, sexual orientation, etc.
Ms. Nealy: I feel the best way to fight prejudices and biases is to have an open and honest dialogues even though that is typically uncomfortable for so many people. I can personally attest to incidents I have experienced in past workplaces such as microaggressions and passive prejudices. In one instance, I reported an incident to the manager on duty and she merely replied, "Wow that sucks." Yes, it sucked, but I wanted to know what she was going to do about it. I felt devalued and witnessed how acceptable this type of behavior is to most people. She truly had no idea how I felt at that very moment as a person and a professional.
SGU: What are some of the positive changes you are witnessing in terms of opportunity and respect for Black veterinarians?
Dr. Carmichael: I am seeing more engagement and veterinary companies becoming involved in Black History Month and Black Lives Matter movements. There are also more veterinary tv shows that feature African American and other minorities. As the veterinary industry and mainstream media brings light to minorities in the industry more opportunities will become available.
SGU: During your time serving as president of VOICE, what are some of the positive changes (in terms of opportunity, respect in the field, etc.) that you witnessed (perhaps among your fellow students or the field at large)?
Ms. Nickleberry: In my time serving as president of VOICE of SGU, the field has begun to make a shift in understanding the need for and importance of diversity within the field of veterinary medicine. With diversity comes shared cultures, traditions, and ideas that can bring us together, which will allow us to be better healthcare providers to our patients.
SGU: How will you celebrate Black History Month?
Dr. Carmichael: Black History Month is important to me because it is the culmination of the contributions of all different types of people. And recognizing the perspectives and contributions of different groups of people will help us appreciate diversity, defeat stereotypes, and understand our mistakes as a community and build on our successes. I enjoy celebrating black history month by sharing a daily black history fact with friends and families.
Ms. Nealy: I will celebrate Black History Month by reminding myself of how far our people have come. I am grateful every month for the sacrifices my people made to pave the way for me to make it possible for me to pursue my dreams. My dreams are a way for me to show my gratitude to the many who made and paid the ultimate sacrifice.  I am honored to be able to build a legacy for my family and be a role model for little Black girls to look up to, never allowing them to forget our struggles.
— Paul Burch
Related Articles:
3 SGU grads changing the face of veterinary medicine
VOICE: Championing diversity in the veterinary profession at the student level
5 stories that chronicled the School of Veterinary Medicine in 2021


https://www.sgu.edu/wp-content/uploads/2022/02/SVM-blackhistory-nickleberry-carmichael-nealy-845.jpg
500
845
lchartor
https://www.sgu.edu/wp-content/uploads/2020/02/sgu-logo-grenada.svg
lchartor
2022-02-07 07:45:12
2022-02-15 11:11:22
Celebrating Black History Month: SVM Students and Grads Eager to Pave the Way for Change