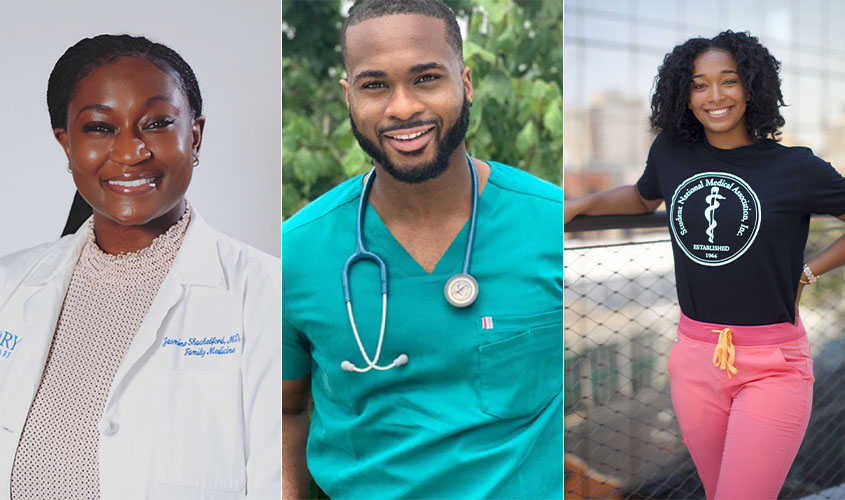 With the need to improve overall representation of minority doctors in medicine, students and graduates of St. George's University School of Medicine who identify as Black or African American plan to make a difference in the field by advocating for underserved communities and the patients they serve, and by inspiring tomorrow's minority physicians through mentorship and education.
According to the Association of American Colleges, just 5 percent of active physicians identified as Black or African American in 2018. Even more astonishing, U.S. Bureau of Labor Statistics found only 4.6 percent of surgeons identify themselves as Black or African American.
This year's theme for Black History Month is "Black Health and Wellness." SGU News spoke with School of Medicine students and graduates about their motivations to go to medical school and their career path of choice, the challenges they perceive for minority physicians, and how they can inspire the next generation of Black and African American doctors. Our panel consisted of:
Jasmine Shackelford, MD '20, family medicine resident at Emory University School of Medicine
Paul Osunwa, MD '21, first-year anesthesia resident physician at the University of Arkansas for Medical Sciences
Melissa Cheong, SOM Term 5, president of SGU's Student National Medical Association
Amanda Herbert, SOM fourth-year student, Class of 2022
Okechukwu Nwosu, SOM fourth-year student, Class of 2022
Hannah Terefe, third-year SOM student, who also writes for the blog Women in White Coats.
St. George's University: What inspired you to enter the field of medicine?
Dr. Jasmine Shackelford: My inspiration for pursuing medicine started as a young girl where I witnessed a lot of apprehension from family members as it pertained to trusting and maintaining healthy relationships with healthcare providers. I wanted to make a difference in helping to eliminate the health disparities that exist in my community, as well as to encourage people to take charge of their health.
Dr. Paul Osunwa: I was originally a business major in undergrad and switched to nursing when the stock market crash occurred in 2008. I also competed in Division 1 athletics as a shot putter on the track and field team at Texas Christian University. My mother was a nurse and two of my cousins were nurses. I was surrounded by individuals who had been in healthcare. I took it to the next level by attaining my MD.
Melissa Cheong: At the age of five, my mother got extremely sick and was in and out of the hospital as I was growing up. Being around medicine at a young age was intriguing and I always found myself asking questions and wanting to get involved. This passion only grew stronger as I got older. Medicine allows for me to interact with people on a daily, while also using my science background to problem solve. I love interacting with people and making individuals feel comfortable in difficult times and situations.
Okechukwu Nwosu: So many people are going through so much, and I want to listen to their problems and help them make good decisions. I also want to be a role model for my community. If I have little kids looking up to me, and if they watch what I do and consider my advice, whether it's telling them to look after their body, to eat right, not to smoke, then I've set them on a good course.
SGU: What are the biggest challenges for black men and women in medicine?
Dr. Shackelford: Representation. Although there has been an increase in the number of women practicing medicine, specifically underrepresented minority women, there are still more advancements to be made. Representation matters and it is critical to combat the long-standing history of mistrust that exists between the healthcare systems in minority communities. We must acknowledge the disparities that exist within this field, the negative clinical outcomes related to those disparities, and collectively work together towards change.
Dr. Osunwa: The biggest obstacle black medical providers have is believing that we don't have a place in medicine. Removing the seeds of self-doubt is important.
Ms. Cheong: The biggest challenge is navigating through a field where we do not see very many individuals who look like us. It can be discouraging at times. Being a minority in medicine also introduces imposter syndrome. The challenge may present itself as us asking ourselves: "Do we belong here?", "Did I diagnosis my patient correctly?"
Amanda Herbert: Knowing that you are good enough! When you are in a room full of doctors and residents and your skin color, hair, background, and body type are different, the question sometimes arises: Am I good enough to be in this room? I must remind myself, with all my differences, I bring something unique to the table that makes me better than "good enough."
Mr. Nwosu: People tend to gravitate to people who look like them, people they feel they can relate to and trust. In the rotation I'm on right now, most of the parents and patients are African American. We need more Black doctors so we can educate that community on how to take care of their body and address health morbidities before they even become an issue. Trust is huge in the patient-doctor relationship, so training more minority physicians can help increase medical knowledge and compliance of practices within minority populations.
"Representation matters and it is critical to combat the long-standing history of mistrust that exists between the healthcare systems in minority communities."
Hannah Terefe: I think there's always going to be more work to be done in improving the culture we are expected to thrive in. With the increase in awareness and conversations surrounding topics that affect Black and Brown doctors, I'm hopeful that we can one day get to a point where we are able to claim our spaces within the medical field comfortably. Until then, we will continue to further the legacy of those who came before us and fight for our voices to be heard and respected.
SGU: What do you love most about your work/studies?
Dr. Shackelford: By choosing to become a primary care physician, specifically trained in family medicine, I find immense joy in those long-lasting relationships that I can have with my patients and their families through all walks of life. The continuity is unmatched! I thoroughly enjoy being at the center of their healthcare team and making sure that I am doing my best for these individuals to help prevent illnesses.
Dr. Osunwa: I love to see a positive end to any situation I'm dealing with—whether it's a tough diagnosis that has been worked up for several days or a patient who has been on the decline that finally makes a turnaround for a full recovery.
Ms. Cheong: I love learning about the different systems in medicine and how each system interconnects. It truly allows for me to look at the body holistically and approach medicine with an open mind.
Ms. Terefe: During my last rotation in OB/GYN, I realized that no matter what specialty or field of medicine you're interested in, there's always more work to be done in protecting the safety, well-being, and mental health of our patients. This aspect of medicine is what keeps me motivated to continuously study to ensure that I provide my patient with the best holistic care possible.
SGU: How can Black doctors "pay it forward"? How do you plan to make a difference? 
Dr. Shackelford: I think the best way to "pay it forward" is to continue to be advocates for the minority patients we serve and to help create opportunities for future black physicians that will come after us. Working towards eliminating the health disparities that exist within our communities will lead these vulnerable populations towards better health outcomes.
Dr. Osunwa: As the saying goes "charity begins at home." I plan to continue advocating for those who I am in close contact with and letting that light illuminate others. If each of us take a part in advocating and correcting microaggressions the workplace, it will make a broad difference overall.
Ms. Cheong: By serving underprivileged communities where people don't have adequate access to healthcare and insurance. And by becoming mentors for the medical community, being available, and remembering where we all started and where we are all heading. I want to serve as a mentor and tutor to students in the field of medicine. I will advocate for minorities in medicine by making sure there is diversity and inclusion programs where we attend school or a residency.
"I plan to pay it forward primarily through mentorship. I've watched students give up their dreams of becoming a physician mostly because they weren't aware of how to seek support."
Ms. Herbert: We must mentor up-and-coming black doctors every step of the way. The support I received from Black healthcare professionals on my journey was priceless. I plan to make a difference by allowing pre-med students to shadow my practice.
Mr. Nwosu: Black doctors can pay it forward by inspiring our youth by visiting elementary schools. We need to make these areas of expertise as exciting as the areas of athletics and entertainment within black culture. Holding each other accountable and helping each other strive for greatness will increase the interest of young African Americans in going into the fields of science, technology, and mathematics.
Ms. Terefe: I plan to pay it forward primarily through mentorship. In the last few years, I've watched students give up their dreams of becoming a physician mostly because they weren't aware of how to seek support. Mentorship looks different for everyone. For me, it means serving as a bank of experiential knowledge for others. If I can hand off the lessons I've gained, then they can continue to build upon their own foundation and path to medicine.
— Paul Burch
Related Reading
https://www.sgu.edu/wp-content/uploads/2022/02/BHM-trio-portraits-845.jpg
500
845
lchartor
https://www.sgu.edu/wp-content/uploads/2020/02/sgu-logo-grenada.svg
lchartor
2022-02-15 09:44:39
2022-02-15 11:11:56
Black History Month: SOM Students and Grads Hope to Inspire Next Generation of Doctors