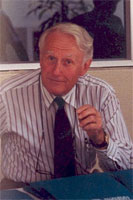 On Friday evening, May 11th, colleagues, friends and family of the esteemed Dr. Keith B. Taylor convened in the Bourne Lecture Hall on True Blue Campus to pay tribute to a man who left his mark on all who were present.
The evening was a shared celebration of a life that was by all accounts extraordinary. Dr. Taylor's professional achievements include many awards and prizes during his medical school years and postgraduate work as he began a lifetime of achievement in research and clinical medicine.  Having been published extensively in international peer reviewed journals and book chapters; he was widely regarded as the leading authority on many areas of gastroenterology.
His knowledge and leadership played a critical role in transforming St. George's University from a medical school which was the first and the best of its kind in the Caribbean, to an international, world-class University with many schools and programs, a vibrant research institute in WINDREF and a beautiful and purpose built campus.
The memorial ceremony was particularly relevant as it preceded the commencement ceremony of the School of Arts and Sciences and Graduate Studies Program.  The timing is befitting, as Dr. Taylor's dedication and passion was the driving force behind the creation of the SAS, as well as partnerships with many international institutions.
Perhaps his greatest accomplishment however is not visible on paper or in stone.  Dr. Taylor will be remembered most for his kindness and humility.  As colleagues shared stories of a man they admired and respected, they also spoke of a friend they will deeply miss. Three of Dr. Taylor's children, Dan, Kate and Sebastian were present at the ceremony and graciously honored their father's memory.
Earlier that day Dr. Charles R. Modica and Dr. C.R. House were among many faculty and guests present at a sod turning ceremony for Keith B. Taylor Hall to be built on the lower True Blue Campus.
Published 5/14/2007
https://www.sgu.edu/wp-content/uploads/2016/10/Keith-B-Taylor-Portrait.jpg
200
133
smashm3233
https://www.sgu.edu/wp-content/uploads/2020/02/sgu-logo-grenada.svg
smashm3233
2007-05-14 18:49:42
2017-01-18 02:52:45
Ceremony Memorializes the Late Keith B. Taylor