Richard H. Schwarz, MD, SGUSOM's Chair of Obstetrics and Gynecology received a Lifetime Achievement Award from the American College of Obstetricians and Gynecologists (ACOG) on October 28th. The award was presented by ACOG District II/NY and recognized Dr. Schwarz's tireless efforts and achievements in the field of OB/GYN for more than 50 years.
Dr. Schwarz was honored by his colleagues, family, and friends in a ceremony held at the Grand Hyatt New York Hotel during the ACOG District II/NY annual meeting. Many in attendance had worked with and were trained by Dr. Schwarz over the years. "It's always nice to be honored," Dr. Schwarz said. "It's especially nice to be honored by colleagues and people whose careers I have touched on. At this point in my career I get a lot of pleasure and I live vicariously through the successes and accomplishments of those I have trained over the years."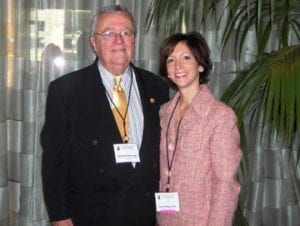 Dr. Schwarz was lauded by his colleagues, including Dr. Richard Waldman, chair of ACOG/District II/NY, who described him as a "mentor, guide, leader, physician, distinguished teacher, and trailblazer." Affiliated with ACOG since 1974, Dr. Schwarz has been practicing in the OB/GYN field since he graduated from Jefferson Medical College in 1955. He has served ACOG in various positions over the years, including president.
As Chair of OB/GYN at SGU, a position he has held since 2000, Dr. Schwarz is responsible for the OB/GYN education of SGU students at the clinical centers and affiliated hospitals. He meets with both the faculty and the clinical students to ensure that they are fulfilling their obligations in terms of following the curriculum. "I enjoy working with the SGU students," Dr. Schwarz commented. "I believe they are well prepared for their clinical rotations when they come to their US and UK clerkship sites. I believe they compare very favorably with the US school students that we teach. I also find them very well motivated and generally more mature than most of the US students."
"Richard has enhanced the delivery of the OB/GYN area of the curriculum," said Dr. Stephen Weitzman, Dean of the SOM. "He is a great asset as a teacher and medical educator, and he brings a wealth of experience to our clinical program."
Dr. Schwarz has many prestigious professional positions, among them, Vice Chairman for Clinical Affairs in the Department of Obstetrics and Gynecology at Maimonides Medical Center; Professor of Obstetrics, Gynecology, and Reproductive Science at Mt. Sinai School of Medicine; Distinguished Service Professor Emeritus of OB/GYN at the State University of New York Health Science Center at Brooklyn (formerly Downstate Medical Center); Chairman Emeritus in the Department of OB/GYN at New York Methodist Hospital; and Obstetrical Consultant at the March of Dimes Birth Defects Foundation.
Over the years he has taught at Weill College of Medicine of Cornell University, SUNY Downstate Medical Center, the University of Pennsylvania School of Medicine, and Tulane University School of Medicine. He has held hospital appointments at Maimonides Medical Center, New York Methodist Hospital, State University Hospital at SUNY-Health Science Center at Brooklyn, Kings County Hospital Center, and Staten Island Hospital, among others. Dr. Schwarz has served in many roles at ACOG and the March of Dimes and did a tour of duty with the United States Air Force. He has been affiliated with numerous professional associations, foundations, and organizations.
Dr. Schwarz has written extensively in the field of OB/GYN and has published more than 180 articles.
Published on 12/01/2005
https://www.sgu.edu/wp-content/uploads/2016/10/Dr-Richard-Schwarz.jpg
271
360
smashm3233
https://www.sgu.edu/wp-content/uploads/2020/02/sgu-logo-grenada.svg
smashm3233
2005-12-01 15:33:38
2017-01-18 03:16:28
Chair of Obstetrics and Gynecology Receives Lifetime Achievement Award from the American College of Obstetrics and Gynecology