St. George's University 2015 Grad Excited to Begin Surgery Residency at UCLA This Summer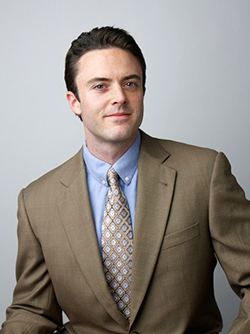 Brian Beckord hadn't stepped foot in a classroom in some time. He'd earned his undergraduate degree from the University of San Diego and begun a career in biotechnology, specializing in molecular diagnostics.
However, he followed his heart and decided to pursue a career in medicine. When given the opportunity to enroll at St. George's University School of Medicine, he jumped at it and never looked back.
"I knew shortly after arriving at SGU that I had made the right decision," Mr. Beckord said. "I found myself in an outstanding academic environment with incredible support. I knew at that point I had the resources I needed to succeed, now it was time to prove myself."
His dream of becoming a doctor will come to fruition this June at commencement in New York City. He will then advance to his first-choice residency, a categorical general surgery position at Harbor-UCLA Medical Center in California.
"The moment I matched at Harbor-UCLA was undoubtedly the happiest moment of my life," Mr. Beckord said. "All the hard work, discipline, and persistence had paid off."
Mr. Beckord came to SGU in January 2011 as part of the University's Charter Foundation Program which he called "a wonderful opportunity to get back into the flow," having been away from an academic setting for nearly three years. In addition, he dove right into his studies and fully utilized SGU's award-winning Department of Educational Services, which promotes academic development through a variety of programs, courses, workshops, and individual sessions.
"DES was instrumental in pushing me to improve my study skills, it allowed me to take my academic performance to the next level," Mr. Beckord said. "I tried study techniques I never even knew existed – some worked, some didn't – but in the end I found out which of them worked best for me. My friends and I worked very, very hard in the library and in the classroom. We were focused solely on our primary goal, which was to do the best we possibly could in medical school, to prove ourselves, and that we did."
Mr. Beckord earned high marks throughout his Basic Science years and during clinical core rotations, and was inducted into the prestigious Arnold P. Gold Foundation Fold Humanism Honor Society. He recorded a 268 on his USMLE 1, and a 273 on his USMLE 2, placing him in the top 1 percent of all test-taker scores nationwide.
"I didn't take any board prep courses; I just relied on discipline, the education provided by SGU, good study habits, and a lot of practice questions," Mr. Beckord said.
Outside of class, he was elected President of the Iota Epsilon Alpha Honor Society, and as part of the organization helped raise more than $12,000 to purchase an i-STAT blood analyzer system for the Grenada General Hospital. Thanks to fellow classmate and recent alumnus, Cholene Espinoza, MD, Beckord gained an interest in practicing medicine in underserved communities, having spent time with Dr. Espinoza in South Sudan providing medical care and collecting diagnostic data on the local population.
In his free time, Mr. Beckord and his friends enjoyed a range of activities – spearfishing, snorkeling, hiking, SCUBA diving, sailing and more.
"These are things you simply can't get in other places and, when utilized in moderation, I have found that it enhanced my ability to clear my head, re-focus, and learn when I went back in the classroom," Mr. Beckord said.
After having completed all of his third-year clinical rotations at Hackensack University Medical Center, he completed fourth-year surgical rotations at San Joaquin General Hospital in Stockton, California, Halifax Medical Center in Daytona Beach, Florida, a sub-internship in endocrine surgery at Cleveland Clinic in Ohio, and a pediatric surgery rotation at Morristown Medical Center in New Jersey. Following his residency at Harbor-UCLA, he is interested in pursuing fellowship training in trauma or vascular surgery.
He largely credits St. George's University for having paved the way to his dream career. Of his journey, Mr. Beckord remarked, "I feel as though I worked hard and pushed myself to be the best I could be, so it's a wonderful feeling to have been rewarded like this."
https://www.sgu.edu/wp-content/uploads/2016/10/Brian-Beckord.jpg
334
250
VS
https://www.sgu.edu/wp-content/uploads/2020/02/sgu-logo-grenada.svg
VS
2015-04-09 18:34:06
2017-01-17 23:32:49
From the Charter Foundation Program to His Top-Choice Residency