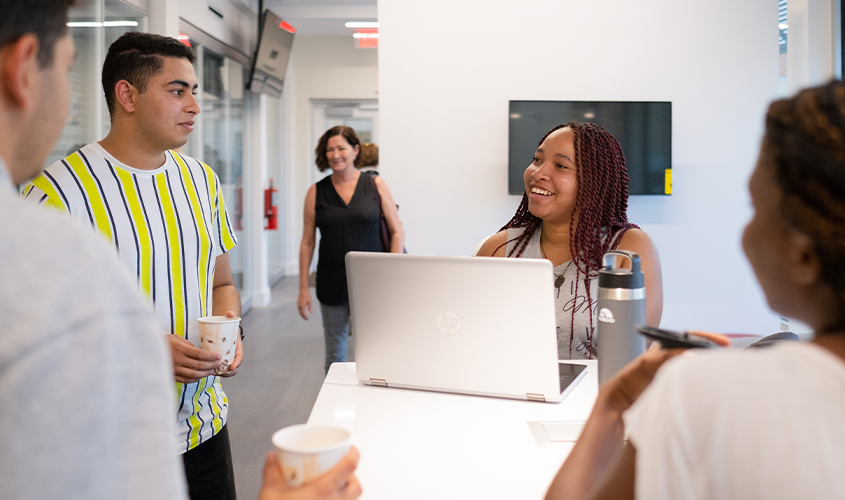 Passionate about providing students with the support they need to succeed and thrive while at St. George's University, the Office of the Dean of Students is constantly working to ensure an enhanced student experience each term.
"Our mission is to create a dynamic and inclusive campus community that supports students' personal, social, and academic growth," said Dr. Lucy Clunes, dean of students. "Our goal is to provide each student with a strong infrastructure that buoys their success."
One of the major ways they provide this support is by acting as a liaison between students and other departments, including facilities, IT, housing, and academic departments. DOS also stays current with the student body and their needs by meeting regularly with the Student Government Association and overseeing all student organizations to ensure students get the most out of their university life experience.
SGU News sat down with Dr. Clunes to find out what's new on campus to help students (regardless of their program) acclimate back to campus, and her advice for how all students can make the most of their experience in Grenada.
St. George's University: This term, most of the student body is returning to in-person learning for the first time since the beginning of the pandemic. How has your office prepared for this return and what are you most excited to share about the plans?
Dr. Clunes: We are thrilled to welcome students back to in-person learning and campus life. We understand that this is the first time some students have traveled since the beginning of the pandemic and that there are anxieties associated with this. DOS provided orientation sessions for all students this term (not just incoming Term 1 students) so that everyone had all the information that they needed for a safe and successful return to Grenada and campus.
We are most excited about the return of both on-campus and off-campus student events such as local health fairs, the School of Medicine College Olympics, and intermural sports. We are also looking forward to seeing students socialize and make those lifelong friendships with their peers that are so important to help support them through their academic journey.
Get in touch! 
SGU: There are some very exciting new campus developments, including the new Global Student Lounge. What is the significance of this new area?  
Dr. Clunes: The Global Student Lounge contains the Offices of the International Student Services, Accommodation and Accessibility Services, Immigration Services, and the Student Government Association office.
It is a space that has many different functions and is there to support all our students. In the past, the International Student Services supported primarily our students that were non-US, non-Canadian, and non-Grenadian; however, we are aware that many of our students have immigration or other concerns that can be supported by this office. We are always looking for ways to expand our support throughout the entire student population.
SGU: What else is new in the Office of the DOS that those on campus, and/or online, can look forward to?
Dr. Clunes: We have a few new things I would like to point out.
The School of Medicine now has an Office of Career Guidance located in the library on campus that is here to support and guide students from the beginning of their medical school journey through officially becoming a physician. We encourage SOM students to reach out and speak with one of our OCG advisors so that they can optimize their path to a successful residency.
We also encourage all our SOM students to watch out for announcements on the new College Cup Competition that is being launched this semester!
For our SVM students, we have a new email address, SVMDOS@sgu.edu, so that all queries and concerns can be answered as quickly as possible.
Another exciting addition, I would like to welcome Dr. Ayesha Sultana to my office as assistant dean of students for the School of Medicine and Ms. Mercedes Velazquez de Zerpa as assistant dean of students for the School of Veterinary Medicine. SOM and SVM will now have two assistant deans, and the new appointees will join the existing assistant deans in strengthening the support of students in their respective schools.
We're also incorporating as many virtual student organization events as possible and are excited to have those choosing an online or hybrid learning environment from SAS, and all students who are on campus, participate.
SGU: How can students make the most of their time in Grenada?
Dr. Clunes: For some students, the adjustment to campus life and Grenada can be challenging but I encourage all to try to utilize as many of the support services on campus as possible. We are here to not only ensure academic success but to make your time in Grenada memorable and enjoyable. We have many student organizations that provide the opportunity to get involved with community projects and allow you to see different parts of the island. Your time in Grenada will pass quickly so make sure that you experience all that it has to give.
SGU: What's the best way for students to get in contact with the Office of the DOS?
Dr. Clunes: Students are encouraged to drop into the physical office on campus whenever they need as well as utilize our emails: DOS@SGU.EDU and SVMDOS@sgu.edu. Students, of course, can also email any of my team, including me, individually and can be assured of a timely response.
—Sarah Stoss
Related Reading
https://www.sgu.edu/wp-content/uploads/2022/08/Global-student-lounge-845x500-1.jpg
500
845
sstoss
https://www.sgu.edu/wp-content/uploads/2020/02/sgu-logo-grenada.svg
sstoss
2022-08-22 13:45:25
2022-08-22 16:24:33
From the Office of the Dean of Students: Check in with Dean Lucy Clunes