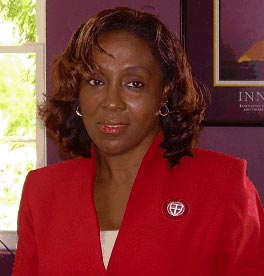 Ms. Dawne Buckmire was appointed Business Administrator by Chancellor Charles R. Modica on July 1, capping a 24-year career with St. George's University.  She now manages a staff of over 500 employees and will continue to govern the University's business on its campuses in Grenada, expertly overseeing the expansion of the University's infrastructure as it reaches out into the community with more students in the undergraduate programs and out into the world with its growing intake of international students.
Ms. Buckmire joined St. George's in 1983 as a payroll clerk and rose steadily through the ranks of the administration, before becoming Acting Business Administrator in January of this year, when long-time Business Administrator John Kopycinski fell ill.  Ms. Buckmire's expertise and leadership in her prior positions of Assistant Business Administrator, Housing and Financial Aid Administrator, and Assistant to Mr. Kopycinski, made her the perfect choice for SGU's Business Administrator in the 21st century.
When announcing the appointment to The Board of Trustees, Chancellor Modica noted Ms. Buckmire's work after Hurricane Ivan hit the island of Grenada. "She distinguished herself as a leader during Hurricane Ivan and was an integral part of the relocation of students, repairing of the campus and resuming of classes."
He added: "We are doubly pleased with this appointment. In addition to her professional merit, her long years of dedication in so many roles are a testament to her love of St. George's."
Ms. Buckmire was born in Grenada, attended St. Joseph's convent, and lives in St. George's with her 14 year old son, Chad.
Published on 7/6/07
https://www.sgu.edu/wp-content/uploads/2016/10/Dawne-Buckmire.jpg
276
264
smashm3233
https://www.sgu.edu/wp-content/uploads/2020/02/sgu-logo-grenada.svg
smashm3233
2007-07-06 19:06:02
2017-01-18 02:49:17
From Clerk to Top Administrator: Growing Up with The University