St. George's University's School of Medicine and School of Veterinary Medicine held its Annual Commencement Ceremony on June 17, 2006, at Radio City Music Hall in New York City – a first at this grand NYC landmark. More than 450 medical students and 65 vet students proudly received their diplomas in front of an audience of more than 4,000 family members, friends, faculty, and administration.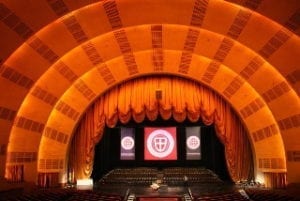 Chancellor Charles R. Modica congratulated the graduates for their hard work and determination and urged them to make a positive difference in the world as they continue their medical careers. "Your hard work has earned you a degree that is not an end in itself, but the beginning of a journey of service," Chancellor Modica said. "In your professional and personal lives I urge you to choose wisely and, like this evening's special honorees, always remember your duty to others."
He also proudly welcomed them as SGU alumnus, welcoming them to the community of over 6,400 graduates working all over the world.
The commencement address was delivered by Richard Halliwell, MA VetMB, PhD, MRCVS. Dr. Halliwell not only congratulated the graduates, he paid tribute to the family and friends of the graduates who supported them all along. He also honored the students and the SGU administration for their spirit and determination in the aftermath of Hurricane Ivan in 2004. "There was an absolute commitment and determination to overcome the serious setback," he said. "And, of course, you succeeded. The true spirit of St. George's was never more evident than at that traumatic time."
To view Dr. Halliwell's speech in its entirety, please click here.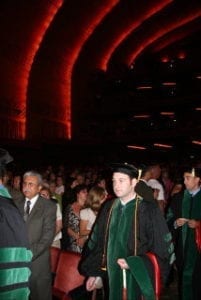 Dr. Halliwell urged the graduates, medical and vet, to work together as one during their careers, drawing many parallels between medicine and veterinary medicine. He cited the emergence of SARS, mad cow disease, and avian flu as just a few of the fields necessary for cooperation between doctors and veterinarians. Stressing the importance of cooperation and working towards the One Medicine concept, he said that "the past two decades have witnessed the emergence of serious diseases that continue to challenge both our professions" and that "…both professions are devoted primarily – either directly or indirectly, at the betterment of human health."
Following Dr. Halliwell's address, Chancellor Modica presented a Distinguished Service Award to Lord Soulsby of Swaffham Prior for his commitment and work on behalf of SGU. Lord Soulsby's career in veterinary medicine is a notable one – from teaching at the University of Pennsylvania School of Veterinary Medicine to serving as president of the Royal College of Veterinary Surgeons – and a whole host of distinguished academic and legislative endeavors and honors in between. He serves on the Board of Trustees of WINDREF (UK) and has been a friend of SGU for many years. Lord Soulsby gave the inaugural address for the first class of SGU's School of Veterinary Medicine in 1999. His help and support has been invaluable for the University. He is a true friend, and we are grateful for his friendship.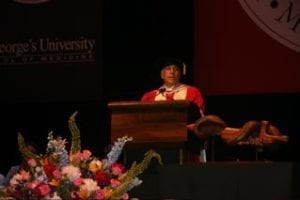 The Chancellor also presented Dr. Orazio Giliberti (SGUSOM '83) and Dr. Cheryl Fite (SGUSVM '03) with the Distinguished Alumni Service Award. The award is given annually to SGU graduates who have performed exemplary service to their communities since they graduated.
Honor cords were worn by students who are members of an honor society – Iota Epsilon Alpha in the School of Medicine and Phi Zeta in the School of Veterinary Medicine – and they signify excellence in academics during their years as medical students.
After the students stated their academic oaths and the degrees were conferred by Chancellor Modica, the new doctors filed out of Radio City Music Hall with hopes and aspirations of a bright future in medicine.
Published on 08/08/2006
https://www.sgu.edu/wp-content/uploads/2016/10/Commencement-Radio-City-Music-Hall.jpg
214
320
smashm3233
https://www.sgu.edu/wp-content/uploads/2020/02/sgu-logo-grenada.svg
smashm3233
2006-08-08 20:10:23
2017-01-18 03:07:50
Commencement Ceremony Celebrates "One Medicine" for the 21st Century